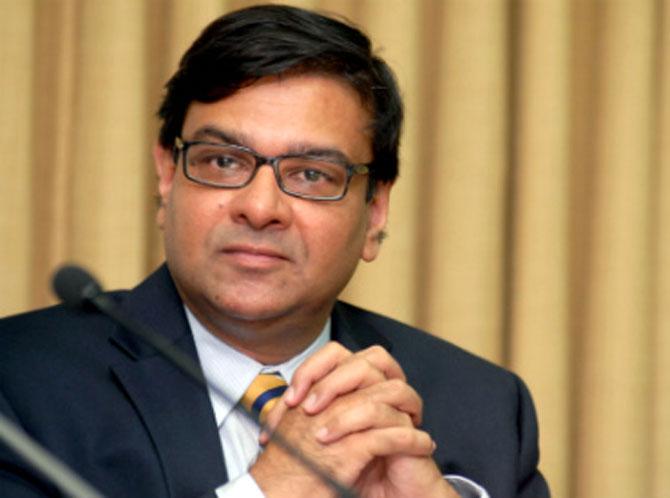 With the appointment of Dr Urjit Patel as the new RBI governor, I am happy that there is going to be a continuation. The Raghuram Rajan era is being taken forward and there is going to be continuity and also change. There will be continuity as nobody from outside is brought in. Of course, Raghuram Rajan is not Dr Urjit Patel and Dr Urjit patel will not be Raghuram Rajan.
Inflation is the major issue the RBI will need to look into. Though the Western world believes inflation to be a monetary phenomenon, in our country it is basically the supply side shortages that cause food inflation. It can be dealt with only by addressing the production process and ensuring high productivity. For that, the RBI has only very small role.
In the case of foreign exchange management, I would see the low growth in the global economy as an opportunity for India. If the world stops to grow, it doesn't mean India has to stop growing. India can liberate the whole process and grow forward as Indian market has a huge potential to grow.
For this, we can absorb more of foreign capital and more of foreign technology. But to make it happen, probably we have to do away with the archaic law called FEMA, or Foreign Exchange Management Act. The problem is, it is a very rule-driven act and penalises people for following the rule! If you don't file a form, you are penalised. If you file the form in a particular manner, you are penalised. It is time we have to start thinking beyond FEMA.
My suggestion to Dr Urjit Patel would be, probably the RBI itself can start looking at doing away with FEMA as criminalities are already covered under the Prevention of Money Laundering Act and the Foreign Assets Undisclosed Act. So, whosoever is bringing in money, ask them to fill in a simple form and get the money. India requires a law to facilitate the ease of doing business.
If you look at the strong manufacturing countries, you will see that they are all countries with either an undervalued or stable currency so that they are protected from imports and they can export while they do not have to worry about the foreign exchange management.
I am not suggesting India must devalue our currency because of the stress on the Make in India programme, but I would like pundits like Dr Patel say how he seeks to collate the exchange rate policy with the Make in India policy. I do not know the correct rate for Make in India to succeed; 100 or 40 or 68. I am not an expert. Unless you have a policy, fix a rate and tell the manufacturers and address their concerns, Make in India will be a risk. Only the RBI can address this risk.
Just like inflation targeting, the RBI has to come out with a foreign exchange management policy and take the nation and manufacturers into confidence.
Now comes the interest rate which is a sub-sect of inflation management. Interest rates in this country are a huge paradox in the sense that we have more than 30 per cent of savings but not all savings translate into financial savings and come into the banking sector. Financial intermediation is the problem, that is, turning savings into financial assets. That is why we are incentivising people with higher rates of interest.
But the other problem is, if you lower interest rates any further, there will be a backlash from the middle class and the lower middle class which saves for their later years. So, even if there is a quarter per cent rate cut, the Bharatiya Janata Party is going to have a huge problem with it supporters which is the middle class and the lower middle class.
At the same time, if you want to have manufacturing growth, it has to have a lower interest rate. But we will irritate the middle class by lowering the interest rate. So what should be the ideal interest rate that balances the interests of the manufacturing sector and also the social security of people?
We are a very interest rate sensitive society. The balancing has to be done by Dr Patel while fixing the interest rate.
The mother of all challenges is the balance sheets of banks. I had said earlier that all the mess happened when Raghuram Rajan was at the helm of affairs as the economic advisor. So the mess has to be cleared early. There is no lending happening because banks don't have money. Banks don't have money because most of the previous lendings are stuck. There are wilful defaulters too.
So the new governor has to separate the good, the bad and the ugly very fast. For the ugly, he has to co-ordinate with the finance and other ministries. For example, when a project does not get environment clearance, it gets stuck and becomes an NPA. Then the RBI can't deal with it.
Very important is, he has to start the investment cycle. It has been two and a half years since the government has come in but the investment cycle has not taken off. We are not seeing the type of activities that should happen. If you take the top 5000 companies in India, you will see that not many are earning enough profit to pay interest. They are stuck due to various reasons. There has to be an urgent dialogue between the RBI and the government to set right the bad portion of the loans.
Unless Dr Patel focuses on this in a very concentrated manner and starts clearing the balance sheets of banks, the investment cycle will not start. For that, he has to look at the balance sheet of corporates, too. Unless the clog in the drain is cleared, further lending cannot happen. If further lending doesn't happen, investment cycle also will not happen.
To clean up the mess in the banking sector, the new governor has to set up two small committees, one to take care of the ugly part as there are about Rs 60,000 crores worth of wilful defaulters. They should see that the properties are auctioned and put the money back into the banking sector.
The bad part of loans is complicated because it demands a range of issues. Even PPP projects of about Rs 8 lakh crores are stuck. This should be tackled through an arbitration mechanism. There may be better solutions but if you don't find solutions, it will be another case of drift for Dr Patel after 3-5 years.
Bank frauds are on the rise and run into thousands of crores and banks are ill equipped to tackle this. Dr Patel can take some time to strengthen the FIUs (financial intelligence units) so that frauds are identified and penalty meted out to them. And banks must be creative, innovative and technology-driven.
Whenever we talk of manufacturing, we talk about the Birlas, Tatas and Ambanis but 45 pc of the manufacturing comes from small and medium enterprises. They are credit starved. Mudra bank was supposed to take care of them but for some unknown reason, Raghuram Rajan did not understand the importance of Mudra bank. It is these SMEs that are job generators and demand creators. They maintain the supply side economics but all these people get credit at exorbitant interest rates.
Now that Prime Minister Narendra Modi has got a lot of people into banks, he should see that the banks give money to them also. For that Mudra Bank is well conceived and well thought of but it's half done.
Dr Patel should make huge efforts to see that the credit-starved sections of Indian economy have access to credit. The need of 90 pc of them is small amounts of money and they pay huge interest to money-lenders. Mudra Bank will be a boon for the Indian economy.
All these things — from doing away with FEMA to clearing the mess in the banking sector to activating Mudra bank — are equally important and have to be addressed by Dr Urjit Patel at the earliest.
[source;rediff.com]