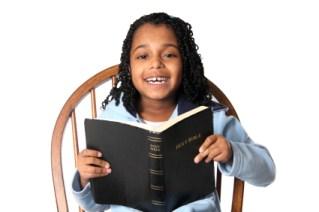 Bible mini books for preschool children are delightful books to give or make.
Mini Christian Books for Kids
It is often difficult for preschool aged children to understand stories when they are read directly from the Bible. The complex language is confusing to youngsters who are learning about Christianity. Instead, look for children's Bible stories that have been retold in a format that makes them easy to understand and enjoyable for children to hear.
Mini books of Bible stories are excellent choices for preschool aged children, as they are usually shorter and smaller than larger books meant for older kids. Their size and length are perfect for kids. They are a great reading choice for a child who is beginning Sunday School, starting a Christian-based education or whose family are believers. Mini books usually focus on one particular story from the Bible. Sometimes, they offer an overview of a particular person's life or concepts introduced throughout the Bible.
Bible mini books to consider purchasing for your preschool child or as a gift include:
In addition to the list of mini books above, it is possible to build a collection of mini books from the same publisher or author. For example, Carson-Dellosa Publishing has a series of pop-up storybooks that are sure to delight preschoolers. Two of the titles are God Made the World Mini Pop-Up Storybook and Bible Heros Mini Pop-Up Storybook. Additionally, the series includes The Story of Jonah, The Story of Noah and The Story of Jesus Mini Pop-Up Storybooks.
Make Bible Mini Books for Preschool Children
Young kids are usually hands-on learners, meaning they will remember a story better if they can actually do something that reinforces the plot and theme. To do this with your preschooler, make Bible mini books together in a classroom or at home. These are excellent illustrated Bible books that kids can make themselves, which helps reinforce the message of the Christian-themed Bible stories.
Supplies
Two sheets of plain printer paper
Scissors
Black marker
Staples and stapler
Crayons or markers
Instructions
Cut the two sheets of printer paper in half lengthwise.
Stack all four pieces of paper on top of each other and align them carefully.
Fold the paper in half from left to right, creating a book shape with the folded side on your left.
Open the book and staple through the crease at the top and the bottom to keep the book together.
After making the book, an adult needs to write out a short version of a Bible story, using between six and eight sentences. Then write the title of the Bible story on the front of the mini book and the sentences on the inside pages. Structure the book however it works best, whether it is writing one sentence on each page, leaving room for illustrations, or writing one sentence on a page with the opposite reserved for illustration. After the story has been written, allow the preschooler to illustrate the story using crayons or markers.Once the mini Bible book is complete, read the book aloud and add it to your collection of short Bible stories for young children
["source=fashion-history.lovetoknow"]