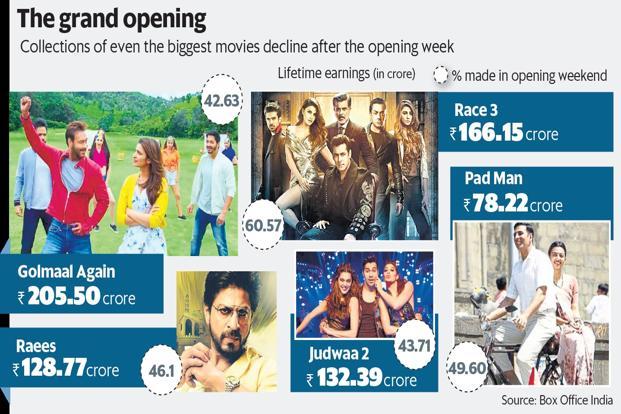 New Delhi: At last count, Ranbir Kapoor-starrer Sanju had notched up ₹334.53 crore in box office collections, clearly emerging as the biggest hit of the year so far. More than ₹119 crore of the collections—over 35%—came from the film's opening weekend alone and little more than 59% from earnings made over the first week.
The revenue may vary for different films, but the trend remains the same—a Bollywood movie seems to depend almost entirely on its opening weekend and the week, after which even the biggest movie may see its collections decline.
Relying on the first three or seven days of release for the film's success is an inefficient and unstable business model, say industry experts, because not only is low-quality content pushed through a cluttered market but the fall in business thereafter is likely to be more steep.
In the last three years, on an average, the top 10 Hindi film hits each year have made 39.68% of their lifetime collections over their opening weekends and 66.6% of their earnings from the opening weeks. These include big-ticket films like Salman Khan's Eid release Race 3 that made 60.57% of its collections in its first three days and 84.24% of its earnings over the first seven. (The film earned ₹166.15 crore in lifetime collections.) Last year's Diwali blockbuster Golmaal Again made 42.63% of its overall ₹205.50 crore earnings in its opening weekend and 66.18% of the collections over its opening week.
The most important reason for the obsession with massive openings is the space crunch in the Indian movie exhibition industry. The 200 odd Hindi films released per year barely get enough breathing space at the box office. India has a total of 9,530 screens according to the Ficci-EY media and entertainment industry report 2017, with eight screens available per million of population. Because of the clutter of releases, producers and distributors are fighting for shelf life in multiplexes and there is pressure to monetise the immediate weekend because next week, there is no guarantee that the film will still be in theatres.
"It's to do with more number of movies getting produced and less number of screens in the country. The demand is huge, the supply is crazy too but there aren't enough multiplex screens," said Devang Sampat, director, India Strategic Initiatives, Cinépolis India.
There are two kinds of successful films, Sampat added—ones that grow by word-of-mouth and ones that come with big hype and marketing.
"The word-of-mouth movies are quite limited, I think production houses are very clear that people have to be excited about watching a movie in the first weekend and that is what movie marketing is about," Sampat said.
That makes sense given that the distributor-exhibitor share in the film business is skewed in favour of the latter. In the first week of a film's theatrical release, the revenue share is divided equally between the two, while in the second week, there is 60:40 split in favour of the exhibitor, which changes to 70:30 in the third week.
Film industry experts say that the dependence on openings is unhealthy for movie business. "It becomes a vicious cycle," said Vikram Malhotra of Abundantia Entertainment, which has co-produced films like Airlift and Toilet: Ek Prem Katha. "Because you're unsure of a long run that is driven by lack of surety of quality of content, you focus on trying to drive in as much footfall in the first three or seven days of release. To do that, you release the film as wide as possible, to the extent that the release is inefficient and sub-optimal."
Malhotra says often big films book too many screens, presuming that it will translate into greater visibility and access. However, because the number of screens is unusually large, and inefficiently so, per theatre occupancy is lower, at least over time. It then leads the theatre to believe the film is not working and you're back to square one trying to drive in more people in the opening weekend.
"Fundamentally, this is a practice that cannot be treated as a business model. By getting an opening, you aren't generating more business, you're just front-loading that business and advancing your sales," Malhotra said.
All figures have been sourced from movie website Box Office India.
["Source-livemint"]