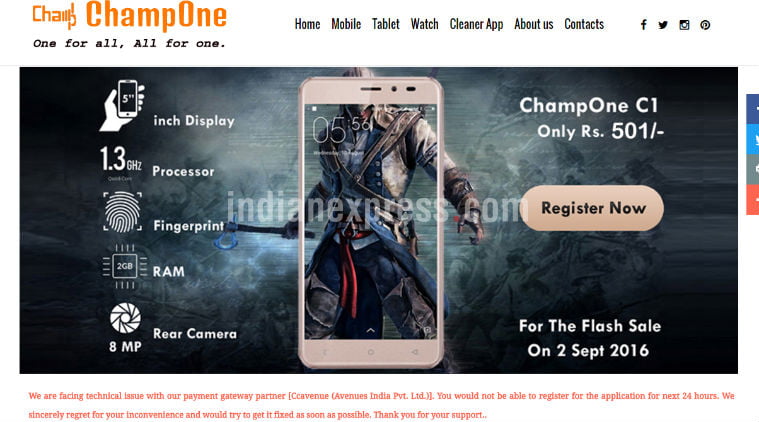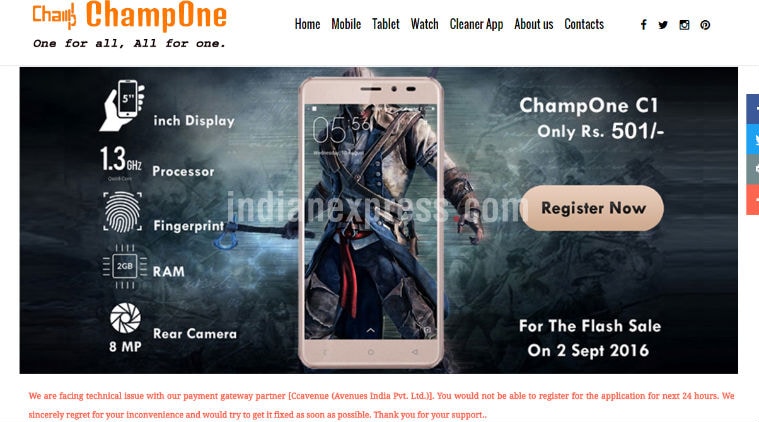 ChampOne is a company we haven't heard of, and we're sure you haven't either. But the company has made its way to the headlines today thanks to this claim: A smartphone called ChampOne C1 at just Rs 501, which offers better specifications than many mid-range phones in the market. ChampOne is unheard of, but it is attempting to pull off a Ringing Bells, which created a buzz in the smartphone market with its Rs 251 smartphone called Freedom 251. ChampOne has a website called champ1india.com, where its smartphone called ChampOne C1 is listed for Rs 501.
According to the site, the flash sale is on September 2 and registrations are open now. Users need to pay cash on delivery. But here's the catch – though the site says it is open for registrations, the company is facing 'technical issues' (rings a bell doesn't it) with its payment gateway partner [Ccavenue (Avenues India Pvt. Ltd.)].
"You would not be able to register for the application for next 24 hours," the site says. It is beyond us why they need a payment gateway when they have a cash on delivery model.
For anyone who tried ordering the Freedom 251, this is what you'd called a deja vu moment. For when Freedom 251 was announced the website had crashed within hours, given the interest the phone had generated.
ChampOne though leaves us with serious doubts. For starters, the logo looks like a distorted version of an earlier Micromax logo, as far the style and colour goes. The website has an About Us page, which unsurprisingly doesn't tell you much about the company. The 'new' website is full of grammatical errors.
"We are newcomer yet efficient, we have just stepped in this radio based domain and have to go for benchmark," the site's Mission and Vision page reads. "We are going to touch everybody by building a market place which combines a simpler universe with technology," it adds. Let's hope they don't mean that literally. The About Us, Mission and Vision page have the same text as well. In Contact us, there is a helpline number, and location for an office in Jodhpur.
In terms of specifications, ChampOne C1 claims to make some truly astounding claims, especially if one considers the Rs 501 price tag. This is even better than what Freedom 251 claimed to offer. The specs are as follows: 5-inch display HD display, 1.3GHz processor, 2GB RAM and 8MP rear camera. There's even a fingerprint scanner. These specs will cost you at least Rs 6,999 or higher in the current smartphone market. But we don't know if the smartphone even exists.
In fact this isn't all, there's also a tablet and a smartwatch listed as coming soon. Specifications for the watch and the tablet are also listed, and once again they sound too good to be true, especially from an unknown newcomer.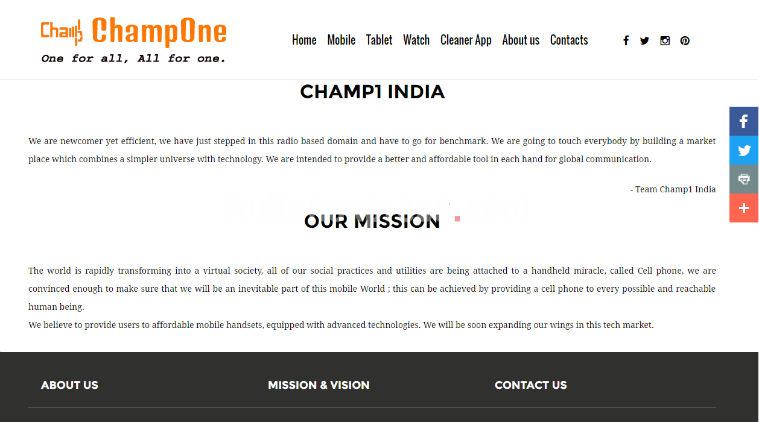 The ChampOne website has an About Us page, which unsurprisingly doesn't tell you much about the company. The 'new' website is full of grammatical errors.
ChampOne is not the only one to try this cheap smartphone trick. There was Docoss X1, an Android smartphone at Rs 888, also from a company based in Rajasthan. Then Namotel, a smartphone at Rs 99 which was launched in Bengaluru, and yes the promoter claimed it was also Made in India.
Must Read: Docoss X1 priced at Rs 888: Is this the latest Freedom 251?
The most famous is of course, Ringing Bells, which has built an entire portfolio of devices and established its brand in India because of the hype around Freedom 251. We've already discussed how a smartphone at a price of Rs 251 or even Rs 501 or Rs 1000 is impossible. This is because the assembly cost is a minimum of Rs 2400 for even the most basic smartphones.
In case of the Freedom 251, six months after the launch, most of the 7.5 crore users who had booked the phone are unlikely to get it. The company has itself confirmed they cannot deliver this number. And now ChampOne looks and sounds no different. Nobody is sure what the company is up to at this moment, but there's no doubt this phone will generate a lot of interest. Our only warning: Don't expect it to be real.
[source;indianexpress]