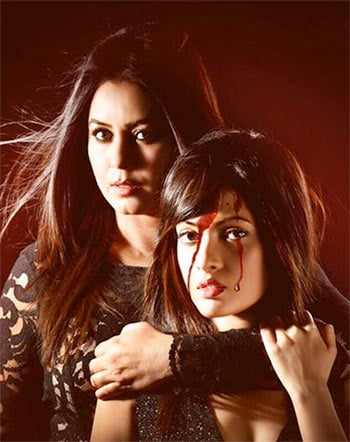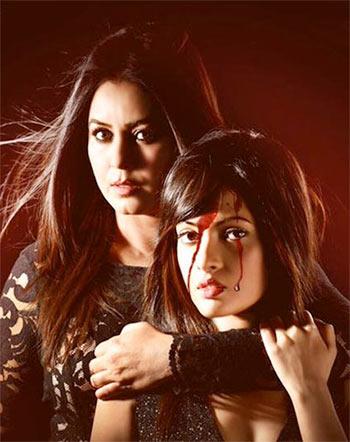 Director Agnidev Chatterjee's Dark Chocolate — the first film inspired from the high-profile Sheena Bora murder case — is hardly an eye-opener.
There is nothing in the film that you don't know already.
Recently, Meghna Gulzar dealt with the subject of the Aarushi-Hemraj murder case in her film Talvar so sensitively and meticulously that it compelled me to rethink about the case. It fed me with such new information that it made me see things differently, with an open mind.
Sadly, Dark Chocolate doesn't go down the same path.
It seems as if the makers have just picked up information from news channels and media reports and have turned it into a movie. In fact, if you take out the acting bits, it's like watching a long news show.
Mahima Chaudhry makes her debut in Bengali cinema with this film, and plays Ishani Banerjee, a character based on Indrani Mukherjea.
Riya Sen plays Sheena Bora, and her character is called Rina Bardhan. Strangely, she also plays the younger version of Ishani.
When Rina's body is unearthed accidentally, Mumbai Police Commissioner orders an inquiry into the case.
Ram Charan (Rajesh Sharma), who is Ishani's driver, is arrested and he spills the beans on Rina's murder. He confesses that it was Ishani's plan to kill Rina.
After his confession, Ishani is taken into custody, and she reveals that her second husband Shadab Kapoor (Shataf Figar) was also involved in the murder.
All three prime suspects — Ram Charan, Ishani and Shadab — are interrogated, and all of them have a different version of the same murder.
We also we get to see Ishani's backstory in flashback. Though it is tragic, it's hard to empathize with her character. But that could also be because Riya Sen, who plays her younger version, has the same expression in every scene.
From Ishani's trajectory past to how she meets media baron Victor Banerjee (Sudip Mukherjee) and climbs up the social ladder, Dark Chocolate constantly reveals new secrets, and shows the motive behind the murder.
The film lacks finesse.
It is loud and moves haphazardly from one scene to another. There are a few sequences that just don't fit into the flow of the story.
Mahima Chaudhry is a tad better than everyone else only because she plays the protagonist.
Riya Sen is good in bits, but overall, she doesn't make any impact.
Indrasish Roy and Mumtaz Sorcar, who play the crime branch officers, try their best to play their parts well, but their acting isn't effortless. They use cuss words often and it looks forced.
If you haven't been following the Sheena Bora murder case but want to know more, read up on it or watch the videos on the net. Don't bother watching this film.
[source;rediff.com]