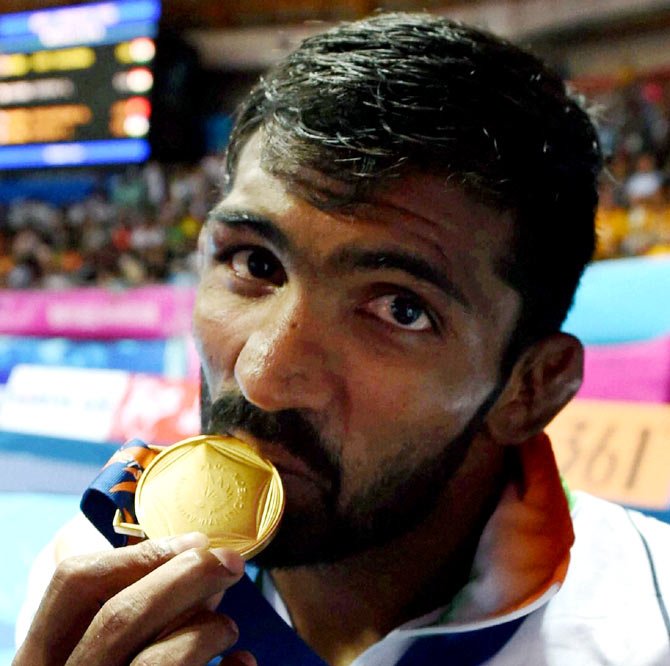 London Olympics bronze medallist Yogeshwar Dutt has reacted sharply to reports that he could be the beneficiary of positive dope tests returned by the wrestlers who won gold and silver in the 60kg category at the 2012 Games, saying Coleman Scott of the United States, who also ended up with a bronze, should get the gold medal because he lost to the eventual champion, Toghrul Asgarov of Azerbaijan.
Media reports suggest that the Azerbaijan wrestler's sample also returned a positive test from the World Anti-Doping Agency's re-testing of samples collected from the Beijing and London Olympics.
Earlier this week, Yogeshwar's bronze medal was upgraded after Russian wrestler Besik Kudukhov, who died in a car crash in 2013, was stripped of his silver medal after his sample tested positive for a banned substance.
Speaking exclusively to Aruneel Sadadekar/Rediff.com, the Haryana-based wrestler shed light on the latest reports of Asgarov testing positive and Sakshi Malik's bronze medal feat at the Rio Olympics.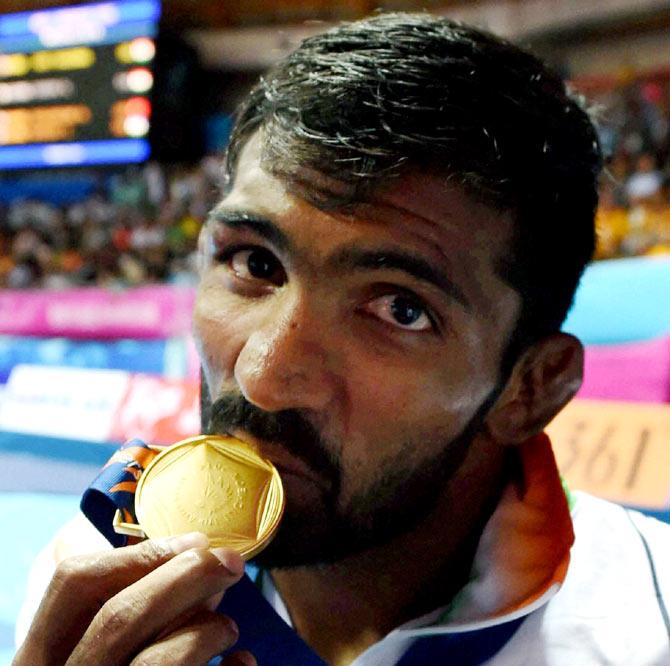 IMAGE: Yogeshwar with a gold medal from 2014 Commonwealth Games. Photograph: PTI Photos.
There are reports that your silver medal will now be upgraded to gold?
I have heard about these reports, but, according to me, I will only be getting the silver medal.
We were two bronze medalists. I had qualified through repechage and lost to the silver medalist. The other bronze medal winner, Coleman Scott of the United States, should get the gold because he lost to the eventual champion.
Thus, I don't think my silver will be upgraded to gold.
However, I am yet to receive any formal information about this, my silver medal, and am only telling you what I feel.
Yogeshwar, even your samples will be tested now. Two medal winners have already tested positive. Are you also scared now?
Not at all! Main 100 percent clean hoon (I am 100% clean). I am extremely confident that I will emerge clean out of this.
However, like I earlier said, I would like if the silver medal is kept with the family of the late Russian wrestler who died in a car crash.
I got to know that you are training now. This training is for…?
I am aiming to get things right at the 2018 World Championships. I know a World Championship medal cannot be compared with an Olympics medal, but I really want to show that I can be a world beater.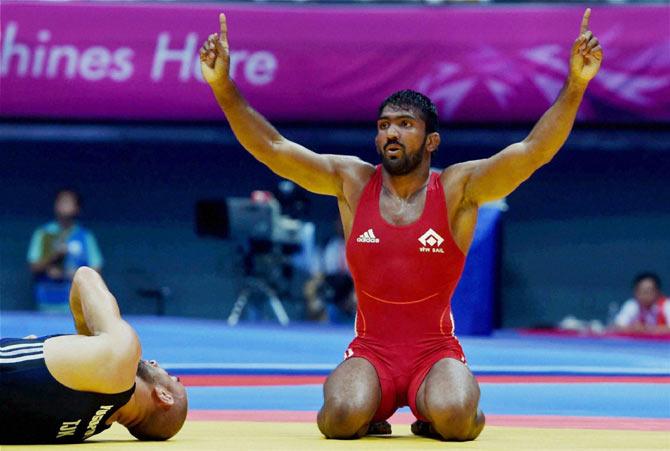 IMAGE: Yogeshwar Dutt celebrates after winning a bout. Photograph: PTI.
Are you also planning to compete at the next Olympics in 2020?
No. The plan is to do well at the World Championships. I haven't decided the plan after that, but, mostly, I will retire in 2018.
What do you think about the bronze medal feat of Sakshi Malik?
It is a tremendous achievement. She has ensured that Indian wrestlers win a medal for the third consecutive time (Sushil Kumar won bronze in 2008; Sushil, Yogeshwar won silver and bronze medals respectively in 2012).
Most importantly, it is fabulous news for women's wrestling in India. It shows we have tremendous potential to make wrestling as our main medal hope at the Olympics.
I am confident that more women will now follow in Sakshi's footsteps and will be allowed by their parents to take up the sport.
Earlier, wrestling in Haryana or India was mainly a male-dominated sport, but Sakshi's medal will change everything now.
I spoke to you earlier ahead of the Rio Games and you were confident of changing the colour of your medal…
I am extremely disappointed. I don't want to speak much about it. I lost and there cannot be any explanation to it. I had trained very hard but lost my first bout.
Finally, your take on fellow wrestler Narsingh Yadav's ban?
It is extremely unfortunate for Narsingh. When he came to Rio we were confident that he would win a medal for India because he looked in good form during training.
Now he is banned. I feel a detail investigation should be carried out in this case. His claims need to be probed.
What are your plans post-retirement?
I want to start my own coaching academy. Wrestling has grown big in India and with the Pro Wrestling League also coming up, I am sure it will grow further.