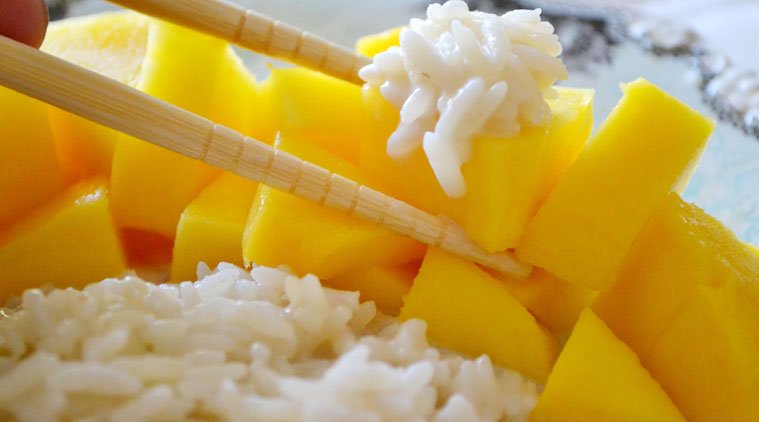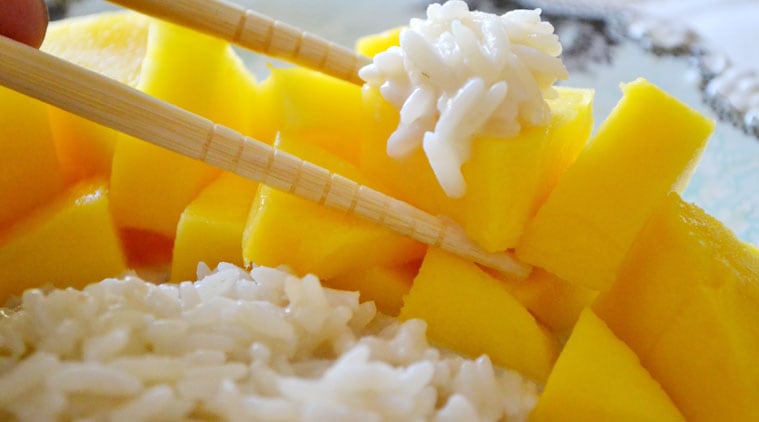 Rich in sweetness, flavour and succulent texture, we bring 5 exotic mango dishes for you.
#1 Sticky Rice with Fresh Mango
By Masterchef Chef Kanchit Vong Vi Chai, Dao
Ingredients
1 1/2 cups uncooked short-grain white rice
2 cups water
1 1/2 cups coconut milk
1 cup white sugar
1/2 teaspoon salt
1 tablespoon tapioca starch
3 mangos, peeled and sliced
1 tablespoon toasted sesame seeds
Method
1. Combine the rice and water in a saucepan; bring to a boil; cover and reduce heat to low. Simmer until water is absorbed, 15 to 20 minutes.
2. While the rice cooks, mix together 1 1/2 cups coconut milk, 1 cup sugar, and 1/2 teaspoon salt in a saucepan over medium heat; bring to a boil; remove from heat and set aside. Stir the cooked rice into the coconut milk mixture; cover. Allow to cool for 1 hour.
3. Make a sauce by mixing together 1/2 cup coconut milk, 1 tablespoon sugar, 1/4 teaspoon salt, and the tapioca starch in a saucepan; bring to a boil.
4. Place the sticky rice on a serving dish. Arrange the mangos on top of the rice. Pour the sauce over the mangos and rice. Sprinkle with sesame seeds
#2 Pan Seared Chicken with Caramelized Mango 
By Sagar Anand, Sous Chef, Lodi – The Garden Restaurant
Mango jalapeño salsa
2/3 cup diced peeled ripe mango
2 tablespoons minced red onion
1 tablespoon minced seeded jalapeño pepper
1 1/2 teaspoons chopped fresh cilantro
1 1/2 teaspoons fresh lime juice
Salt & pepper to taste
Chicken
2 skinless, boneless chicken breast
1 teaspoon raw mango purée
Salt & pepper to taste
Caramelised mango
1 mango slice
1 teaspoon sugar
Method
1. To prepare salsa, combine first 6 ingredients. Cover; refrigerate 30 minutes.
2. To prepare chicken, place each chicken breast marinate it with raw mango purée, salt & pepper.
3. Place chicken on a grill rack, grill 3 minutes on each side or until done.
4. Caramelise mango in a non stick pan with some sugar.
5. Serve chicken on the bed of cracked potato with caramelised mango. Pour mango jalapeño salsa over the chicken to the plate. 
 
#3 Mango Cheese Cake
By Anil Kumar, Executive Pastry Chef
Le Meridien Gurgaon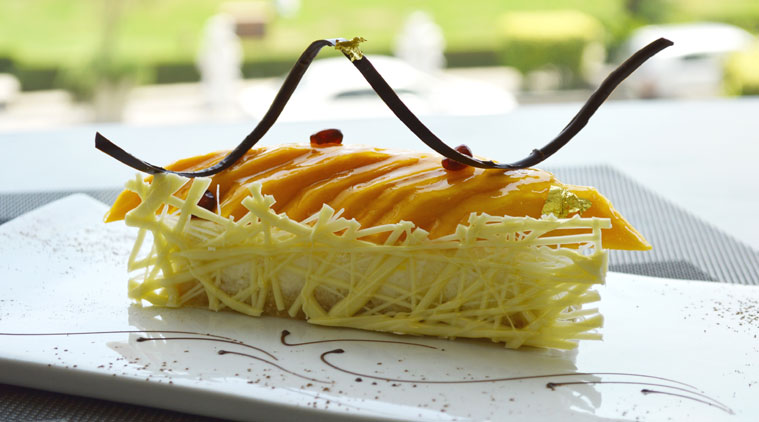 Mango Cheese cake
Ingredients
Cream Cheese – 500 gm
Whole Egg – 3nos
Sugar – 140 gms
Sour Cream – 75 gms
Heavy Cream  – 40 gms
Vanilla – 1 stick
Mango Puree – 200 gms
Fresh Mango – 175 gms
Method
For the base
1) Crumble the cookie with a rolling pin
2) Add melted butter & honey in a bowl. Mix well to make a base.
3. Set aside.
For cheese cake base
1. Beat the cream cheese and sugar and ensure it is folded in well.
2. Add the eggs into the mixture slowly in order to get a smooth and fluffy mixture.
3. Add the vanilla, sour cream and heavy cream to the mixture.
4. Finally add Mango puree and Fresh mango that has been chopped into small pieces.
5. Pour the mixture into the prepared cake base.
6. Bake the mixture in the oven at 150 degree Celsius for a period of 1 hour.
7. Cool down once out of the oven
8. Decorate with more pieces of fresh mango and chocolates and serve slightly chilled.
#4 Smoked Mango Salad
At S18, Radisson Blu, MBD Hotel, Noida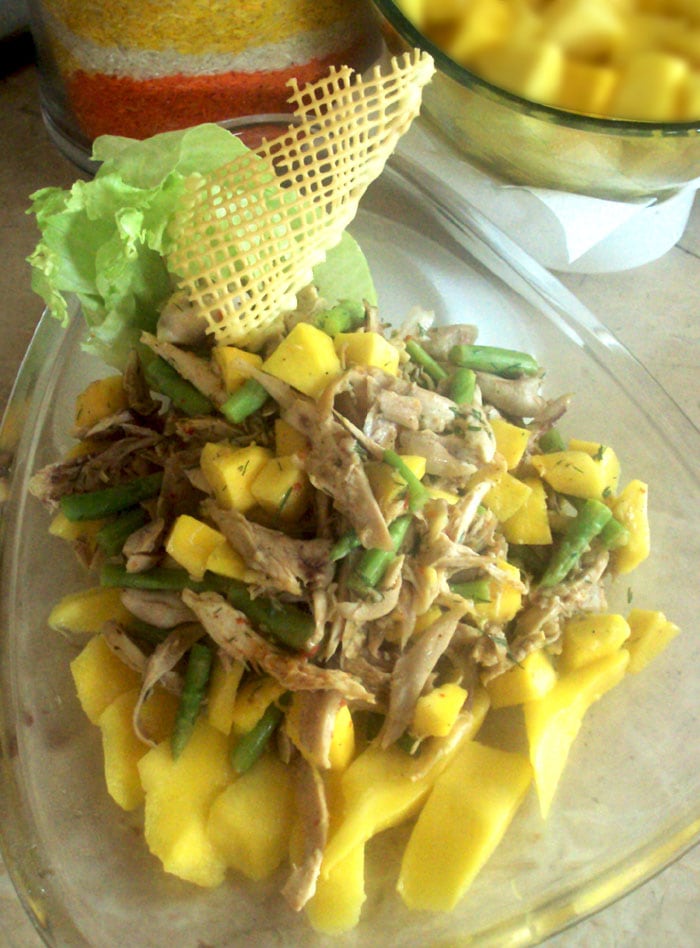 Smoked Mango salad
Ingredients
Chicken roasted – 200 gms
Mango dice – 150 gms
Asparagus spears – 70 gms
Olive oil – 50 ml
Dijon Mustard – 10 gms
White wine vinegar – 30 ml
Sea Salt – 5 gms
Crushed Black pepper – 2 gms
Dill – 5 gm
Method
1. Mix the oil, vinegar, mustard, black pepper to form a dressing.
2. Chop dill and add to the dressing.
3. In a salad bowl, mix mango, asparagus and roasted chicken.
4. Drizzle the dressing and sprinkle some sea salt to taste.
5. Serve chilled.
 
#5 Mango Fruit Cake
At The Grand, New Delhi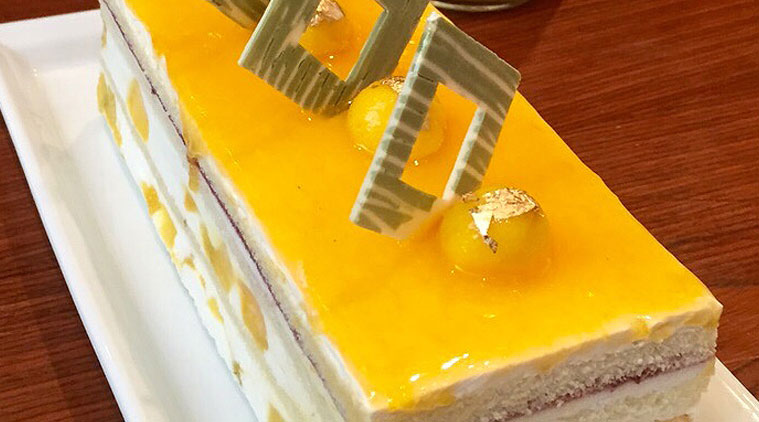 Mango Fruitcake
A soft and moist cake made with vanilla sponge, whipped fresh dairy cream and fresh diced mangos, garnished with Mango puree, scoop of fresh mango and white chocolate.
["source-indianexpress"]