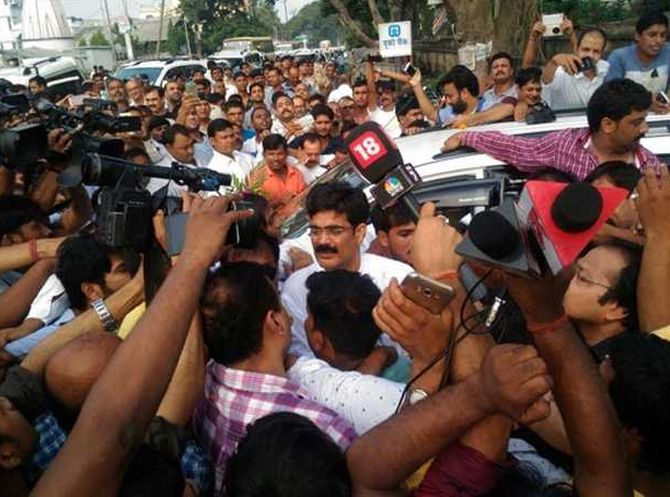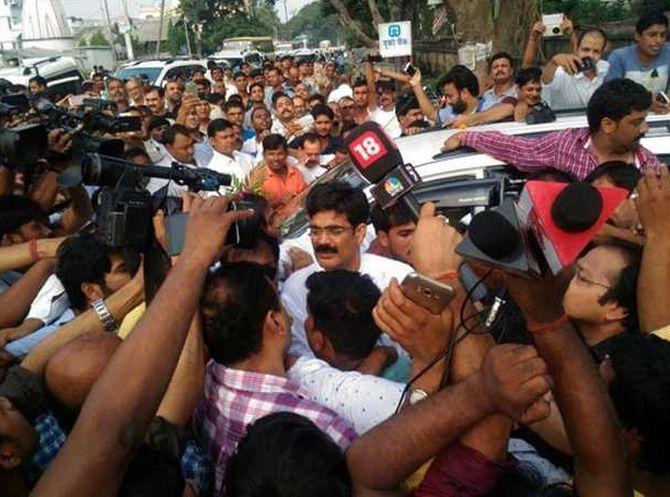 Former Rashtriya Janata Dal MP Mohammad 'Saheb' Shahabuddin on Saturday walked out of jail after 11 years, as the Patna high court granted him bail in the Rajiv Roshan murder case.
Rajiv Roshan, an eyewitness in the acid attack case of Siwan, was gunned down allegedly by Shahabuddin's sharp shooters in 2011. Roshan was the eyewitness in the murder of his two brothers Satish Raj and Girish Raj who were sons of a noted businessman Chandrakeshwar Prasad.
Satish and Girish were kidnapped and murdered on August 16, 2004 in Siwan, the turf of the former RJD MP Shahabuddin. However, it was the brutal manner in which both brothers were killed that shocked everyone. Both, brothers were drenched in acid before being killed allegedly on Shahabuddin's direction.
The four time RJD MP and bahubali was given a hero's welcome with his supporters and followers from across Bihar collecting outside the Bhagalpur jail where he was lodged.
Describing the chaos, a district police official said, "It was like a stampede in front the main jail gate with Shahabuddin's followers chanting slogans."
Now after being let out of jail, the strongman, accompanied with a cavalcade of hundreds of cars, made their to Pratappur in Siwan, his native village.
His village has already begun the celebrations with sweets being distributed and firecrackers bursting.
Soon after his release, Shahabuddin addressing the media in chaste Hindi said that it was wrong to describe him as 'Siwan terror' and that no one was afraid of him. "Mujhe aantak ka paryay kahna galat hai."
"Main tera saal ke baad apne ghar ja raha hoon. Main khush hoon, logon se milunga (I am going home after 13 years. I am very happy; will meet people)" said the RJD strongman.
And soon after his release, the Lalu loyalist took a dig at the state's chief minister saying, "My leader is Lalu Yadav."
Shahabuddin, who faces more than 40 criminal cases, including those of abduction and murder, and has been in jail for the past 11 years, was shifted from Siwan district jail to Bhagalpur in May this year after it was alleged that he had pulled strings from jail and played a role in the murder of Hindi newspaper journalist Rajdeo Ranjan.
The former MP gained 'popularity' with his 'pro-poor' diktats like ordering Siwan's doctors and lawyers in the mid 1990s to stop charging their patients and clients exorbitant fees.
He is said to have helped the poor by providing dowry and cash for their daughters' wedding expenses and also paid for their children's higher education.
Shahabuddin's electoral career commenced in 1989 when he was elected a member of the Bihar assembly from Jiradei. He also represented Siwan four times in the Lok Sabha from 1996 to 2009 as an RJD MP.
Talking of his close ties with RJD chief, a leader said, "Only he was able to sit across Laluji with one leg crossed over the other. That he could talk to Laluji while looking him in the eye was evidence of his power."
[source;rediff.com]