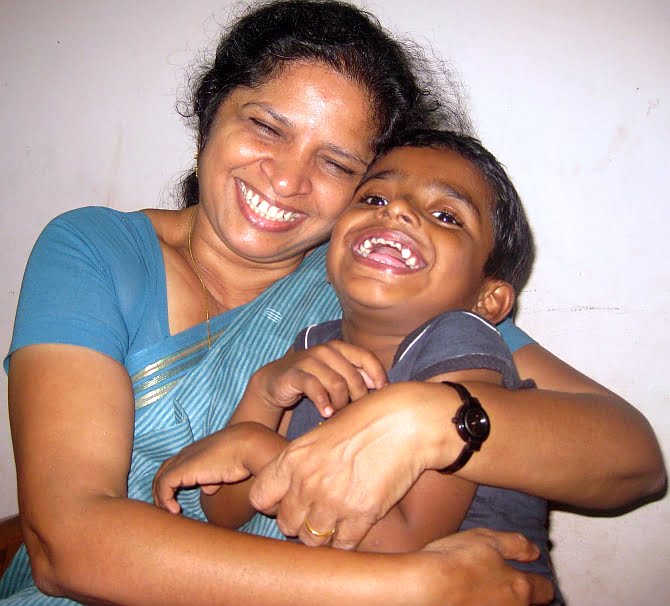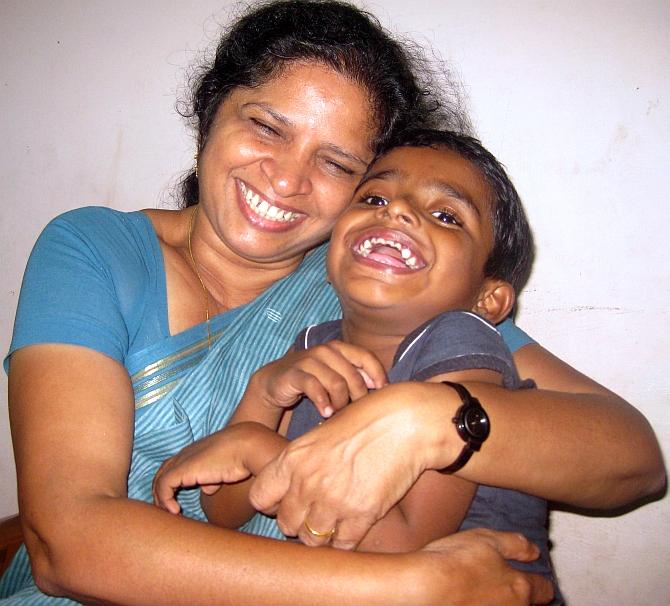 Sheeba Ameer epitomises a mother's fight against cancer.
In the process, she has become a 'Solace' for many mothers who fight similar battles, those mothers who have no means to provide proper treatment and after-care, and buy the right medicines for their children.
Even while she fought her battle for her daughter, she felt it was her responsibility as a citizen to support those who do not have the financial means like hers, and started the organisation, Solace.
Solace spends Rs 8 lakh (Rs 800,000) every month — donations from kind-hearted people — for the 1,500 children under its care.
Seven years after she started Solace, her daughter passed away, but Sheeba continued her journey, gaining energy and strength from her daughter's memory.
Countless awards have come her way for her selfless work, including the Malayala ManoramaVanitha Person of the Year and the CNN-IBN Person of the Year.
When I met her at the Solace office in Trissur, she was just back from Dubai after spending some time with her son.
Despite her son's protests, she rushed back.
"For the first time in our existence, we are short of cash, and as the fundraiser, my presence is needed here. I told my son, 'Umma will spend more time with you once this job is done'," Sheeba said.
Even when her daughter was ill and needed all her attention, she took time to work for the children afflicted with cancer.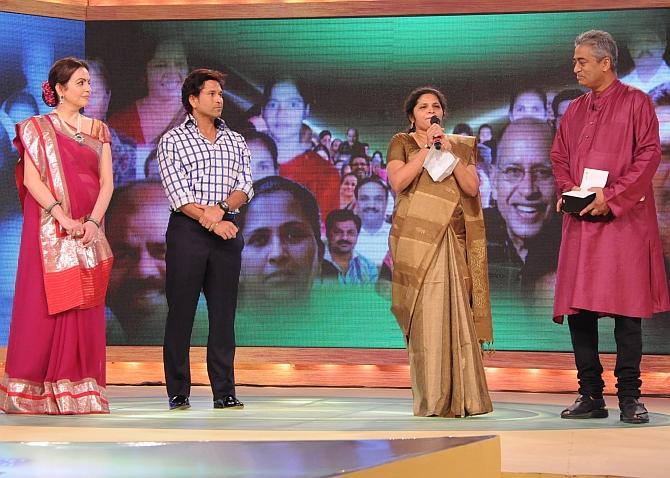 IMAGE: Sheeba receives the CNN-IBN Person of the Year 2011 award. Photograph: Kind courtesy Sheeba Ameer
It was because of the upbringing her father gave, the kind of atmosphere at home he provided that Sheeba is today what she is.
He ran Jwala, a publishing house and a printing press. Like the name suggests, Jwala was revolutionary with almost all of Kerala's revolutionary writers writing for it.
Revolutionary poet Sachidanandan edited Jwala for a long time.
"I was fortunate to have brought up in a very liberal atmosphere created by my Vaapa (father)who was a reformist and a man with progressive thinking. There were no restrictions on us. We did not know the boundaries of any religion."
"It was a very rich childhood,: she recalls, "I grew up listening to revolutionaries like V T Bhattathiripad, M Govindan, Kadammanitta, etc. All the great writers visited our home and I was witness to all their discussions and debates."
As Sheeba was not a good student and preferred playing and climbing trees to books, she was married off at the age of 18 to Ameer, a marine biologist.
In no time, she was transplanted from the world of writers and revolutionaries, to Qatar.
"Somehow I could not adjust to the superficial life in the Gulf and my heart yearned to see rains, the paddy fields and the birds. But life went on and without me knowing, 15 years passed by. That was when we decided to come back to Kerala with our children, Nikhil and Nilufa; children and me first, and then Ameer."
A few days might have passed after they settled in their home with trees all around; from where she could watch the rains and listened to birds chirp.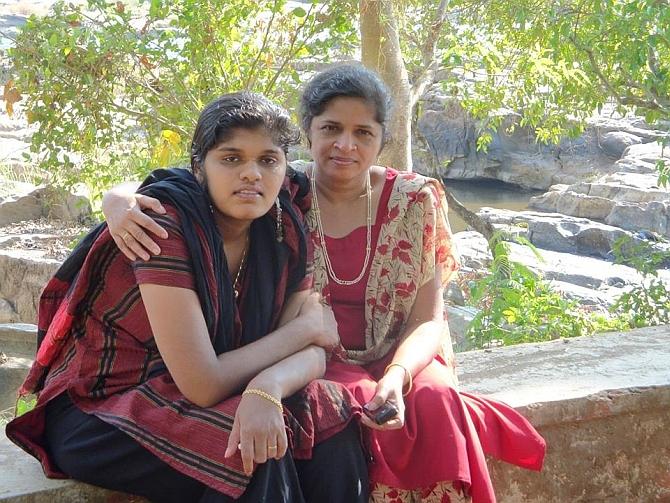 IMAGE: "Like blotting paper, I wanted to absorb all her fears, pains and unhappiness," says Sheeba when she learnt that her daughter Nilufer (in the photograph) was diagnosed with Acute Myeloid Leukaemia. Photograph: Kind courtesy Sheeba Ameer
Then her daughter fell ill. She was just 13.
The moment it was diagnosed that she was suffering from Acute Myeloid Leukaemia, her parents admitted her to the Tata Memorial Hospital in Mumbai to give her the best treatment India could offer.
"In that one moment, life changed completely for me. Suddenly I became the most responsible person in the whole world. The only concern I had was that my daughter should not feel any pain, she should not feel unhappy and she shouldn't have any fear. I knew I have to make all that happen. Like blotting paper, I wanted to absorb all her fears, pains and unhappiness."
The treatment suggested was a bone marrow transplant and if not, her survival was just five months.
They met Dr Purvish M Parikh who had conducted the first bone marrow transplant in India, and it was decided that her son would donate the bone marrow.
"Though he was just 16, we did not even have to convince him. He was ready to do anything for his little sister. I still cannot forget that day. Both my children were in two different rooms — my daughter was in one room getting ready for the transplant and my son was in the operation theatre giving his bone marrow in 8 syringes. I just sat there outside so helpless and clueless."
The bone marrow transplant was a success. Nilufer miraculously survived and she was fully cured of cancer.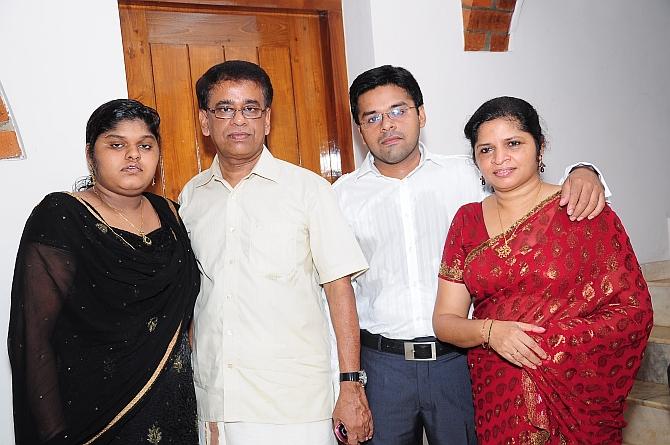 IMAGE: As Sheeba and her husband Ameer gave their daughter the best possible treatment available in India, she saw around her thousands of children whose parents could not afford to provide them any treatment. Photograph: Kind courtesy Sheeba Ameer
Sadly, other problems surfaced; Nilufer's heart was affected by the chemotherapy. Because of the steroids used, both her hips collapsed by the time she was ready to leave the hospital.
"She was on a wheelchair for a few years, but she was such a fighter that she wrote her 10th standard exam and came out in flying colours. Later, she underwent hip replacement and went to write her final year BCom examination, walking," says Sheeba.
As Sheeba and her husband Ameer gave their daughter the best possible treatment available in India, she saw around her thousands of children whose parents could not afford to provide them any treatment.
"On one side, we were spending money without even blinking, and on the other, parents were crying not being able to find enough money to buy even medicines, let alone costly treatment like a bone marrow transplant."
"For us, money became such an insignificant thing in front of our daughter's life, but it was so precious, so valuable for the others. I was seeing the two aspects of money, what it can do and what it cannot. When we were spending Rs 3 lakh (Rs 300,000) a day, there were parents who could not even afford Rs 10,000 for their child."
"I saw with my own eyes that only those with money could afford the kind of treatment that was given to cancer patients."
Sheeba felt she should do something for those unfortunate children. Sitting by her daughter's side, she told Nilufer her plans and said she would call it Solace.
"That's what I wanted to do, give solace to those parents and children. My daughter was so happy to hear about my plans."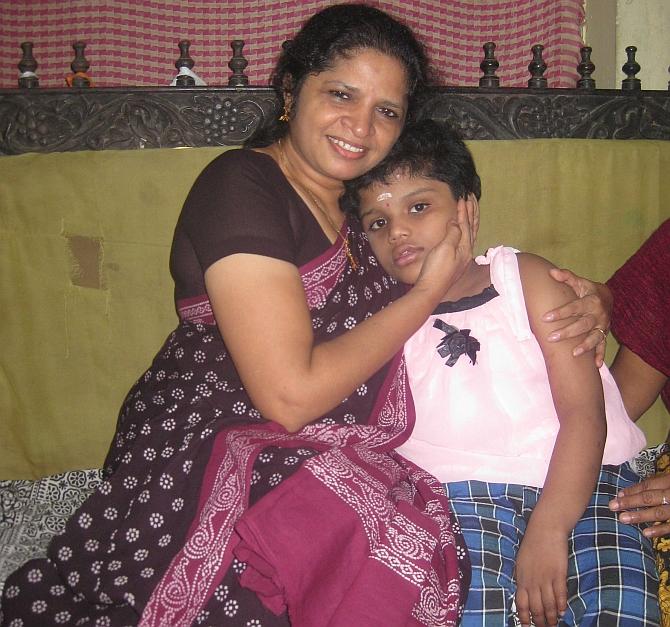 IMAGE: Sheeba felt the problems the children faced were her own and not just that of their mothers. Photograph: Kind courtesy Sheeba Ameer
The moment she returned from Mumbai in 2001 after three years of her daughter's treatment, she started planning for Solace.
"I felt if I did not do anything for those children, I would be doing an injustice to myself, to the childhood my father gave us, and to my father who made us socially responsible. My father had sold all the land he had to run the publishing house and a magazine as he considered it his responsibility towards society."
"Because of what my father taught us indirectly, I felt that the problems those children faced were my own and not just that of their mothers, and that it is my responsibility to take care of them the way I took care of my daughter."
Until then Sheeba was just a housewife taking care of her husband and children. For the first time in her life, she decided to come out of her comfort zone.
It was not a easy transition for her, as she faced stiff opposition from her husband. "His strong stance was that I should not do it, but I felt nobody in this world could stop me."
It was a tough decision to make, but her daughter and her father supported her wholeheartedly.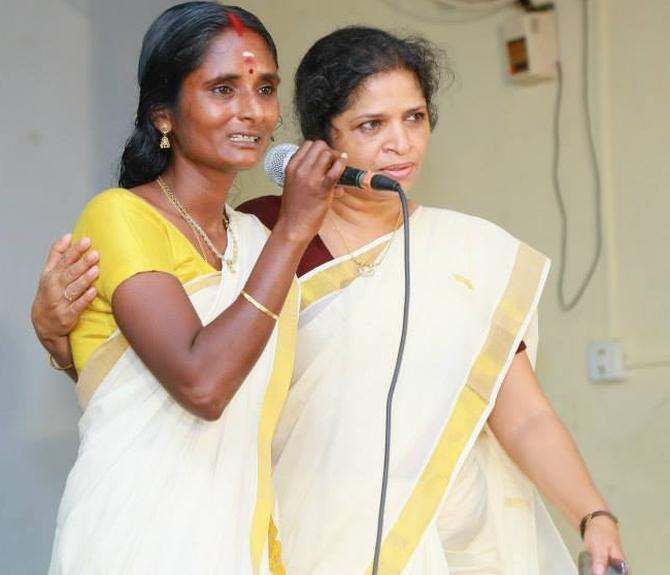 IMAGE: "I am gaining energy from my sadness to be a strong mother to Solace," says Sheeba, seen here with a relative of a cancer-afflicted child at Solace. Photograph: Kind courtesy: Solace/Facebook
She got in touch with Dr Divakaran who was very close to her father and ran the Pain and Palliative Care centre in Thrissur.
She decided to work there to learn the basics of care-giving before she started Solace.
"In fact, it was not only to learn but to have my freedom that I joined Pain and Palliative Care. I was so involved in it that soon I was taking care of paediatric palliative care and spending a lot of time at the paediatric ward at the medical College."
She did not stop with her work at Pain and Palliative Care. With the salary she received in eight months, she started an enterprise that designed Muslim bridal veil.
In no time, she picked up 28 women who were in need of succour — abandoned wives, women with sick people at home — and launched Blooming Pearls.
The enterprise became so successful that they were supplying Muslim bridal veil throughout Kerala.
"I started Blooming Pearls for the initial investment needed for Solace. I was juggling both my work at Pain and Palliative and Blooming Pearls but I became financially and emotionally independent. I did not have to be dependent on anyone for anything. I also did my homework on how to take care of an entire family when a member of the family is afflicted with cancer, and also how to run an organisation."
After seven years of juggling both careers, in 2007, she felt she was ready to start Solace.
Dr Divakaran and Dr Ajayan, along with nine others, joined as trustees. The first project was building a play station adjacent to the children's ward at the medical c ollege costing Rs 3 lakh. An organisation from Qatar provided the entire financial support.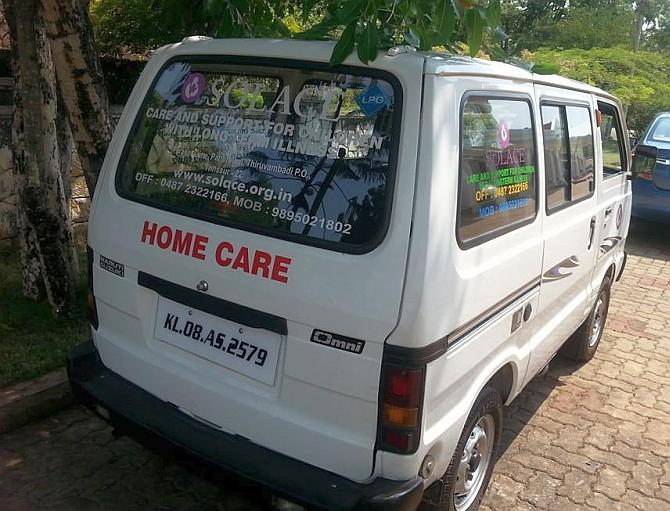 IMAGE: Beginning with one centre in Thrissur, Solace has satellite centres in Kochi and Kozhikode and sub centres in Malappuram and Pattambi.
70 committed volunteers work for Solace.
Seen in the photograph is an ambulance operated by Solace. Photograph: Kind courtesy Solace/Facebook
The next mission was to provide life-saving medicines free of cost to all the children who come for treatment. Also in Sheeba's plan was to help them lead a quality life while the treatment was going on.
"My intention was to support the curative treatment of children and if needed, palliative care too, but the stress was on curative care because they were children. I did not want a single mother to shed tears for her child because she could not afford the right treatment for her child."
Sheeba says she could devote so much time for these children because of the support her daughter gave her.
"My daughter was my pillar of strength. I knew she would not be with me always, yet I wanted to give my time to other children. I do not know whether I did the right thing. She wanted me to get out and help other children like her, all the time encouraging me by saying, 'Umma, you should do this, you should be with Solace!'"
"She felt I was a super-mom and could do everything to help her. Similarly, she also felt that I could help every child who is suffering and every child who is sick. That confident she was of my ability."
Nilufer was by her mother's side for seven years after Solace began. She used to help her mother at the Solace office.
The girl who survived cancer and many other ailments died 16 years after she was first diagnosed with cancer, due to many complications.
"I fought like a tigress all the time, giving her strength to fight and hope. To her, there was nothing that her mother could not do, but a day came when I could not help her any longer. She was taken to the ICU one last time and after that, she didn't come back to me. Now, Solace is my daughter.
"My daughter was like a little star born to give me light and guide me in my endeavour. She went on a new journey when she realised that I had a firm footing on what I was doing. She knew I had the courage and strength to go ahead without wavering. She bid goodbye to the world leaving this mother to all the other children who need her. I am gaining energy from my sadness to be a strong mother to Solace."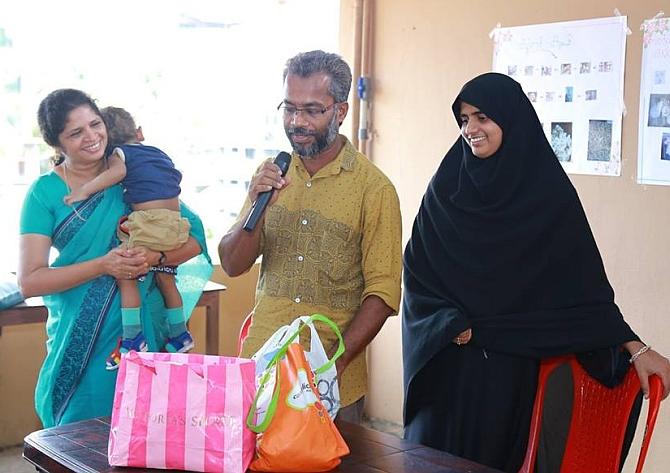 IMAGE: Sheeba is now worried about finances. For the last few months, Solace has been unable to supply the rice kit (with all the essential food items) given to poor families with sick children. Photograph: Kind courtesy Solace/Facebook
Solace supports 1,500 children suffering from cancer, thalassemia, cerebral palsy, nephrotic syndrome, haemophilia, heart disease.
For the first time since she started Solace, Sheeba is worried about finances.
"Till now, finance was never an issue; somehow money just flowed in. Maybe because there are so many good people out there to give a helping hand to sick children. It is not that we are not getting money, but there are more children with us who need help than there are people who support us with money. The balance has tilted for the first time."
"When people come to know about Solace and come to us seeking help, we cannot send them away. We want to help every single genuine case that comes to us. We need Rs 9 lakh (Rs 900,000) every month for these 1,500 children but we get only Rs 8 lakh."
"We were never in such a situation before. Some of our friends are pitching in by printing wedding invitations with the message, 'Please don't bring any gifts, but donate to Solace.' I am positive we will overcome this."
In the meantime, the plan to build an After Care centre on a 20 cent (In Kerala, one cent equals 1/100th of an acre) plot donated by an organisation in Kuwait is going on. Sheeba feels it is as important as providing medicines.
"These children need a clean atmosphere after the treatment for at least 10 days and most of the parents cannot offer them that."
What saddens Sheeba is "The worst suffering in the world is what the parents of a sick child go through; the suffering becomes helplessness when they know that there is treatment for your child out there in all those super-speciality hospitals, but you cannot afford it."
"Can you compare this helplessness with anything else?"
[source;rediff.com]