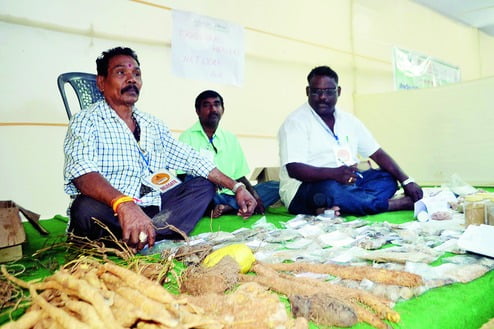 From time immemorial, man has used the immense power of the plant world – the proof in several ancient texts – to beat diseases and death. Even in today's e-age, the healing potential of herbs blurs both cultural and geographical boundaries.
Samvaad, a conclave underway at Gopal Maidan in Bistupur to celebrate India's indigenous inhabitants, their tradition and natural remedies, is trying to remind our busy selves how 7,500 plant species can cure lifestyle ailments and how tribal groups have remained the custodians of this panacea.
For instance, in Addateegala, a village in East Godavari district of Andhra Pradesh, natural medicines made by Ayurveda practitioners still offer relief from arthritis, skin problems and gynaecological issues. The people here prefer to drink triphala water for constipation instead of hopping allopathic clinics.
G. Bulliya, a member of nonprofit Laya that promotes traditional medicines, enumerated how ashwagandha is nectar for lactating mothers. "Ashwagandha increases haemoglobin in blood, which in turn boosts a new mother's capability to breastfeed better. It is also a mood stabiliser," the activist said.
Samvaad is hosting 20 kiosks of traditional medicines that promise to cure gastrointestinal problems, chronic cough, diabetes, high blood pressure and hypothyroidism. The conclave, which began on November 15, will continue till Sunday.
"We want to promote traditional healing and want people to grow certain herbs at home. This, in turn, will promote conservation of nature, besides providing livelihood to many," said Awdhish Kashyap, a member of Paramparagat Prakshikshit Van Aushadhi Baid Sangh in Bilaspur, Chhattisgarh. Members of this organisation have presented their medicines at 36 international and 200 national platforms.
Kashyap said the logic behind promoting herbal cure was simple. "Plant medicines have no side effects. Paste of turmeric roots is one of the best remedies for early stage diabetes while garlic is a proven way to control cholesterol. And, the bonus is most natural herbs boost human immunity," he added.
Besides Gopal Maidan, stalls have been set up at the Tribal Culture Centre in Sonari by healers from various parts of Jharkhand, Chhattisgarh, Manipur, Mizoram and Rajasthan. They display medicines like banana powder for snakebites, knotweed for dysfunctional uterine bleeding and caraway seeds for piles.
The speakers at the conclave include botanists and professional healers while topics range from anaemia to capacity building for tribal healthcare.
The experts, however, have a word of caution for those who believe in herbal cure.
"There is a cure for everything in the plant world, but natural medicines should be taken only as prescribed," summed up Shilshi Ishmeal Lamkang from Manipur.
Source:-.telegraphindia