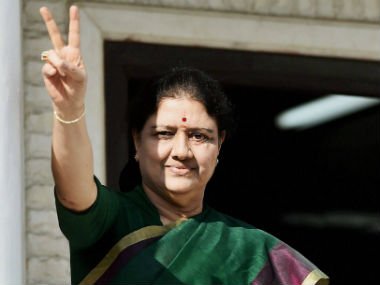 New Delhi: After major controversy over AIADMK leader VK Sasikala having paid bribes and getting VIP treatment in the Bengaluru prison, Karnataka CM Siddaramaiah has ordered an inquiry into allegations made by DIG Roopa. Sasikala was convicted by the Supreme Court in the 21-year-old disproportionate assets case. The interim AIADMK general secretary, a close aide of former Tamil Nadu chief minister J Jayalalithaa, was named in the Rs 66 crore corruption case along with the latter and is barred from contesting elections for 10 years.
The 'VIP' convict Sasikala allegedly lived a lavish lifestyle in the jail having paid a bribe of Rs 2 crore. Let's take a look at what all facilities she was allegedly offered in jail:
 Special Kitchen: The CM has ordered a probe into Sasikala having a special kitchen in the jail. A claim that the DGP (Prisons) said was made to ensure that the leader was not poisoned.
– Late Staying Visitors: On various occasions people coming to visit Sasikala would stay beyond the stipulated time for visitors i.e. 5 pm. Many allegedly met her after 6 pm as well. Jail authorities counter this by claiming it was upto the jailor's discretion on the time that visitors could stay.
– Multiple Visitors: 28 people visited Sasikala in prison on 14 different occasions. All of this within just 31 days. This is in clear violation of the Karnataka prison manual and the Karnataka prison rules. The DGP (Prisons) countered this by saying that it was not an iron clad rule.
Let's take a look at Sasikala's list of demands at the time of her surrender:
– A separate room with TV
– Western-style toilet
– Home cooked food
– Mineral Water
– Walking space
– 24-hours running water
– A helper
– Class-A barrack
– 24-hour medical assistance
– Place to meditate
["Source-news18"]