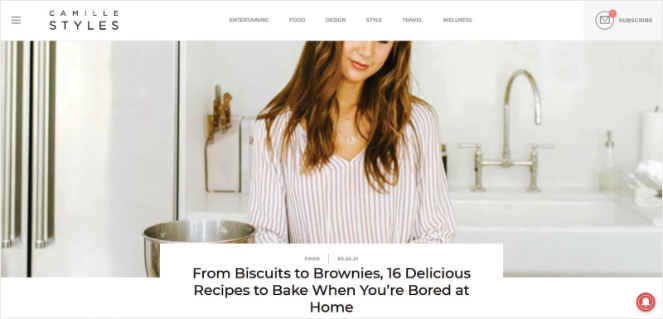 What is a Lifestyle Blog?
A lifestyle blog is a type of website where a blogger writes about their own life, experiences, interests, or daily activities.
Because of this, lifestyle blogs are often more personal than other types of blogs. Rather than just sharing the latest news about an industry or teaching readers about a subject, lifestyle bloggers share their personal experiences to inspire others.
And with lifestyle blogging, you don't have to stick to just 1 topic. You can create content about various subjects relevant to your life like parenting, cooking, fitness, beauty, college life, and everything else in between.
Let's take a look at some examples of lifestyle blogs for better understanding…
Lifestyle Blog Examples
If you're looking for inspiration, you can find many lifestyle blogs on the internet. We've shortlisted some of our favorite lifestyle blogs and listed them down below.
1. Camille Styles
Camille Styles is a lifestyle blogger based in Austin, Texas. She offers a unique approach to fashion, home decoration, travel, food, and wellness.
Aside from sharing her personal advice in blog posts, she also recommends her favorite products through an affiliate program.
With affiliate programs, you can earn a commission anytime someone clicks on your link and buys the product. It's a great way to monetize your lifestyle blog. More on that later…
2. Wit & Delight
Wit & Delight is another awesome lifestyle blog about fashion, food, drinks, parenthood, and more. The blog was founded by Kate Arends when she was in debt and worried about how she would pay the bills. But, Wit & Delight turned into a full-time career.
Wit & Delight also has their own podcast, hosted by Kate.
3. A Cup of Jo
A Cup of Jo was founded by Joanna Goddard in 2007. She started this blog as a weekend hobby but now she describes her blog as an online magazine where she talks about a variety of topics.
The topics range from fashion, food, motherhood, relationships, decor, travel, and beauty.
Now that you know what a lifestyle blog is, let's begin the tutorial on how to start one!
Step 1: Pick a Lifestyle Blog Niche
Before you start your lifestyle blog, you need to decide what your niche is.
A niche is the topic or subject of your blog. To put it more simply, it's the answer to the question: What is your blog about?
We know that the basic lifestyle blog covers topics related to your daily activities and life. So, the subject of your lifestyle blog should be you.
We also know that with lifestyle blogs, you're not limited to 1 subject. You can write about a variety of topics that interest you.
But, it helps to decide what exact topics you want to write about before you do anything else. This will give you some focus and help you figure out how your blog is different from your competition.
For example, the lifestyle blog DadCamp, covers topics like parenting, travel, and arts & crafts for creative and modern parents.
To help decide your niche, you need to ask yourself:
What are your interests?
What are your skills?
Make a list of your interests and skills, then use that list to pick 3-4 lifestyle blog ideas or niches. As for picking out a niche, let's take a look at some popular lifestyle blog niches you can choose from:
Fashion and style
Food and drink
Health and fitness
Hobbies
Travel
Beauty
Home decor
Parenthood and family
When picking out a niche, you need to keep in mind two things:
Don't pick a niche that's too generic
Don't pick a niche that's too narrow
You can't write about every single thing that's going on in your life. That'd be too broad and your focus would be all over the place. Instead, pick a few specific topics like parenthood, food, travel.
But, also keep in mind that you shouldn't pick a topic that is TOO narrow. You won't get enough readers if you pick a narrow niche like "keto diet tips for people over 50 years old."
And most importantly, pick a lifestyle blog niche that you're passionate about. Your blog is about you, so you want to write about a topic that truly interests you.
Check out our blog on how to find a profitable niche for more in-depth information.
Step 2: Choose a Blogging Platform
Next, you need to pick a blogging platform.
There are a lot of blogging platforms for you to choose from, both free and paid.
When you're first starting out, you might be tempted to use a free blogging platform like WordPress.com so you can save money. But, picking a free blogging platform has a lot of disadvantages:
Unprofessional Domain: With a free blogging platform, you'll have the host's name attached to your domain name. LifestyleBlog.com looks more professional than LifestyleBlog.blogspot.com.
No Control: Free blogging platforms don't give you many options to customize your blog. You can't change the design and you'll have to make do with whatever limited features it has to offer.
No Monetization: You can't make money from your blog if you're using a free blogging platform.
Lack of Ownership: You won't have any ownership if you start blogging on a free platform. They can remove your content anytime they want if it goes against their content guidelines.
That's why we highly recommend that you use WordPress.org as your blogging platform.
With WordPress.org, you fully own your blog, you can customize it any way you want, you get tons of features, and best of all you can monetize your blog. You wouldn't be able to do all of this if you were using a free platform like WordPress.com.
We've got a great guide on the differences between WordPress.org and WordPress.com, check it out.
WordPress.org is free, but you still need to pay for your domain name and hosting. But don't worry, this won't cost you much either. We'll go over them in the next steps.
Step 3: Pick a Unique Domain Name
A domain name is a name that your readers will type in their browsers to get to your blog. When picking out a domain name, you need to make sure that your domain name is unique, easy to spell, and easy to remember.
Picking out a good domain name can be very time-consuming and frustrating. But, you can use a domain name generator tool like Nameboy.com to make your life much easier.
Nameboy is a domain name generator that suggests the best domain name ideas for your business.
Their artificial intelligence algorithm combines common words, random words, prefixes, suffixes, and search keywords to make domain name suggestions suitable for your needs.
Consider the following tips before picking out a domain name:
Always use a .com domain name. It means your international, and you can appeal to any geographical location.
Don't pick a domain name that's TOO narrow. You need to choose a name that will let you expand in the future. For example, a name like MyCollegeJourney.com, doesn't really work after you've graduated.
Keep it short and easy to spell. Don't choose a difficult name like MyLif3Styl3isAw3som3.com.
Make it memorable and unique. The name A Cup of Jo is more memorable than Joanna's Life.
Make sure to combine these tips to come up with an awesome name for your lifestyle blog.
Now that you've found a domain name, all that's left to do is register it with a domain registrar like Bluehost. And you can get a free domain name if you use our referral. We'll discuss this more in the upcoming section.
Step 4: Choose a Hosting Service
Next up is to pick a reliable hosting service for your lifestyle blog. Our top recommendation for blog hosting is Bluehost, it's recommended by WordPress.org themselves.
Bluehost hosts millions of websites. Users opt for this blog hosting service because they're reliable, have excellent customer service, and it's easy to set up compared with other blog hosting providers.
Plus, Blog Tyrant readers get an exclusive deal that will save you 60%!
GET 60% OFF ON BLUEHOST
If you use our referral, you'll get 60% off, and you'll also be able to register a domain for free.
GET BLUEHOST NOW!
Get Started with Bluehost
To get started with Bluehost, click on the link above and then click on Get Started Now button.
Then, pick the pricing plan that suits your budget.
Once done, you need to type in the domain name you've chosen, or you can click on "I'll create a domain name later" if you haven't picked one yet.
Next, you need to add the package information. Choose how long you want the pricing plan to go for.
You can also get extra addons if you want, but we recommend skipping them for now as you're just starting out.
Next, add in your payment information to complete the signup process.
After you're done, you'll get an email with your login details to your web hosting control panel. Once you have logged in to your Bluehost account, you can find your WordPress site under the My Sites tabs.
This will now launch the WordPress installation wizard and all you have to do is follow the simple instructions to set up your site.
If you need help, you can also check out our guide on installing WordPress for more in-depth information.
Step 5: Design Your Lifestyle Blog
Your blog is now live, but it's still not ready for the world to see yet. You need to pick a theme design and make it look amazing.
Lucky for you, WordPress has thousands of themes available that can help you design your lifestyle blog any way you want.
We'll list some of our favorite WordPress themes below to help you design your blog.
But before we get to that, let's talk about the things you need to consider when picking out the best theme for your blog:
Responsive: Make sure that you pick a theme that looks good on all devices. If your theme isn't responsive, it might break on mobile devices leading to a bad user experience.
Simplicity: Picking a busy theme with many unnecessary features will only slow down your website and distract your readers. Choose a simple WordPress blog theme that puts the focus on your content.
Reviews: Always check for reviews when picking out a WordPress theme. A WordPress theme might look cool at first glance, but if it's poorly designed, it can negatively impact your site's performance and upset your readers.
Your Brand: Consider your blog's brand when choosing a WordPress theme. Does it match the vibe you want to give to your readers? Does it let you easily customize the theme to fit your brand? If you can check these questions off, then you've found a winner.
Now that we have that out of the way, let's take a look at the best WordPress themes.
1.Astra
Astra is a free WordPress theme for bloggers, and it's being used by over 700,000 people. You can find hundreds of starter templates for lifestyle, food, fashion, travel, and more. This makes it easy for beginners to start their blog or website in no time.
Though the free version is good enough to get you started, if you really want to use Astra to its full potential, you need to get the premium version.
With the premium version, you can get features like
Multiple sites and layout options
More colors
Better fonts
And more
2.OceanWP
OceanWP is another free WordPress theme that has over 2 million downloads.
With OceanWP, you can import any of their demo sites with one click, so you can give your site the exact look you want in an instant. They have demo sites specifically built for blogs, music sites, photography sites, lifestyle blogs, and much more.
3.Divi
Divi is a premium WordPress theme. The thing that sets Divi apart from other WordPress themes is that it's also an easy-to-use page builder.
With Divi, you can drag and drop features from their visual editor to create your own lifestyle blog.
Divi also offers a ton of layouts for its users. You can find pre-built layouts for food blogs, travel blogs, fashion blogs, and more.
These were some of our top picks for WordPress themes. You can also check out the full WordPress theme showcase in our best WordPress themes for bloggers.
Once you've decided which theme to pick, install it on your WordPress blog. Here is a short tutorial on how to install WordPress themes:
Log in to your WordPress dashboard.
Click on Appearance » Themes from the left-hand menu.
Click on the Add New button, you'll be taken to a page where WordPress themes are listed.
Search for your desired theme and hover your mouse over the one you like. Click on Install.
After it's been installed, click on the Activate button.
You can check out our guide on how to install a WordPress theme for more information.
Step 6: Create Core Pages
Next, it's time to create a couple of important pages for your blog: The about page and contact page.
These pages are important because they let your readers know the legitimacy of your blog and help you create a good first impression.
Let's go over each of them.
But first, here's how to add a new page in WordPress. From your WordPress dashboard, click on Pages » Add New.
This will open up the WordPress editor. Here you can add your page title, page text, and images.
Simply click Publish to make your new page live on your site.
About Page
About pages are very important for blogs. They tell a great deal about your blog and the story behind it.
For lifestyle blogs, the about page holds greater importance. Since your readers are interested in what you have to share from your life experience, they'll want to know more about you personally.
When writing your about page, let your personality shine through so that your readers know what to expect from you and your blog. Explain why people should follow your blog and do your best to make this part friendly and fun.
Here is an example of an about page from the blog A Beautiful Mess, started by sisters Elsie and Emma:
For more tips on how to create an about page, check out our article on the best about us pages on the internet.
Contact Page
Your contact page is the only way for your readers to get in touch with you. And as a blogger, you need to make sure that you have a strong bond with your readers.
But, don't just create a contact page and list your email address on it. That'll result in a ton of spam in your inbox.
Instead, add a contact form to the page.
You can easily create a contact form with the help of WPForms, it's the best form builder for WordPress and it's free to use!
WPForms has handy form templates you can use to get started quickly. Simply select a simple contact form template and in less than 30 seconds it will be live on your blog.
It also has a drag and drop builder so you can easily customize your form if you want to.
Want to learn how to add a contact form on your blog? Check out our tutorial on how to create a simple contact form.
SHOW ME HOW!
You can also create surveys and polls, collect payments, create email subscription forms, make PayPal donation forms, and much more, if you upgrade to WPForms Pro.
Also, you can check out our post on the best contact pages for more tips and inspiration.
Step 7: Install Essential Plugins
The best part about WordPress is that there's no limit on how you can use WordPress plugins to customize your blog any way you want.
There are over 60,000 plugins available in the WordPress library.
This section will talk about the must-have plugins you need to have to improve your blog. But here's a quick tutorial on how to install WordPress plugins:
Click on Plugins on the left side of your WordPress dashboard.
Search for your desired plugin.
Click on the Install button to start the installation process
Once it's installed, click on Activate to start using your new plugin.
For more detailed information, here's a guide to installing WordPress plugins.
Now that we have that out of the way, let's look at some of the must-have plugins and why you need them.
1.All in One SEO
All in One SEO (AIOSEO) is a must-have plugin for your lifestyle blog. Because if you want to get more readers to your blog, you need to optimize it for search engines.
Luckily, AIOSEO takes the pain out of SEO, even for complete beginners. This SEO tool will analyze every page on your blog and give you a checklist of improvements you can make based on guidelines from Google and other search engines.
With AIOSEO, it will be easy for you to optimize for SEO and grow your blog traffic.
Plus, it's free to use! But you can unlock its full potential if you get the premium version with more powerful features.
2.MonsterInsights
MonsterInsights is an analytics plugin that makes it easy to install Google Analytics on your blog. Google Analytics is a free tool that lets you analyze the traffic on your blog.
But, Google Analytics can be very confusing for many people.
That's where MonsterInsights comes in.
It lets you view all of your Google Analytics from your WordPress dashboard in easy-to-understand reports. You can see how people found your site, which pages they visited, what they clicked, and much more.
MonsterInsights is free to use, but you can unlock more advanced features if you use the premium version. It's definitely worth it.
3.Sucuri
Sucuri is a WordPress plugin that improves your blog's security and regularly scans your site for vulnerabilities and threats.
It's a must-have plugin because you don't want to get hacked and lose all your hard work. And the best part is that it's completely free.
There's also a Pro version that comes with more security features.
4.WP Super Cache
WP Super Cache is a free plugin that maks your blog load faster. Slow loading blogs can make your readers leave before they even read the first word. And as a blogger, you don't want that to happen.
You can easily prevent this by installing WP Super Cache, and you'll never have to worry about losing your readers again.
These were some essential plugins that you need to install to get your blog run more effectively.
Want to discover more plugins to improve your blog? Check out our list of the best WordPress plugins.
SHOW ME!
Step 8: Write Blog Posts
Now it's time to start creating content for your lifestyle blog. If you're wondering what to write in a lifestyle blog, don't worry, we'll share a few tips.
First, think back to the lifestyle blog niche you chose. If your blog is going to about parenting, cooking, and working from home, then start brainstorming some blog post ideas that relate to those topics.
To make it easier, check out your competition. For example, here's a lifestyle blog called Suburban Tourist:
Scrolling through the posts can give you topic ideas like work from home secrets, how to set up a home coffee bar, self-care tips for moms, and more.
Pay attention to which blog posts have the most comments and shares, those topics will likely perform well with your readers too.
After you have a list blog post ideas, it's time to start writing.
At Blog Tyrant, we have many guides that will help you write awesome blog posts, check them out below:
How to write the perfect blog post
The ultimate blog post checklist
Blog post ideas you can steal
Step 9: Promote Your Lifestyle Blog
Your blog is live, it looks good, you've got all the necessary plugins installed, and you've started publishing content. What's next?
To be fair, you won't get any visitors just by sitting around. You need to start promoting your lifestyle blog now.
There are many ways you can promote your blog, and we'll share a few tips to get you started.
The best way to get started is to let people in your circle know about your blog. Share it with them and ask them to share it with their network. This may bring you the exposure you need to get visitors to your blog.
2.Leverage Social Media
You can't ignore social media if you are running a lifestyle blog. Most successful lifestyle bloggers get tons of traffic from their social media. So, it would be wise to invest time in building your social media audience.
You can create groups on Facebook, start a YouTube channel, share pins on Pinterest, or, best of all, you could simply create an Instagram account and share your stories with the world.
Instagram is great for bloggers. All you need to do is post a beautiful picture and use relevant hashtags to attract an audience to your posts.
For instance, take a look at how this lifestyle blogger uses hashtags to promote her posts.
Don't forget to add a link to your blog in your Instagram bio so you can direct users to your site.
And if you're looking to convert your blog traffic into Instagram followers, you can use Instagram Feed Pro by Smash Balloon.
Smash Balloon's Instagram Feed Pro lets you easily embed an Instagram feed on your blog so that it gets maximum visibility.
Here's what it looks like in action:
Setting up a feed is easy and you can customize it by choosing the layout, colors, which content you want to display, and more.
This will not only help you get more Instagram followers but it will help improve your blog engagement too.
We've got an in-depth Smash Balloon review. You can check it out for more information.
3.Send Emails
Sending email newsletters to your readers is an excellent way to promote your latest blog posts and increase your blog traffic. But you can't send an email if you don't have email subscribers.
Don't worry, growing your email list is easy if you have the right tools.
At Blog Tyrant, we use OptinMonster and recommend that you try it out too.
OptinMonster lets you create popups that help convert your blog traffic into email subscribers. OptinMonster has a ton of templates so you can get started quickly and easily. You can display campaigns in lightbox popups, slide-in scroll boxes, embed them in blog posts, and more.
To encourage visitors to sign up, you can show them an exciting offer in the popup like a discount, coupon code, free access to an online course, or a free ebook.
Most people are willing to give you their email address if they get something valuable in return.
And once you start your email list, you can communicate with your readers directly and get them to return to your blog again and again.
Take a look at our guide on how to do email marketing for more tips.
4.Search Engine Optimization
Search engine optimization (SEO) plays an important role in bringing traffic to your blog. Whenever you write, make sure you are writing for your readers but keeping search engines in mind.
You need to make sure that your content answers the questions of your readers. The key is to do your keyword research and find keywords that your readers are looking for and add them to your content.
We've covered various topics related to SEO, check them out below:
How to rank in search results
The ultimate SEO guide for bloggers
How to create clickable SEO title tags
Step 10: Monetize Your Blog
Now that you are getting traffic to your lifestyle blog, how do you make money?
In this section, we'll talk about how to monetize your blog.
1.Affiliate Marketing
Affiliate marketing is great for beginners. You don't need to have a huge audience to start making money. If you have an engaged audience, you can promote products that your audience may find helpful.
Then, if they buy the product you're promoting, the company will pay you a commission.
You can find products with affiliate programs on ShareASale.
Just make sure to promote products that are relevant to your niche and your audience.
2.Google AdSense
Google AdSense is another way to make money through your lifestyle blog. Though it's not as profitable as affiliate marketing, it's good enough to get you started.
Google AdSense shows ads on your website, and every time someone clicks on it, you get paid. Google Adsense is easy to set up and maintain. This is why many bloggers prefer AdSense over other ad networks.
Here's how to add Google AdSense to your blog.
3.Sponsored Posts
A sponsored post is a piece of content that blog owners publish on behalf of other businesses.
That means that you can get paid for writing a post about a specific product/service. Sometimes, companies will even write the post for you and simply pay you to publish it.
But before you can get started you need to work on getting:
High traffic
Social media followers
Higher domain authority
Usually when businesses look to get their posts published on other blogs, they tend to look at the metrics mentioned above.
For more information, check out our guide on how to get sponsored posts for your blog.
Congratulations, you now know how to start a lifestyle blog. We hope that you found this guide useful. If you have any questions or have anything to share, please sound off in the comments below.
If you liked this guide, you'd love our guide on how to monetize your blog.
And don't forget to sign up for our email newsletter so you can get helpful content like this sent right to your inbox!
["source=blogtyrant"]