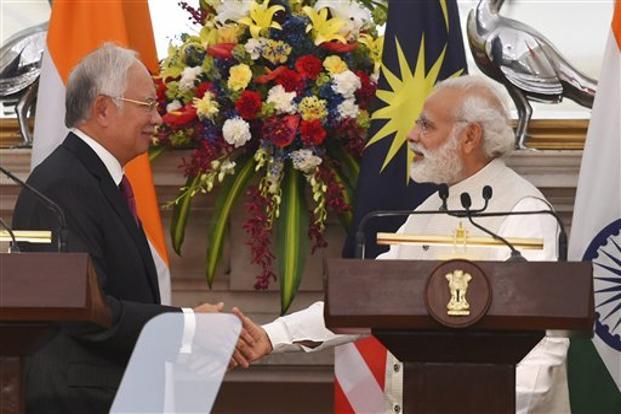 New Delhi: India and Malaysia are expected to sign around 15 business-to-business pacts on Monday aiming to deepen commercial linkages between Asia's third-largest economy and its third-largest trading partner in the fast growing ASEAN or Association of Southeast Asian Nations economic grouping.
The pacts are to be signed in the presence of visiting Malaysian prime minister Najib Razak in New Delhi. According to Indian officials, the total projects being considered by the two sides could amount to about $5 billion.
This is Razak's third visit to India since taking office as prime minister in 2009. The Malaysian prime minister started his five-day India visit on Thursday in Chennai. On Sunday, the Malaysian prime minister visited Rajasthan, where Malaysian companies are engaged in road and other infrastructure projects estimated to be worth over $1 billion dollars.
In New Delhi on Saturday, talks with Prime Minister Narendra Modi focussed on scaling up economic ties further in areas like infrastructure and building of smart cities, besides food security. This comes at a time when the US has pulled out of the Trans-Pacific Partnership (TPP), a trade agreement among Australia, Brunei, Canada, Chile, Japan, Malaysia, Mexico, New Zealand, Peru, Singapore and Vietnam that was stitched together by the US and aimed to ensure decreased dependency of these countries on trade with Asian giant China.
"All regional states are recalibrating their regional policies at a time when there is significant uncertainty about China's future profile and American commitments to the region. Malaysia is no exception and is looking to New Delhi to play a larger regional role," said Harsh V. Pant, professor of International Relations, Department of Defence Studies, at London's King's College, in an email.
Also noteworthy were India's remarks on the South China Sea, large parts of which are claimed by China brushing aside protests from many Southeast Asian countries including Malaysia.
"Prime Minister Najib and I are also conscious of our role and responsibility in promoting economic prosperity, freedom of navigation, and stability in the Asia-Pacific region, especially its Oceans," Modi said after talks with Razak in New Delhi.
"India has been steadily making stronger statements on South China Sea. It can't do much to change the maritime balance of power in the short term in the South China Sea waters. So it is making a normative argument about freedom of navigation so as to bolster its credibility amongst the regional powers," Pant said.
Explaining the importance of Malaysia to India as a bilateral partner and as a key member of ASEAN, Pant said: "A multicultural Malaysia is a significant player in ASEAN at a time when some members are coming under Chinese sway. Indian diaspora is important in the country as well. India's influence in the region can only increase if it builds strong bilateral ties with regional states."
Malaysia is currently India's third-largest trading partner in ASEAN after Singapore and Indonesia. Bilateral trade between Malaysia and India was at $12.8 billion in 2015-16 with the trade balance in favour of Malaysia. Both "prime ministers have expressed their aspiration to see this trade increase to $15 billion in the immediate future", a statement from the India-Malaysia CEOs' Forum that met in New Delhi on Saturday said.
"In terms of investment, there has been significant growth… The total investments from Malaysia stood at around $7 billion or more as against total investments of around $2.5 billion from the Indian side," the statement said.
Malaysian companies have completed 53 highway and road projects in India worth $2.84 billion. In addition, there are seven projects valued at $ 0.34 billion that are still under construction. At present, there are around 120 Indian companies, including 61 Indian joint ventures, seven Indian public sector undertakings and 60 Indian IT companies operating in or from Malaysia.
Another reason for India to look at closer ties with Malaysia is the fact that it is seen as a moderate Muslim nation. Many in the government and the Indian strategic community agree that bilateral ties under former Malaysian prime minister Mahathir Mohammed, who was in power from 1981 to 2003, were far from satisfactory—mainly due to a perceived tilt towards India's arch rival Pakistan. It was only after Razak—son of Malaysia's second prime minister Abdul Razak and nephew of the third prime minister Hussein Onn—took over that relations seemingly turned the corner.
"Malaysia has been relatively successful in keeping radicalization under control though the threat is growing by the day. India and Malaysia can learn a lot from each other and also send a message out to the world as two states with significant Muslim population," Pant added.
["source-livemint"]