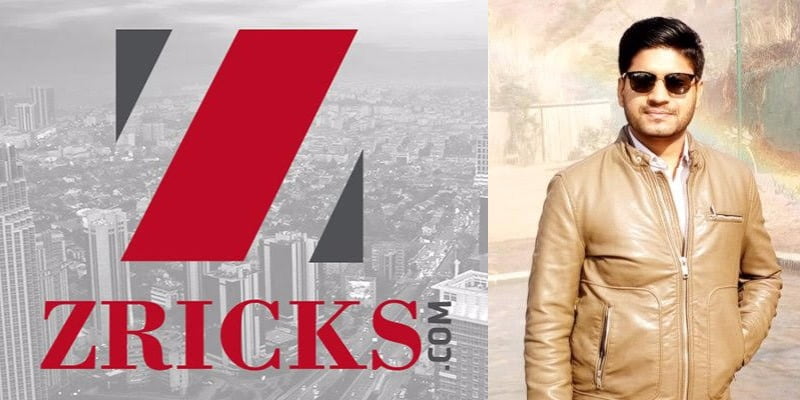 India is growing at a very fast pace and this inturn has lead to the unprecedented growth of our cities and towns. With more and more job opportunities being created people move into certain designated hubs for these developments. While everyone is busy building India and their careers, one thing that is common for all is that at the end of a hard and rewarding day everyone wants to come back to a home that they can call their own. It is this very thought that has led to the tremendous growth of real estate business in the country in the past one decade. One startup that understands this fact and is working at making the task easy for all stakeholders is Zricks.com
Zricks.com is an online Real Estate Marketplace. It provides a simpler way to search for Residential and Commercial projects & properties across India. They have four stake holders namely Owner, Seller, Agent & Developer. Founded in 2013, Zricks.com has become a leading real estate portal. Users on Zricks.com can post their residential & commercial property to Buy, Sell and Rent in Indian property Market. They are catering to the needs of 24 cities in India's Property Market, namely Ahmedabad, Bahadurgarh, Bangalore, Bhiwadi, Chennai, Dharuhera, Faridabad, Ghaziabad, Greater Noida, Gurgaon, Hyderabad, Meerut, Mumbai, Navi Mumbai, Neemrana, New Delhi, Noida, Panipat, Pune, Sohna, Sonipat, Indore, Jaipur and Lucknow.
Founded by Pankaj Agarwal and Prashant Agarwal Zricks is based out of Gurgaon. Pankaj completed his bachelor's degree in Commerce from Shaheed Bhagat Singh College, University of Delhi and went on to acquire his master's degree in International Business from Leeds University Business School in UK. Prashant holds a bachelor's degree in Business Management from IILM Institute for Higher Education in Gurgaon. From there, he went on to study in the University of Sheffield in UK where he acquired his master's degree in International Management. Zricks, a self-funded bootstrapped start-up which has listed more than 4700+ projects by 2700+ developers with more than 1500 properties by 1900+ agents, and 5000+ walkthroughs till date. The company presently aims to cater more cities by offering value-added technology for easy real-estate market business. Zricks aims at expanding to tier 2 cities of India in near future and also aims at getting maximum agents and buyers on Zricks.com.
The idea to develop an extensive online portal with exhaustive listings emerged out of scouring the internet for a portal that offers end-to-end realty solutions for a client. The problems that the founders faced during their exhausting online searches helped them develop a service that covers all the bases. Zricks came about to cater to the needs and requirements of all stakeholders with intensive investment into market research. Essentially a marketplace, Zricks acts as a platform for meeting and transacting between various stakeholders. Simultaneously their services are directed towards minimizing the amount of effort it takes to find a dream home or the perfect office space and make the most profitable investment.
["source-knowstartup"]