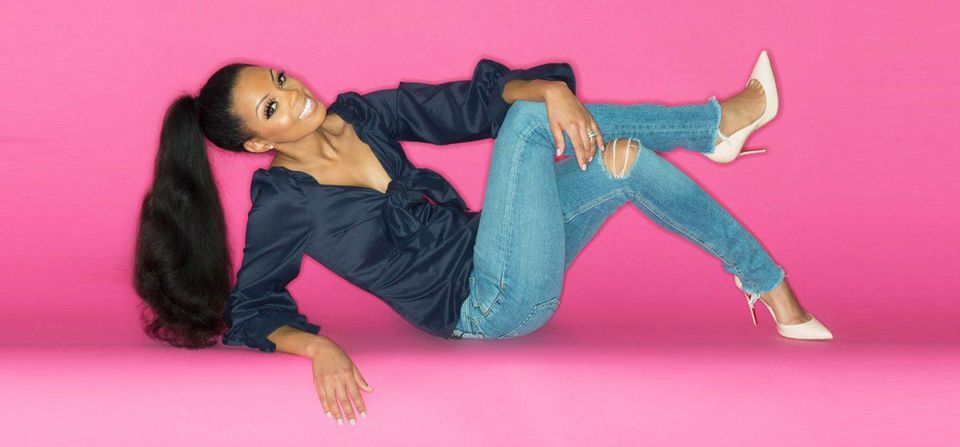 Meet Monique Rodriguez, CEO of Mielle Organics, one of the fastest growing natural hair care companies in the United States. In 2014, Rodriguez started Mielle Organics in her garage, fast forward to 2019 and Mielle has come from the garage to the shelf and grown to become a multi-million-dollar company sold in over 100,000 major retailers. However, this family business was birthed as a result of a catastrophic tragedy.
In 2013, one year prior to founding Mielle Organics, Rodriguez was 8 months pregnant with her son Milan. Her uterus ruptured and she was rushed to the hospital. Instead of the doctor's monitoring and keeping her at the hospital, they released her to go home. While at home she had no idea that her son was losing oxygen to his brain daily. When it was time for Monique to deliver, her son was born brain dead. She didn't want to let Milan go, so she decided to keep him on life support until he passed away at 6 months.
At this time, Monique was feeling distraught, empty and felt she had no purpose in life. In order to take her mind off reality, she started researching and playing around on her Instagram with hair products. She had no intentions of creating a line and only wanted to talk about her passion for beauty products. Whenever she would post on Instagram, people wanted to know her hair regimen, so she began with one bottle of oil that she sold online. The business started to grow rapidly and that's how Mielle Organics was birthed. Rodriguez was always passionate about hair and beauty and didn't discover that until she went through her pain. She believes that each time a woman shares her life's journey–the challenges and triumphs, insecurities and setbacks–it heals and empowers another woman. It's her mission to help empower and unite women everywhere with her testimony and foundation, Mielle Cares.
I recently spoke with Rodriguez about her transition from health care to hair care, entrepreneurship, and why her hair care line is strictly organic.
Dominique Fluker: Share your career journey. What led you to create a career in hair care?
Monique Rodriguez: I have always been very passionate about beauty and hair ever since I was a little girl. My background is in science. I'm a registered nurse by trade.  I worked as a nurse for 8 years before launching the product line. I was already educating women by working in women's health, but I felt so unfulfilled. However, I still liked the fact that I was able to help people. I've always been passionate about beauty and hair, but doing something in that space professionally never crossed my mind. People were always asking me, "What is it that you do to your hair? How did you get your hair to grow?" I was already playing and mixing things in my kitchen for my hair, but I never thought I could take that and help someone else until I was asked by someone on social media if they could purchase my little kitchen made concoctions.
Fluker: Where did the name Mielle Organics originate from?
Rodriguez: I wanted to name my brand after something that inspires and motivates me the most and it's my children. Mielle is a combination of their middle names, which both end in "Elle" I call them "My-Elle's."
Fluker: With orders in over 87 countries around the world and product within in 100,000 stores nationwide in under five years, share your process on how you scaled your business.
Rodriguez: Handling such rapid growth has been the biggest challenge. Entrepreneurship is definitely not for the lazy person because it takes a lot of work. You definitely have to be self-motivated and a very determined individual.  I went out and did a lot of networking. My networking allowed me to connect with some key individuals that helped scale my business.   When you get your first retail order it's great but you need the capital and capability to fill the order.  That was the challenge. Those key individuals that I networked with helped me to fill my first order and the train has kept moving since then.   Something I've always been is very determined. I am not a person that gives up. You can tell me, no, but I'll try to find another way to get it. You have to have a positive mindset and know that there will be stumbles and roadblocks, but you can't give up.  Not everyone will give you information to help take you to the next level but you have to make it your duty to get the information regardless of who helps. You will be surprised by how much you will learn by picking up a book or googling the information you are trying to seek.
Fluker: Talk about your decision to make your hair care line strictly organic. Why was it important for you to use natural ingredients for your products?
Rodriguez: With me being a nurse, I would always research ingredients that would be in my products. I decided that when I developed products, I was going to be conscious of what is actually in them and have natural and organic ingredients. Because I have a medical background I understood that the majority of what we put on our skin is absorbed into our bloodstream. So it was important for me to express to my consumers why they should be conscious of not only what you eat but what you put on your body as well, I  saw a void in the aspect of educating consumers on ingredients and realizing their significance. I wanted to take my background and really try to help inform and educate people on the importance of using healthier products, like using natural preservatives and organic ingredients, because I feel that's what works better with our hair and skin.
Fluker: How is Mielle Organics different from other natural hair care lines and products?
Rodriguez: Mielle is different from other hair care brands because we feel we are trendsetters, we always think outside the box, we are creative and innovative and we connect to our consumers.  We educate our customers on our ingredients and we believe that natural and organic ingredients are the way to healthier hair. We are very conscious of what we put in our products and pride ourselves on the experience we give our customers.
Fluker: How are you and Mielle Organics helping women of color embrace their natural hair and curl patterns?
Rodriguez: We help women of color embrace their natural hair and curl patterns by displaying women of all textures and all curl patterns on our platform and embracing each and every one of them.  We see people that look like us being showcased it gives us confidence and the power to embrace our own texture and not conform to what society says.
Fluker: Talk about the MiGlow Mentorship Program. How are you positively impacting young girls with the program? 
Rodriguez: Partnering with MigGow mentoring is all about giving young inner-city high school girls an opportunity that I didn't have growing up. Exposure. You can be what you don't see, and it's important to me that we set good examples to young girls to show them that it is possible to become successful even though you may not come from a wealthy background. I was once that young girl from the inner city trying to find myself and I didn't have any examples of women who ran their own companies but I went out to find my inspiration but not everyone has that same type of drive so I want to be able to offer something and pay it forward to my next generations so they can see that there are possibilities and they can be whatever they set their mind to.
Fluker: Where do you see Mielle Organics expanding over the next 3 years?
Rodriguez: I see Mielle expanding to be a full household beauty name. I want Mielle to take care of any woman's beauty needs beyond just hair. We are continuing to grow and expand our distribution to meet our goal.
["source=forbes"]