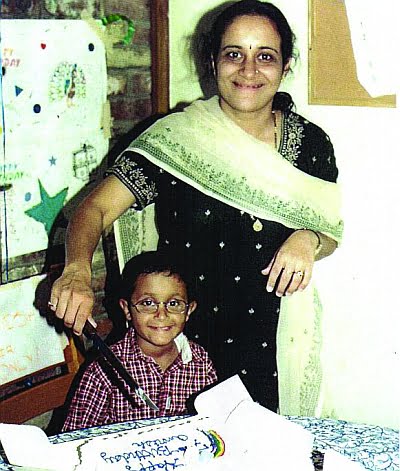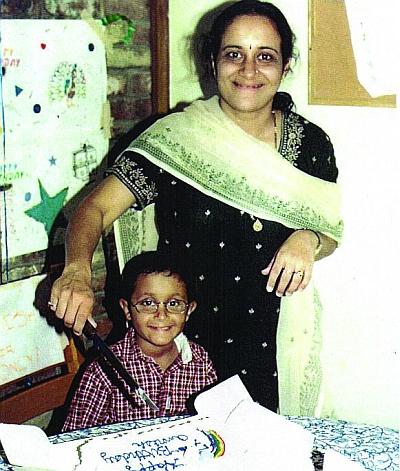 Though many of those left behind in the 9/11 tragedy have moved on, even married again, Narasimha Kumar Sattaluri remains an exception.
He remains devoted to the memories of his wife Deepika, one of four Wipro employees who died that day.
She was working as a Wipro consultant for Marsh McLennan when the plane hit the first tower, where she worked on the 92nd floor.
Narasimha Kumar reads the letters she had written before their marriage often, especially one in which she said, 'Life is full of ups and downs. It is better it is like this. Otherwise it would have been so monotonous to keep living the same way, everyday. The true worth of things is best known when tested and tried under different situations.'
He also keeps in touch with families of other victims. On September 5, he was at one such home for Ganesh Puja.
Though his son Amish, who was only 7 when they lost Deepika, has now gone back to their native Hyderabad to live with his grandparents and works for Amazon, Kumar never thought of leaving the United States.
"If I go back, I feel like I am leaving my wife here alone," he had told Rediff.com earlier.
Amish, now 22, told Rediff.com about that day and the difficult journey of 15 years:
"The date September 11, 2001 brings back a lot of emotions. I was just a young lad of seven years at the time of the ghastly incident, not old enough to understand, nor young enough to ever forget.
Me, my mom, and my dad had just moved into an apartment in Edison, New Jersey. Everything was going great, enjoying a simple life with my parents, learning and doing everything a seven-year-old kid would do.
That morning started out like any other morning, just lying in bed and talking to each other, making a few jokes.
However, there was a part of me that told her not to go into work that morning, sensing something was not right.
Her response to that was she did not feel like going to work that day either, but she had an important meeting to attend.
She quickly got ready, kissed me on the cheek, and left the house like usual, after saying goodbye. She left a few minutes earlier that morning, so that she could come back home by lunch time.
People never actually think a few minutes can make a difference in a person's life. In this case, it was literally one minute that changed my mom's life and turned my life upside down.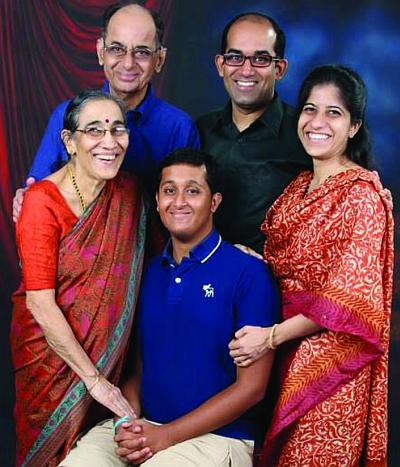 IMAGE: Amish with his family in India
If only she arrived at the station 60 seconds later, she would have missed her train, and thereby missed her death.
That morning, I went back to bed and fell asleep for a few hours, until the commotion outside the house, and banging on my door woke me up. At the time of the incident, I did not have a clue as to what was going on, for one; there was still no television or phone in the house to contact anybody.
I was in my neighbour's house across the hall right after everything started going crazy, as my dad was trying to grasp the reality of what had happened. That day, I could not understand why, but they were sending back all the students to spend time with their parents at home.
I was just getting ready to start my schooling the week after this incident, which happened to be the worst thing that could have happened to me.
Instead of being a kid, I had to suddenly grow up as an adult, and the childhood suddenly disappeared, just like the buildings that morning, in a split second.
Pessimism overpowered me, and that time I completely believed that nothing negative is unlikely. It took many long years of sadness and anger and depression to come out of this stage of my life and start to live again like a normal human being.
Now, leaving the negative in the past, I always think about the amazing memories my mom and I created in her short time on earth.
It started off when I was just a baby, back in India, in the year 1994. Even if I do not remember the physical memory at the time, I am fully aware that after her (maternity) leave was over, she went to office and mentioned that she couldn't work there anymore because 'I want to see my son grow in front of me.'
But before she could do that, she was snatched away from me, in the blink of an eye.
My mom is my role model for everything I did and everything I do now. She was the kindest person I could ask to meet. She used to make me my favourite food, she would make certain we always went out and had fun, and always played soccer with me in the front of the house.
My mother was precocious. She was a full woman at a young age. If only I had, had her with me, I am certain that she would have achieved her goal of making me into a brilliant, young man.
Even though it might have taken many years, I am slowly learning to cope and deal with her just being in my heart forever.
I have come back to spend time with family and have been able to develop and become more mature and am doing everything in my power to make myself, my mother, and my family proud of me and what I am doing.
[source;rediff.com]