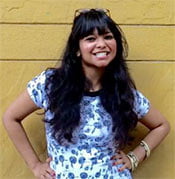 A young Mumbai artist brings the city alive.
All illustrations: Kind courtesy Deepshikha Mondal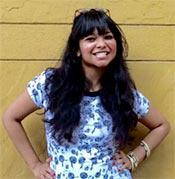 What's life like in the city of dreams?
A struggle to reach your school, college or workplace on time.
A fight to prove that you are the best and here to stay.
It's a fast bumpy ride. Your life is so mechanical.
You visit malls, go to movie theatres, spend moolah at restaurants, take a Mumbai darshan with family and friends… but you still fail to see the city closely.
A 23-year-old girl sketches various humans of Mumbai who we often come across daily, but ignore.
Deepshikha Mondal — born and raised in Mumbai, and currently a graphic designer at Yash Raj Films — displays her artwork to Rediff.com's Tista Sengupta and explains what inspired her to make the sketches.
Presenting 12 of Deepshika's sketches that perfectly describe the Maximum City.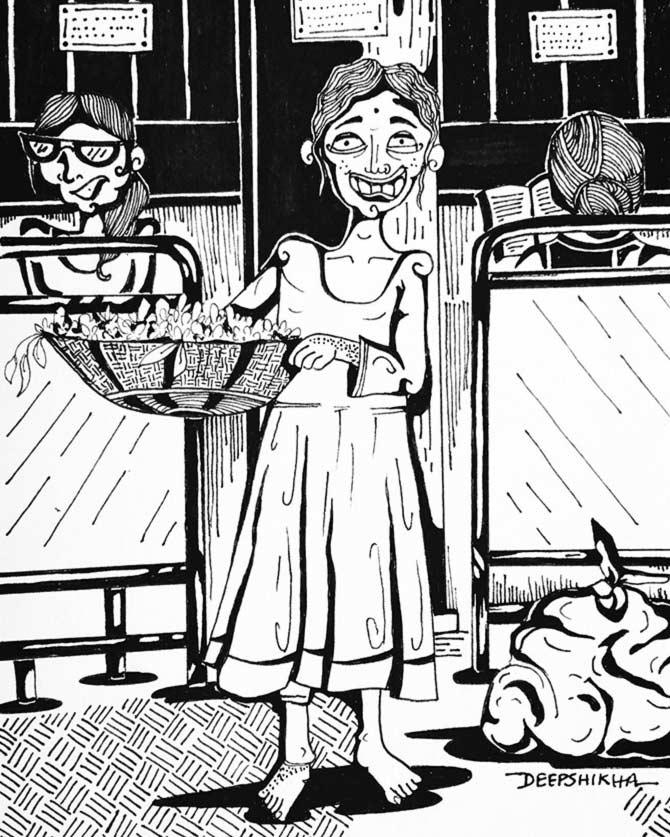 IMAGE: The flower child.
Where did you meet her?
Earlier I used to take the local train on the Western Railway route. I spotted a young girl selling gajras.
She usually boarded the train at Bandra (northwest Mumbai) and got off at Vile Parle (three stations away, also in northwest Mumbai).
Wearing an old anarkali, she carried a plastic packet filled with flowers. Taking out a bunch of them in a small basket, she kept the rest aside.
She always had a crooked smile on her face.
What's so special about her?
One day, I was standing near the exit listening to music and she happened to stand next to me, waiting to alight at the next station.
We looked at each other and she flashed a 100 watt smile.
This was the first time I saw her smile this way. And I remember it clearly.
There was a twinkle in her eyes. Perhaps, she may have expected me to buy her flowers. But I didn't.
What took me by surprise is that she never forced anyone to buy the flowers.
Unlike kids selling stuff at traffic signals who keep pestering people to buy from them, this girl never annoyed anyone.
She'd just walk past those who didn't want to buy her flowers.
---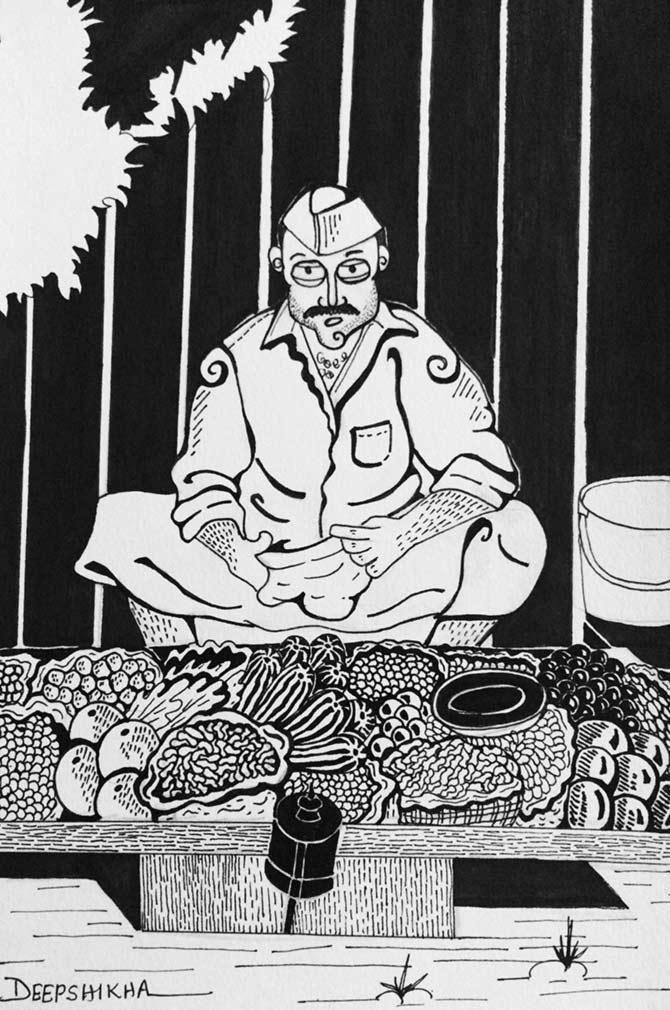 IMAGE: The man who sells everything.
What motivated you to sketch him?
I'd seen this man selling vegetables and dry fruits at Andheri market (northwest Mumbai). He was wearing a white kurta and a Gandhi cap and had a typical Maharashtrian look.
Somehow his attire reminded me of my student days, learning design at the Symbiosis Institute of Design, Pune. People in Pune are dressed this way more often than the ones in Mumbai.
Is there some message you want to share through this illustration?
Frankly speaking, I don't know this man's story. He must be a farmer travelling from some village to the city to sell veggies and fruits.
His thela (cart) was filled to the brim, but he had no customers.
People these days go to supermarkets, instead of local vendors. I do the same too.
But we never think that these hard-working folks may also have fresh stuff.
My father and I bought chana (chickpeas) from him and the quality was good.
---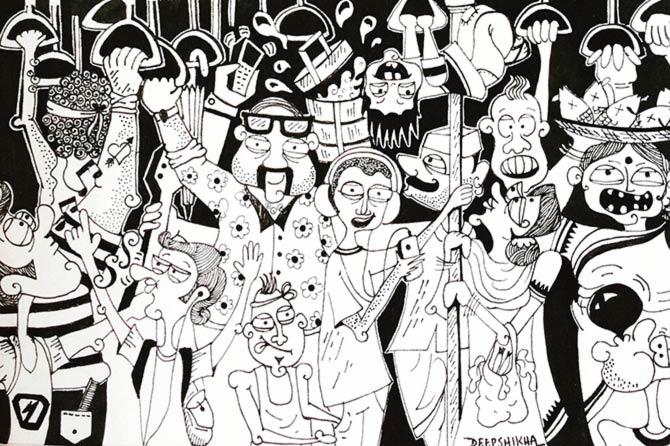 IMAGE: The crowd.
What was the thought behind this one?
This illustration shows how different people commute by local trains. It's a composition of people I have encountered.
There's a kid having fun, hanging from the top and holding the handles, while his mother keeps a close watch on him.
In front, you will find a boy so engrossed in his music that he hasn't noticed the thief stealing his wallet.
Don't miss the man, standing in the centre, who has his shades on his forehead. He is dressed in a shimmery shirt with floral patterns and thinks himself to be super cool.
In Mumbai, we are so engrossed in our own worlds that we fail to notice the people around nor are we bothered about our co-passengers.
---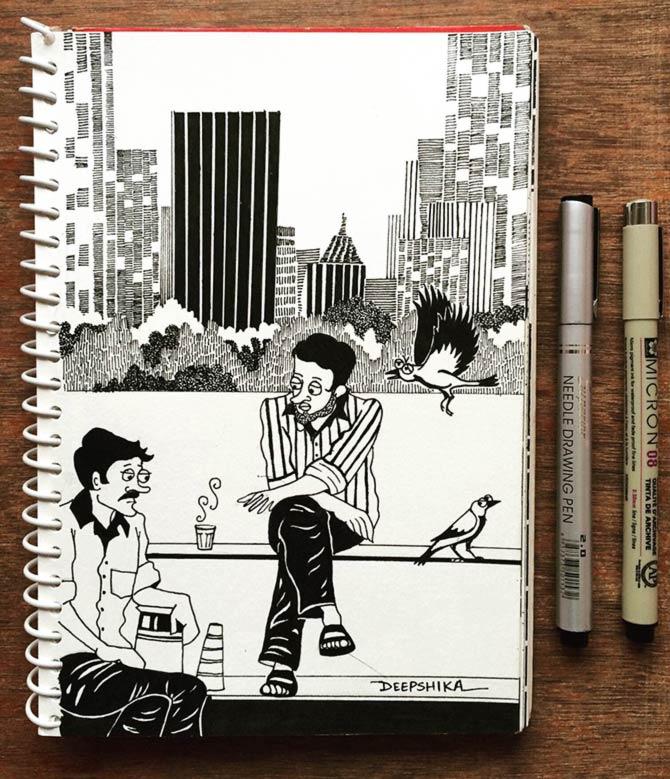 IMAGE: Conversations.
What the inspiration behind this illustration?
I saw these men while I was chilling at Marine Drive.
The culture of being friendly in Mumbai fascinates me a lot.
I have shown how a tea seller got into an intense conversation for almost an hour with one of his customers. And mind you, they were complete strangers.
For me, the chaiwallah is a social person, He loves to chat. Others may think the other man was so lonely that he ended up conversing with the tea seller.
Many times autotrickshaw drivers make random conversations about Bollywood, politics, etc while driving me to my destination.
---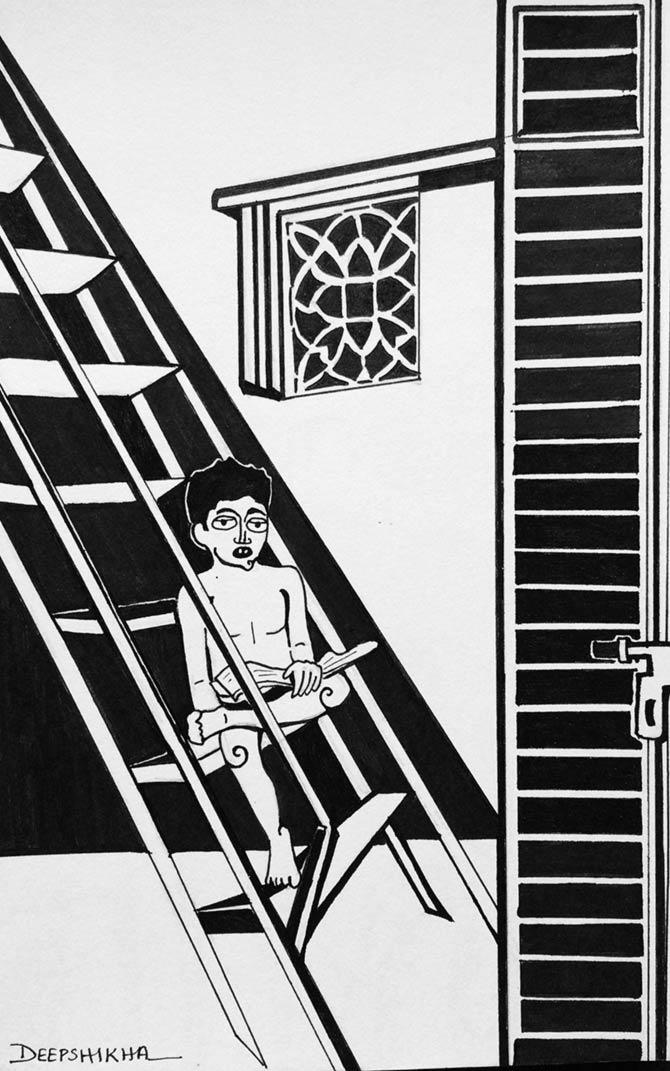 IMAGE: Dedication.
How did you come up with this one?
I was out with my mother hunting for a maid in one of the chawls.
As I entered the narrow alley, I spotted this child sitting on a steel staircase. He was loudly reciting a Marathi poem from his school text book.
The expression on his face said he had to complete his studies. He seemed to be a diligent student.
Maybe there was no electricity in his home or there were too many people inside. So he had to sit down out on the staircase to be able to concentrate and study better.
Like this boy, there are kids in Mumbai's slums who too want to study.
---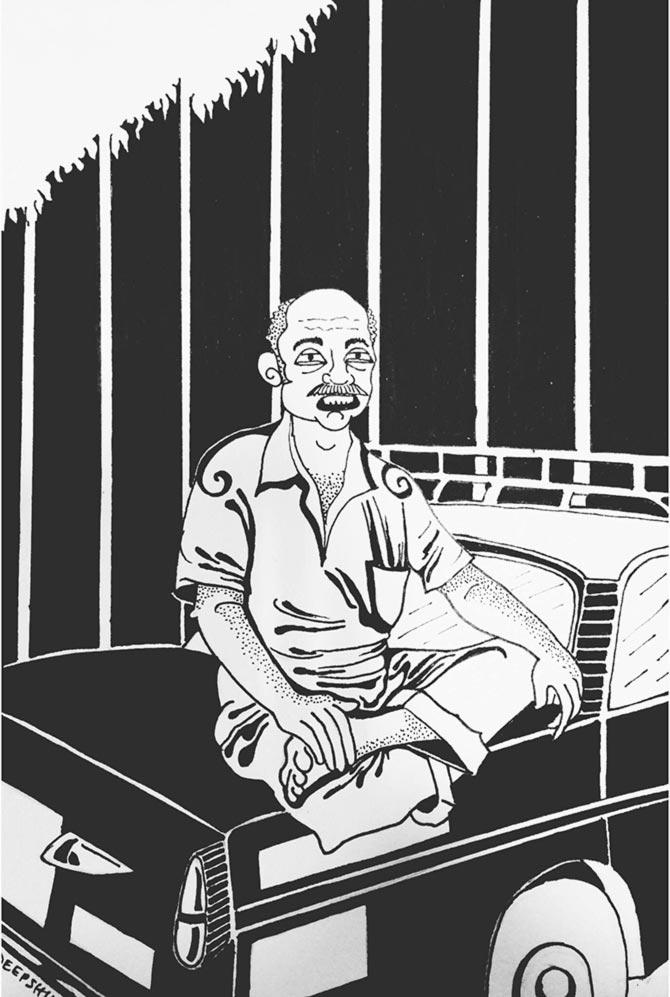 IMAGE: The taxi guy.
The kali peeli (black and yellow) taxis in Mumbai are incurring losses because of Uber and Ola. Was this the thought on your mind when you drew this sketch?
I was at the airport to see off my sister when I noticed this taxi driver sitting on the bonnet of the car.
His legs were crossed, and his attitude was much like a boss.
He kept rubbing his legs. This posture was indeed intriguing.
The other taxi drivers around were having dinner together.
In all these years I have noticed how sometimes these cabbies refuse to take passengers for reasons best known to them. That might be one reason why they are facing losses.
---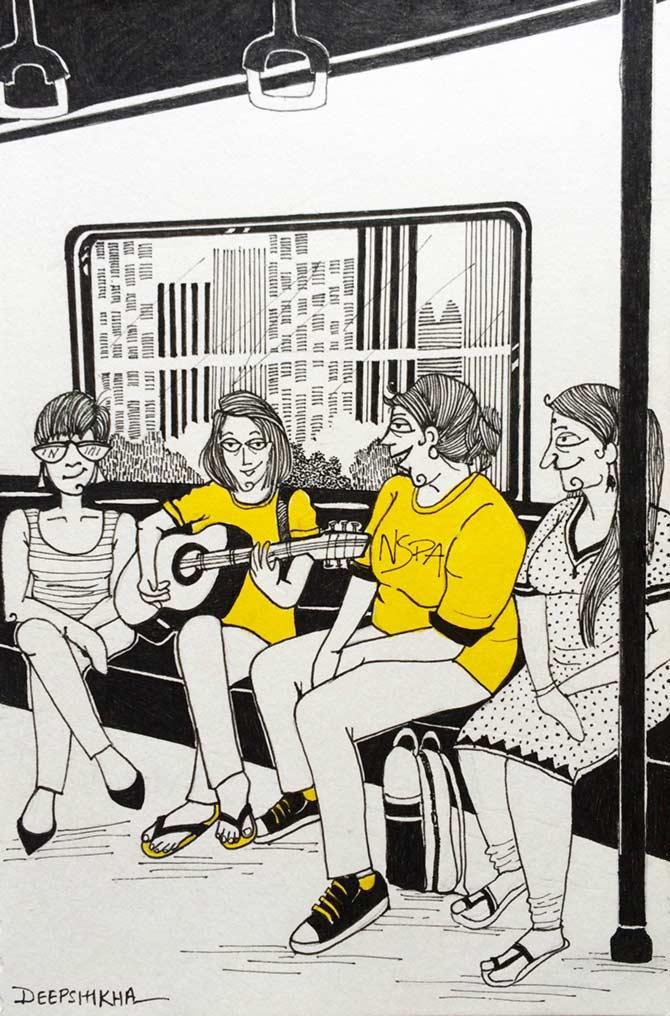 IMAGE: Majhi (My) Metro.
Is this some kind of live performance in a Mumbai Metro train?
There are groups of young girls and boys who perform at certain metro stations in Mumbai. They either play musical instruments or enact a street play.
Most of them are college students, and they work for this initiative started by the National Street for Performing Arts.
They aim to take art to the streets and make Mumbai an artist-friendly and conscious city.
Professionals too take part, but most of them are between the ages of 18 and 25.
I saw two girls — one was a singer, the other was a guitarist wearing a yellow t-shirt with NSPA embossed on it — travelling from Versova (northwest Mumbai). They wanted to practice the song they would perform at Andheri station, so they practised in the compartment itself.
Amidst all the hustle-bustle around, listening to them sing was pleasant. Whatever they are doing inspires me a lot.
---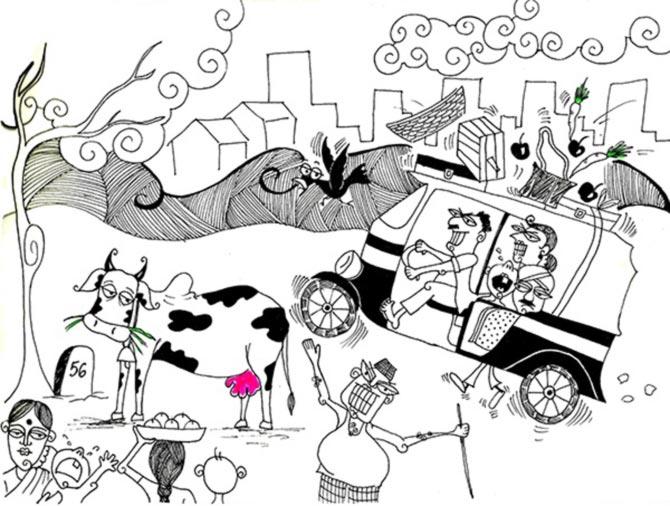 IMAGE: Roadblocks.
Does this illustration show the bad road conditions of Mumbai?
There are two things I would like to point out through this illustration — cows on the roads and an auto ride in the city. Both annoy me.
I have always noticed cows strolling down, right in the middle of the road, like kings. Anyone can drive their car, cycle or rickshaw over them, but they still don't move.
And the autos drive rashly over potholes and speedbreakers as if they own the road.
This doodle shows how vegetables fall off the basket tied on the top of an autorickshaw, as a rickshaw driver tries to make his way through a narrow lane. In fact, he almost rides over the cow.
People on the streets abuse autorickshaw drivers, but neither the cow nor the auto driver care!
---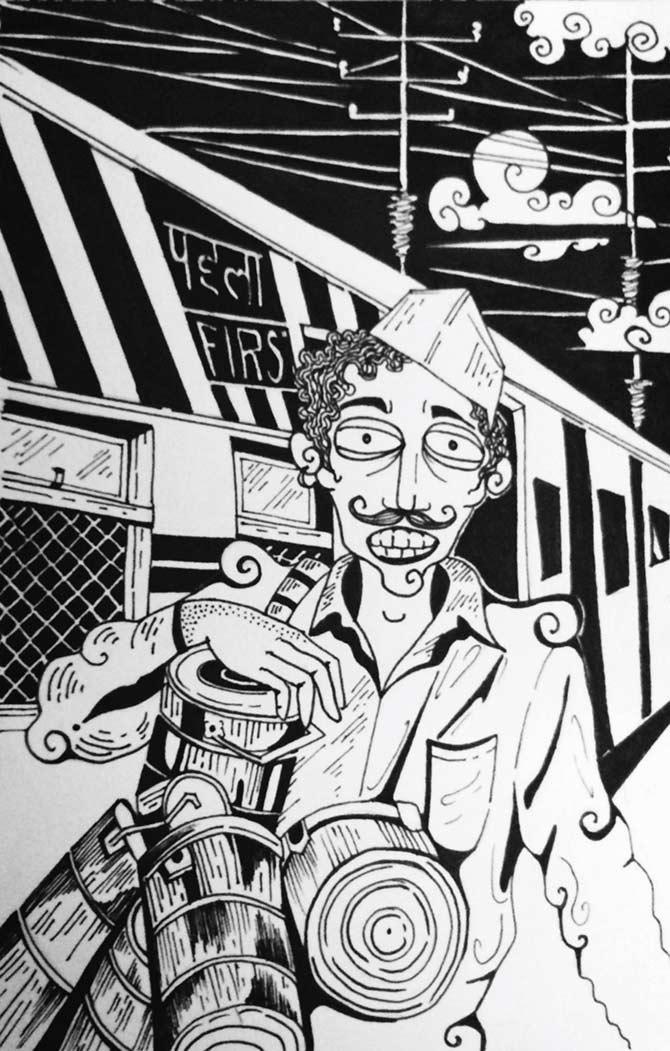 IMAGE: Dabbawalas.
Mumbai dabbawalas are the jewels of this city. Aren't they?
Absolutely! It's thanks to these dabbawalas (lunchbox delivery men) that hungry professionals do not starve. Hats off to their professionalism!
If you ever notice these men, you will see them carrying so many dabbas together in local trains.
The tiffin boxes look similar, yet they never fail to forget who each of them belong to.
I think they do a thankless job. People never treat them well.
This illustration is a tribute to them.
---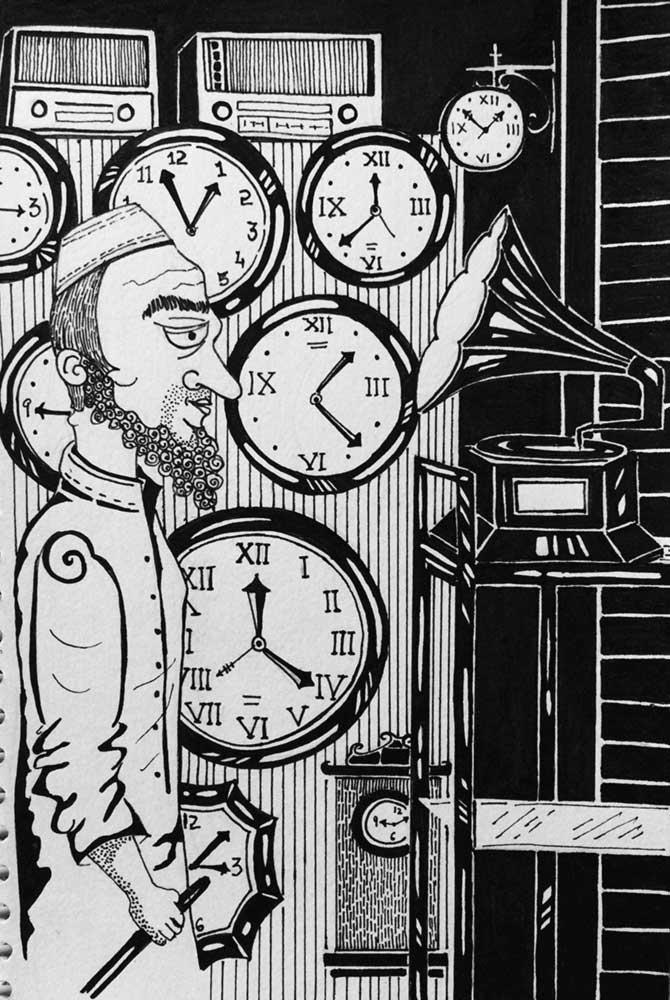 IMAGE: The time traveller.
What made you illustrate this image?
I was at Chor Bazaar — a flea market famous for all kinds of antique products — sourcing for props for a freelance shoot that I was working on.
I liked the items available at this man's shop. He had stocked several vintage items like radios, phones, gramophones, etc.
The moment I entered, this man floored me with his marketing skills. He was an ace at selling the old junk in his store.
I ended up buying at least six items.
---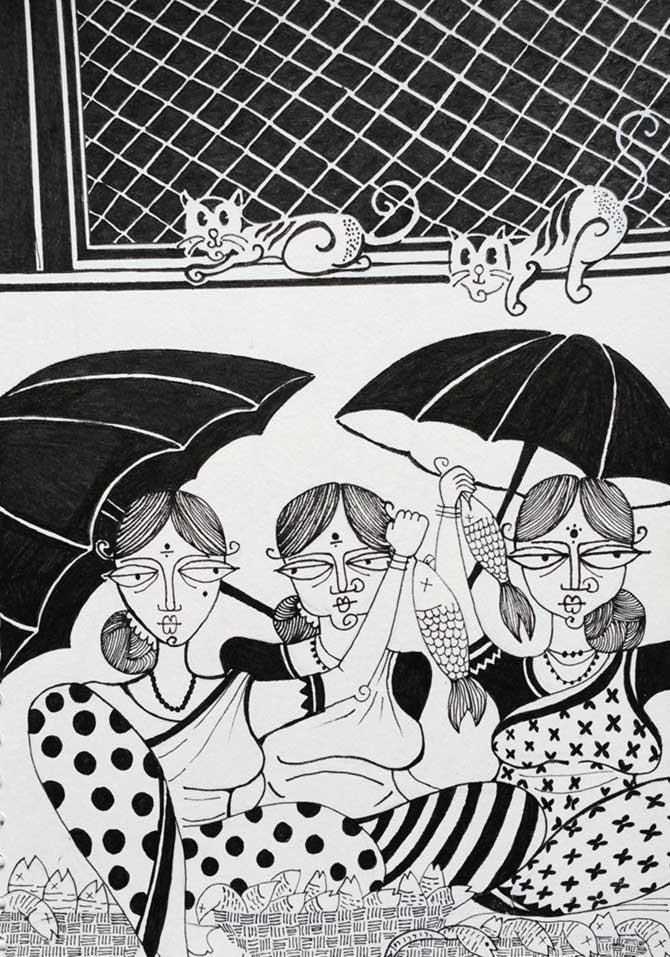 IMAGE: Machchiwalis.
Mumbai's fish markets — apart from the stench, what caught your attention?
I find fisherwomen very smart. I spotted these women at the Sassoon Docks, a wholesale fish market in Mumbai.
While my father was busy teaching me how to buy fish, my eyes were fixed on these women to find out how they attracted customers.
It was pretty crazy. The women competed with each other, as to who can shout louder and lure customers into buying fish from them.
They might be annoying for many, but it's just their sales strategy. I was clearly impressed.
---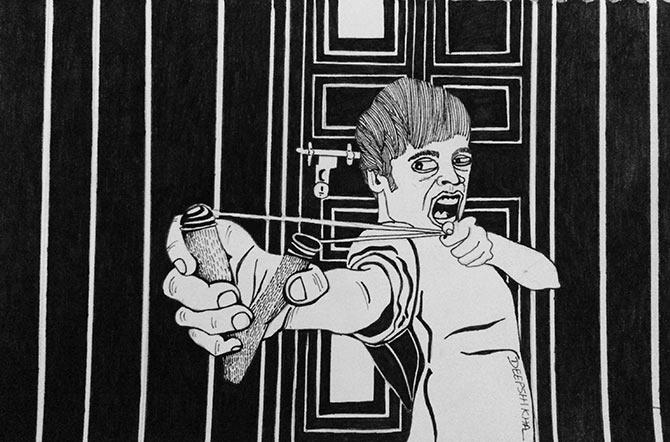 IMAGE: Aim well.
Where did you find him?
This naughty kid lives in my society… and I DON'T like him at all.
I call him badtameez.
He lacks manners, bullies younger kids and even misbehaves with the elders.
He always has this expression on his face (shown in the illustration). It seems like he is going to hit someone.
I thought adding a sling shot would suit him best.
[source;rediff.com]