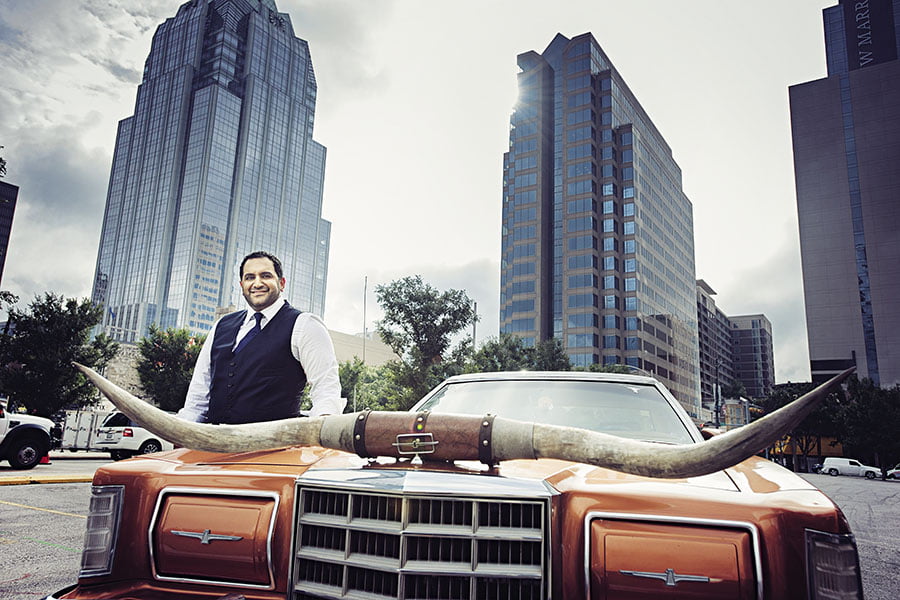 Image: Tim Pannell for Forbes
Unlike other successful millennial entrepreneurs, Nate Paul is not a T-shirt or hoodie kind of guy—his uniform is a suit. He has worn one to work, usually with a vest, every day since he dropped out of college nearly 10 years ago. "I always wanted people to take me seriously," the Texas real estate prodigy says. "Part of it is you have to look older."
At 5'11", with a stocky build and a two o'clock shadow, Paul certainly looks as though his odometer has long since passed 30 years old. But that's not why the real estate brokers who clamour to meet him take him seriously. They try to get in the elevator that rises to the top floor of Austin's tallest commercial skyscraper, up past the offices of billionaire-run private equity firms, because Paul is the biggest buyer and owner of land for development in the city. And Texas isn't big enough for his ambition.
Paul's World Class Holding, which he started building in 2007, has $1.2 billion in assets, according to a document obtained by Forbes. That portfolio includes 120 properties in 17 states from California to New York, but most are in economically vibrant Texas. World Class Holding owns 10 million square feet of commercial real estate that ranges from office space to retail to self-storage. And although he once bid $800 million for Manhattan's Plaza and Dream hotels, Paul is no Texas Trump—he doesn't own a single trophy building and his name is not on any of his properties. "My assets are not sexy," the 30-year-old says proudly. "I mean, I own lots of storage. But I love my assets."
For good reason. Paul, who retains 100 percent of the company, is not overleveraged according to financial documents, and none of his debt is at the holding-company level. Based on his holdings inside and outside the company, Forbes estimates that Paul's net worth is $800 million. If commercial real estate prices stay strong, he could be a billionaire soon.
It's a particularly impressive trajectory when you consider that real estate is famously a dynastic business and Paul is the son of an obstetrician-gynecologist. Complicating things further, he is the son of Indian immigrants in overwhelmingly white Austin.
From the beginning, Paul set out to build his portfolio as an operator and an investor. In order to buy, he hit up his obstetrician father's buddies, charmed high-net-worth individuals, and then landed pension and insurance money. He raised funds in dozens of partnerships to do deals and kept upwards of 50 percent of the profits. With the $25 million he started raising from the Austin Police Retirement System in 2009, he produced an annual (and now fully realised) internal rate of return of 24.8 percent, net of fees.
Now Paul is getting ready to double down on his early success. He has spent much of the past year recapitalising his business, cashing out limited partners (such as the Austin Police Retirement System) and taking full ownership of many of World Class's partnerships, often using debt and his own accumulated capital. He then rolled up all the properties he could into his new holding company, which is attempting to raise $1 billion of preferred equity in the coming year. Paul thought about trying to raise a private equity fund, but what he really wants is permanent capital, which would allow him to get off the treadmill that requires him to sell assets to achieve exits for his investors every few years. "I am thinking with a 30-year time horizon," Paul says. "I actually have a 30-year amortisation and will be around."
Dressing the part: The 30-year-old Paul started wearing suits as a teen so people would take him seriously. His sister even bought him a pair of suit pajamas—and she was only half-kidding
Image: Tim Pannell for Forbes
"From an investment perspective his returns have been spectacular, and he does a good job returning capital early," says Robert Smith, an Austin private equity billionaire who has invested tens of millions in five of Paul's deals. "I look at what Nate has accomplished; he has thought very strategically about areas like storage and the Austin marketplace."
Joseph Liemandt, founder and CEO of Austin's Trilogy Software, adds, "His general business acumen is ­unbelievable, and he is always talking about the long term." Liemandt, a close friend of Paul's who, at 27, appeared on a 1996 Forbes cover highlighting the wave of young tech entrepreneurs, says, "He is dramatically more mature than I ever was—nobody thought he was 23 when he was 23."
Driving around his hometown in a Bentley, Paul proudly points out key development properties he owns in the heart of Austin. There is the parking lot and two-storey building being leased by Google Fiber sitting on 1.3 acres adjacent to the city's tallest building. The family who owned it for 70 years knew Paul and called him with four days left in 2012, saying they would sell it to him for a good price if he could close by the end of the year. A block away he owns another low-rise building, which he bought for $5 million in 2011, luring a Capital Grille restaurant to the site. Paul drives toward another two properties near the Austin Convention Center. Overall, he has accumulated entitlements to build 6 million square feet in downtown Austin.
Making his way southeast to the popular Rainey Street district, where historic bungalows have been converted into funky bars, Paul points out a property zoned for 730,000 square feet that he bought for $10 million two years ago and will soon be vacant. He purchased another property down the road last year that has only a small building with an International House of Pancakes outlet as a tenant. "Imagine if you are a tech company that wants to be in downtown Austin—this is a supercool area to be in," says Paul, vowing to start building an office within a year.
Victoria, Texas, where Paul was born, is about a two-hour drive from most of these properties. As the youngest child of immigrants, Paul was raised to believe that school was a priority for him and his two older siblings. Born Natin, he shortened his name to Nate, but that didn't exactly help with assimilation. People in small-town Texas often thought he was Hispanic, and young Nate would not correct them. "People look at you and you are not white, you are not black, you are something in between," he recalls. As a kid he was "always selling something, trying to do some sort of business"—working as a DJ, selling rubber TheBracelets, hawking personalised water bottles.
Paul left home in 2002 at the age of 15 to attend a Catholic prep school in Austin. He played basketball, was good at math and started a business out of a local Barnes & Noble tutoring kids from the suburbs. At that point, everything was going according to his parents' plan, and Paul eventually attended the University of Texas at Austin, where he studied business. With his sister, Sheena, he even won a business case-study competition in Thailand. But Paul was restless and had already started channeling his energy toward real estate. He would spend hours studying foreclosed properties, building data sets that included appraised values and loan balances, then head down to the county courthouse on the first Tuesday of each month to see how the auctions turned out.
After his freshman year, Paul was ready to drop out but knew his mom would take it badly. "My mother would say, 'Doctor or lawyer,'" he recalls in his slight Texas twang. His older siblings were firmly on the track their parents desired—his brother eventually became a plastic surgeon, his sister an attorney—so Paul decided to take a year off with a promise that he would go back to school one day. Renting a basement office, he called his firm World Class Capital, a name for which he has sometimes gotten grief but reflects the idealism of a 20-year-old trying to make it. "I just wanted it to be great," he says.
While Paul may have good timing with the booming economy of Austin—the nation's fastest-growing big city since 2000, with a mounting number of high-tech companies and jobs—some initially discouraged Paul from getting into the real estate business. And after he started doing deals in his early 20s, one prominent local real estate owner told Paul straight up that he would not do business with him given his ethnicity. And one banker refused to lend to him because of a bad experience she claimed to have once had with an Indian.
"The adversity I faced in building my business pales in comparison to the challenges that my father faced as an Indian immigrant in the '70s and '80s living in Victoria, Texas," he says.
The first property Paul acquired, in 2007, was a 13-unit apartment building in south Austin that he bought for $1.1 million from a couple getting divorced. Backed by a local family that owned a mortgage company, Paul planned to sell the units individually, but he found a buyer who was ready to pay $1.6 million for the whole building 90 days later. With the profits from that sale, he bought five student housing apartment buildings in the West Campus neighbourhood around University of Texas together with money put up by the motivational speaker and marketer Paul J Meyer.
Paul returned to school in his sophomore year, trying to balance classes with World Class, but by the summer of 2008 he knew he was done. He told Mom he was dropping out. "At that point, I went in with a mindset that I had to make it work," he says. He had sold his refurbished student-housing assets in the first half of 2008, not because he saw the real estate crisis coming but in order to build a track record. To attract new investors, he wanted to show that he could perform.
he rumours would trickle back to Paul—that he was backed by Chinese money, an Indian conglomerate or a billionaire in Dubai
When Lehman Brothers collapsed later that year, Paul had cash on hand and no debt, so he went to work building a portfolio. He started buying storage assets, land in Austin, a marina on nearby Lake Travis and a building being used by a call centre in south Austin that he turned into a retail space for Dollar General and two other tenants. "I was buying at the pit of the crisis," he says. "In many of those deals, there was no other bidder." As a result, Paul has operated almost exclusively in a low-interest-rate environment with steadily rising prices.
In early 2009, Paul was ready to pitch the Austin Police Retirement System in an effort to land his first institutional investor. He was so nervous that he threw up before his first meeting with the board, regaining his composure to argue forcefully that the pension should invest in an area it knew. "I studied your portfolio—how do you not own any assets in Austin?" Paul asked them. "It's the fastest-growing city in America." He pointed out that the pension had invested in New England office buildings and JPMorgan's India Property fund, so why not its own backyard? "My biggest concern with him was the kid was 22 years old," says Art Alfaro, Austin's city treasurer, who has been a trustee of the police pension since 2000. "He had excellent presentation skills. We got comfortable. It was a plus that he was a local investor."
The pension fund agreed to go in with Paul on a deal-by-deal basis starting with a $2 million equity cheque he used to buy a distribution centre in north Austin for $4.5 million. In a move that showed he was thinking bigger than Austin, Paul used some of the pension money to invest outside the state, starting with the distressed debt of an office property in Orlando, Florida, which he bought for $2.7 million and sold in 2012 for $6.4 million. Those kind of returns meant the pension plan kept investing more capital. Paul also raised money from the Texas Medical Liability Trust and a group led by Harvey Bookstein, a prominent Los Angeles accountant who suggests real estate investments to his high-net-worth clients. Bookstein says his group has invested $100 million in six deals with World Class that were structured in a way that let Paul keep 50 percent of the profits on development deals and 25 percent on existing buildings after Bookstein's group made an 8 to 10 percent return.
Paul specifically searched for distressed opportunities and rolled more of his own accumulated capital as the deals kept coming. In 2011, he bought a $19 million defaulted mortgage on a 180,000-square foot shopping centre outside of Minneapolis for $3 million. He foreclosed on it, took over operations and proceeded to lease the vacant retail space. "I ended up with the property since I was the only bidder willing to go tour a shopping centre in Minneapolis in freezing temperatures in November and could close in 10 days," he says.
Around the same time, Paul started putting a lot of the money he raised into self-storage. A deeply fragmented industry, storage has become popular with institutional investors that see it as recession-resistant and a cash-flow machine.
As in all his other deals, Paul became an owner-operator. He started in Austin, but one of his first storage deals was a $2.9 million investment in a defaulted mortgage on a facility in a Chicago suburb that Paul grabbed, leased up and later sold to publicly traded Sovran Self Storage for $7.2 million. He would buy from mom-and-pop owners in Colorado or Ohio who didn't even have a website, or build new storage sites in areas of Los Angeles where it was hard to get permits, making it tough for competitors to emerge.
Paul's storage playbook included slapping a fresh coat of green paint on a building and clearly branding each facility with the Great Value Storage name, boosting sales with an online reservation system and installing revenue management that would adjust prices based on demand. Eventually, Paul held 35,000 storage units at 69 sites across the nation. "It's a lot like multifamily housing," he explains. "Yet because a lot of people don't have the expertise in running it there is a disparity in value. We know how to run them better."
When you are a 20-something Indian-American man buying everything in sight in the capital of Texas, people start talking. The rumours in Austin would trickle back to Paul—that he was backed by Chinese money, an Indian conglomerate or a billionaire in Dubai. In a town that is home to Michael Dell and his company, billionaire John Paul DeJoria, Whole Foods and the South by Southwest festival, "Nate Paul" was by far the most-searched phrase on the Austin Business Journal's website in 2014. "Is this guy for real?" the publication asked the next year in a headline.
Paul's growing pains generated more gossip. In 2013, there was a New York Post item about Paul buying expensive bottles of champagne at Leonardo DiCaprio's 39th birthday party. Then former employees of the Austin rooftop bar and pool lounge that Paul owns sued him, claiming the bar cheated them out of tips. Paul says he did nothing wrong, and the case was privately settled in 2014. One of Paul's investors, Texas oilman Michael Macs, sued World Class after crude crashed in an effort to quickly retrieve some $15 million he had invested with the firm. A judge tossed the lawsuit to arbitration, and the duo settled.
There has also been some noisy employee turnover at World Class. In his highest-profile hiring, Paul lured five former Credit Suisse bankers to build a debt platform, but two left within months. "World Class is not for everyone," Paul says. "I reward those who do well. And the people who don't live up to what I expect, there is no place for them at my company."
And of course he has plenty of admirers. "The only reason I moved to Austin is to be closer to Nate," says Avery Bradley, a guard for the Boston Celtics who got to know Paul while at the University of Texas. "When I get ready for a game, I think of how hard Nate works—he works all the time—and it pushes me. I want to be around that."
What Paul is working on will keep shocking people in Austin. In June, he struck deals to buy 3M's 158-acre Austin campus, which has been appraised by the county at $80 million, and another 6 acres of land just south of downtown Austin. Last year, for $85 million he scooped up 13 office buildings in north Austin that house outposts of Allergan and Integra LifeSciences. In all these deals, Paul asserts, long-standing relationships and his ability to move fast secured him excellent prices. He says his negotiations are short and he doesn't bargain over price. Those 6 acres in downtown Austin come with a land lease that doesn't expire for more than two years, and Paul was willing to pay now and wait—but he made a take-it-or-leave-it offer.
Indeed, Paul has puzzled many in Austin for securing choice pieces of land and not developing them during a go-go real estate market. He announced plans for a $100 million, 39-storey apartment tower on a prime lot he owns next to the Four Seasons Hotel but abandoned the project as other apartment condos went up around town. Paul has covered the plot's expenses by renting it during South by Southwest to Sony and Vice Media, which used it to put on concerts featuring Snoop Dogg and Lady Gaga. For now, Paul says he wants to focus on office space.
If Donald Trump can pass tax reform eliminating state tax deductions, Paul's long-term bet on Austin, where there is no state income tax, might look even better. "While everyone else was going vertical I went horizontal," he says. "We feel we kind of cornered the market on potential office space in downtown Austin."
Paul's highest-profile acquisition came outside of Austin in 2014, when he bought the downtown Dallas skyscraper known as the KPMG Centre. Lenders had taken control of the building through foreclosure, and KPMG was moving out. Paul bought it for $43 million, mostly with debt, knowing tenancy would go down to 14 percent once KPMG left in 2015. Paul spent another $35 million renovating the 1980s building so it would look like a place a tech company might want to call home. The lobby was remodelled with an open layout, and a community workspace was built on the second floor featuring Wi-Fi, modern boardrooms and meeting areas. Paul then got three out-of-town software companies to move their headquarters there and recruited two other tenants, helping push occupancy to 70 percent.
At the ancient age of 30, Paul is ready to go even wider. He recently opened an office in Manhattan's GM Building, run by his sister, Sheena, who left her law career in 2013 to join World Class, where she is chief operating officer. Sitting in its boardroom, Paul talks about his decision to consolidate his real estate holdings in a holding-company structure. He says one of his inspirations for the move works just 31 floors above. Many years ago, Carl Icahn organised his diverse holdings in a single investment vehicle that he completely controls and raised permanent capital around it. A boardroom deal toy from September 2016 showing $260 million of loans from Ares Capital points to how Paul has put this plan together. Paul says the debt was partly used for his recapitalisation but doesn't give details. His company is private, and Nate Paul intends to keep it that way.
["Source-forbesindia"]