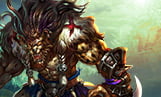 Dear players,
NF all servers will be down from 02:00am to 04:00am (EDT) on November, 4th for maintenance and update (Server time).
We apologize for any inconvenience this may bring and thank you for your support!
From Nightfalls with love!
————What's Changed
1. Optimized the language pack, interface help descriptions and tips.
2. Fixed some other issues reported by our kind players.
Note: If you have any problems, don't forget to visit our forum to report bugs along with your server and in-game name to get rewards. Or you can report it via our Support Center. We very much appreciate it if you could provide us with as much information as possible when reporting problems. If we get enough information, we can solve problems more quickly. Thank you for your support and understanding.
Official Website: http://play.37.com/nightfalls/
Facebook Page: https://www.facebook.com/Nightfalls.37Games/
37GAMES
2016/11/3
[source;news.37]