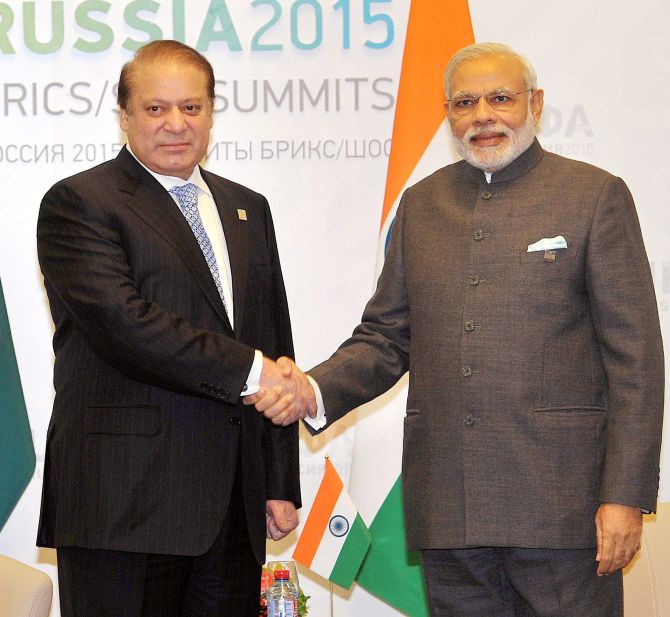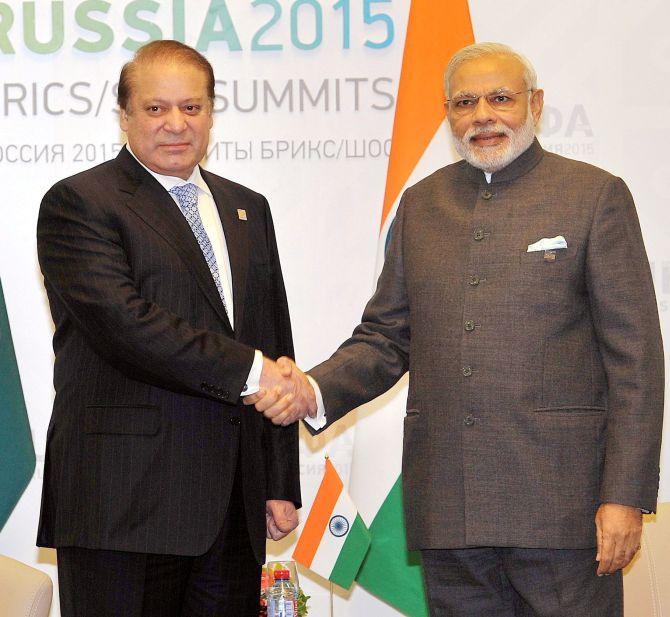 In comments that may not go down well with the establishment back home, Indian High Commissioner to Pakistan Gautam Bambawale was on Tuesday quoted by a leading newspaper as saying that Prime Minister Narendra Modi is looking forward to visiting Islamabad for the South Asian Association for Regional Cooperation Summit.
The remarks coming in the midst of a new chill in bilateral ties were sought to be downplayed by sources in the Indian government which said no decision has been taken on the prime minister's participation in the summit slated for November.
Bambawale, who was attending an interactive session organised by the Karachi Council on Foreign Relations on Monday, was quoted as saying by Dawn News that, 'I can't say about the future but as of today, Prime Minister (Narendra) Modi is looking forward to visiting Islamabad for the SAARC summit in November this year.'
His remarks have caused quite a stir given the fact that both the countries were engaged in a fierce verbal battle over terrorism and the situation in Kashmir. While India has accused Pakistan of supporting cross border terrorism, Pakistan, on its part, has been trying to internationalise Kashmir, alleging New Delhi of human rights violations.
Pak authorities cancel event after Indian envoy's remarks
Karachi Chamber of Commerce on Tuesday cancelled an event of Indian High Commissioner to Pakistan Gautam Bambawale at the last minute, apparently over his remarks on Pakistan's interference in Kashmir.
Bambawale, who is on his first visit to Karachi after assuming charge in January this year, was told about the cancellation 'just half an hour before the event, invite for which was received and accepted by him a couple of weeks ago', sources siad.
The organisers did not give a reason immediately for the cancellation. However, the Indian officials feel that Bambawale's comments on Monday on Pakistan's interference in Kashmir which was India's internal matter 'rattled the Pakistani authorities, prompting a cancellation'.
"This is very disrespectful on the part of the organisers," officials asserted.
Incidentally, Modi made a sharp attack on Pakistan at the G20 summit in China on Monday, saying, 'one single nation' in South Asia is spreading 'agents of terror' and demanded that those who sponsor the menace must be sanctioned and isolated, not rewarded.
According to Bambawale, even while tensions were high between the two nations, there had been contacts at the operational level, Dawn News said.
Bambawale also called for greater bilateral trade ties and said political issues will take time to resolve.
During the interaction, Bambawale also took a swipe at Pakistan over its interference in Kashmir which was an internal matter of India, saying people living in glass houses should not be throwing stones at others.
On Prime Minister Modi's recent statement on Balochistan during his Independence Day speech, the Indian envoy said, 'The Prime Minister, in his August 15 speech, only referred to the letters he had received.'
'There are problems in both India and Pakistan and you (Pakistan) should focus on resolving your problems before looking into the problems of other countries,' he added.
Bambawale said the Indian government has been saying, 'Let's work together to get to the bottom of terrorism which is a headache not only for Pakistan, but for India and the world.'
He said the two countries should not be talking on just one issue, but on all issues.
[source;rediff.com]