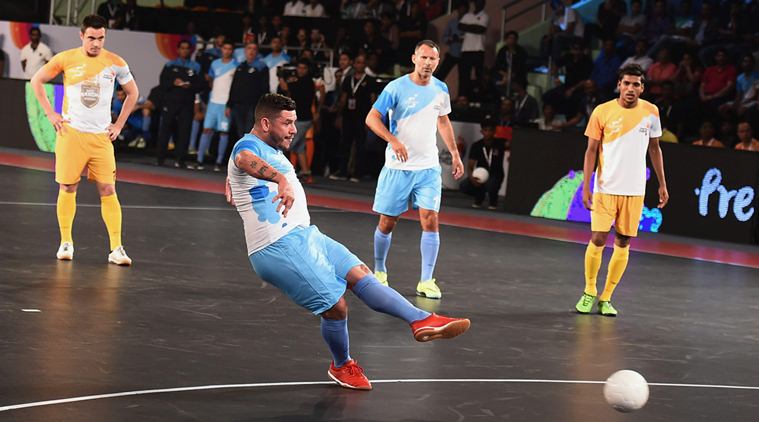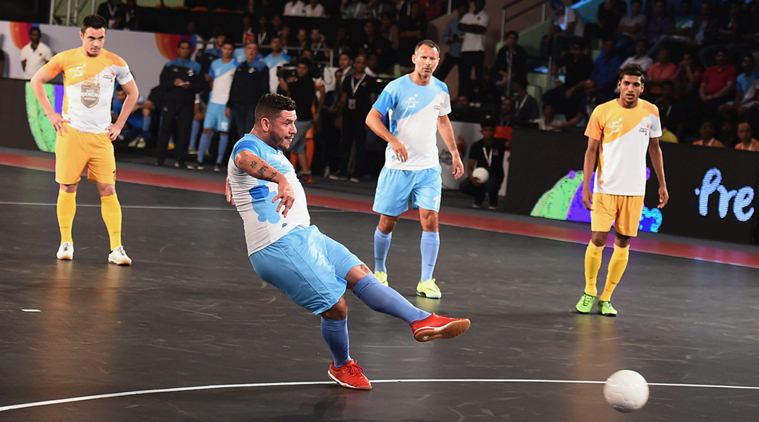 Mumbai 5's and Kolkata's 5's began Premier Futsal with wins on the first matchnight of the Premier Futsal in Chennai. Watched over by Luis Figo in attendance, both teams came out 4-2 winners against Chennai and Goa respectively at a packed indoor stadium.
The first match of the night saw Mumbai convincingly beat Chennai after being 4-0 up at the end of the third quarter. Two goals in the final quarter weren't enough for Falcao's side to beat Ryan Giggs' side.
Mumbai scored the first of the tournament through Foglia who converted a penalty after a handball inside the area. That advantage was doubled by Angellot in the second quarter to have Mumbai lead 2-0 at the half in a match panning four quarters of ten minutes each.
Kevin Ramirez's fiercely hit strike in the third quarter had the game beyond Chennai to make tit 4-0 with seven minutes to go.
Filho and Falcao scored within two minutes to give them a slender hope but it proved too little, too late in the end.
In the second match of the night featuring Ronaldinho and lots of noise, it was Hernan Crespo's Kolkata who came out with the win.
Pula and Mohammed Islam gave Kolkata the lead in the first quarter and the latter became the first Indian to score in the tournament.
Later Rafael reduced the advantage for Kolkata with a toe poke that the keeper couldn't handle but Crespo had the luck on his side to keep the gap within two goals.
A lapse in the Kolkata defence allowed Santos to tap in a simple chance and make it 3-2 with ten minutes to spare.
Those hopes were dashed by an unlucky Marshall own goal with five minutes to go.
[source;indianexpress]