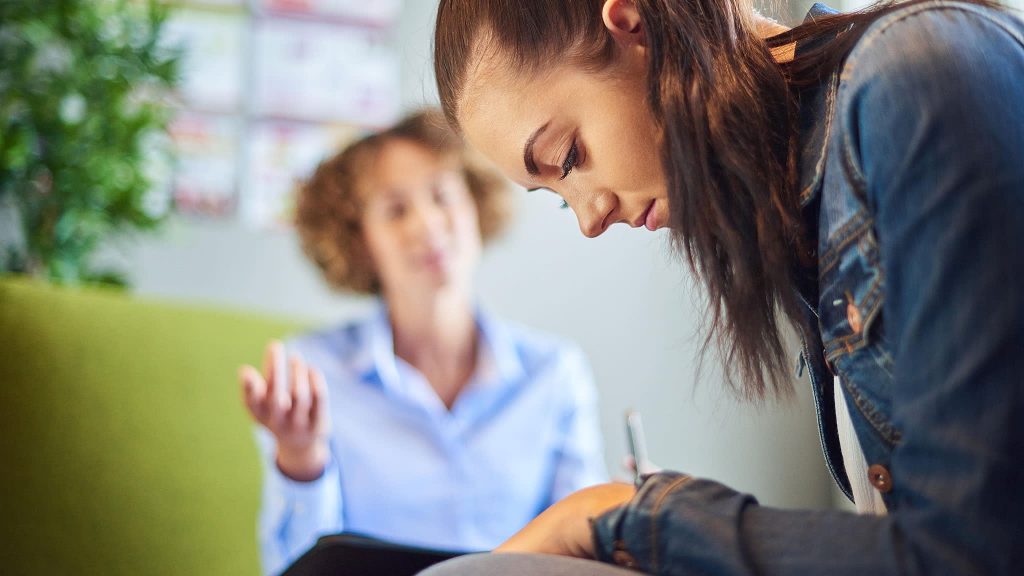 At some schools, the number of students seeing counsellors is rising
A few years ago, none of the staff at Hendon School, a state secondary school in north London, knew what to do about children with mental health problems, according to assistant headteacher Noelle Doona. But after the headteacher committed suicide in 2015, the shock started a conversation between the pupils and staff about how to address mental health.
Two years later, a group of more than 30 pupils, aged between 12 and 18, have organised conferences for other schools in the borough and co-created a mental health app to help students find support, using funding from local mental health trusts. The number of pupils seeing the school's counsellor has risen.
According to a mental health report from the UK Department for Education (DfE) in August, an estimated three pupils in every classroom across the country have a diagnosable mental health disorder such as anxiety or depression. A study released in mid-October by the University of Manchester found that reports of self-harm in girls aged 13-16 rose by 68 per cent between 2011 and 2014. Yet despite this, 71 per cent of schools cite lack of funding or external support as a barrier to setting up mental health services, according to the DfE study.
However, there are signs of change. Earlier this year, prime minister Theresa May launched a £200,000 government initiative to provide training from the Mental Health First Aid organisation to staff in all secondary schools in England. Meanwhile, the Welsh government has agreed to invest £1.4m from 2017 into a scheme to recruit mental health practitioners to work with children and adolescents in more than 200 pilot schools.
There's increasing evidence that by the time [children are] 13 it's almost too late
Sam Madden, a geography teacher and head of mental health and wellbeing at St Paul's School, an independent boys' school in west London, says he was surprised when the UK government announced that the funding would initially focus on secondary schools.
"There's increasing evidence," he says, "that by the time [children are] 13 it's almost too late. The majority of mental health issues are developing by the time they reach secondary school."
The children at Hendon School agree. They were unanimous when asked if they would have felt comfortable approaching a teacher about mental health at the start of secondary school. The answer is "no" from most quarters.
The UK government-funded training is a one-day course that delivers practical advice to staff on how to start supportive conversations, recognise symptoms such as tearfulness or self-injury and direct the vulnerable to services like Childline or YoungMinds.
While the training is due to be extended to primary schools by 2022, the focus so far has been on catching cases of mental ill health rather than preventing them.
Mr Madden, who has completed the training, says it is about sharpening teachers' intuition. It has "shifted the culture", he says, and has led to an increase in "pastoral observations" by teachers. Before, if a student seemed tired or misbehaved in class, it would be a disciplinary issue, but now "people are thinking, 'You know what, actually you don't usually act like that' ".
Like Hendon School, St Paul's has a mental health society that meets every week to discuss how to promote initiatives. The pupils plan events, put on assemblies and compile material to be used in their PSHE (personal, social, health and economic) lessons.
"The kids are so attuned to it. Some teachers and parents are a little cautious, at least initially, but the kids are uniformly positive," Mr Madden says.
One 14-year-old pupil at Hendon says she has been teaching her mother about the symptoms of mental health problems and this has helped her younger brother with anger management.
Funding developments indicate that governments are taking notice. But the level of spending only guarantees that one person per school will be trained to be a mental health "first aid champion". Fee-paying schools like St Paul's can supplement the money with their own resources. By the end of this academic year they will have paid for nearly 100 members of staff to be trained.
Others are not so lucky. "I don't think [the money] is enough," Ms Doona says. "If I walked out of school tomorrow . . . [then] yes, I've passed on my knowledge, but no one else has done the training."
["Source-ft"]