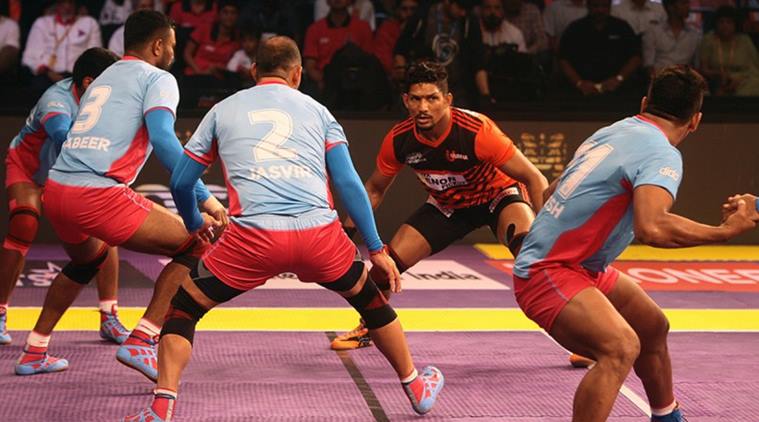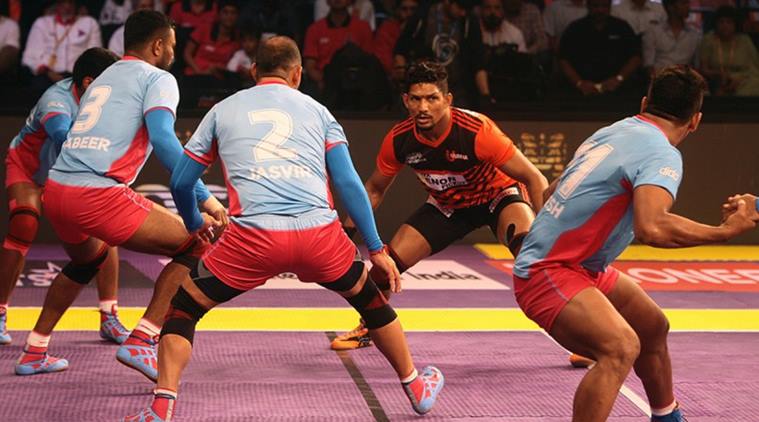 In a hotly contested match, U Mumba beat Jaipur Pink Panthers 29-23 to move to third in the points table in the Pro Kabaddi Season 4.
The experienced duo of Rakesh Kumar and Anup Kumar scored 12 points between them to guide U Mumba to a memorable victory. Jaipur Pink Panthers' defence put up an ordinary performance as they could not contain U Mumba raiders.
U Mumba now have 27 points from eight games and are third in the league table. Jaipur Pink Panthers remain on top of the table with 31 points from nine games.
Jaipur Pink Panthers opened their account in the third minute with a do-or-die raid by Ajay Kumar. Suresu Kumar leveled the game at 1-1 with his first raid in the fourth minute. Both teams treaded with caution as the scoreline was 2-1 in the favour of U Mumba after five minutes.
Jasvir Singh did not score a single point in the first eight minutes for Jaipur Pink Panthers as U Mumba led 4-2. Jaipur tied the score at 4-4 after 10 minutes as neither team was looking to take many risks.
Rakesh Kumar scored four raid points for U Mumba whereas Ajay Kumar scored three points for Jaipur Pink Panthers as both defences played it tight. Jaipur Pink Panthers led 10-9 at the end of an extremely tight first half.
Anup Kumar scored his second raid point in the 20th minute as U Mumba leveled the game at 10-10. Both teams' defence traded a point each as it was 11-11 after 24 minutes.
Suresu Kumar scored with a two-point raid in the 29th minute as U Mumba opened a three-point lead. U Mumba inflicted the first all out of the match in 32nd minute to lead 20-14.
U Mumba's defence contained the Jaipur Pink Panthers raiders in the second half as they led 22-15 after 34 minutes. Rajesh Narwal scored two points with a raid in 35th minute as Jaipur Pink Panthers trailed 18-23.
Jasvir Singh scored two raid points in the last three minutes as Jaipur Pink Panthers trailed 21-26. Suresu Kumar scored six points for U Mumba as they beat Jaipur Pink Panthers 28-23.
[source;indianexpress]