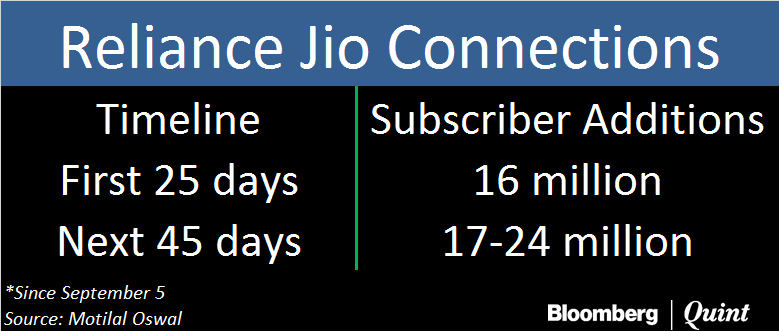 Reliance Jio Infocomm Ltd. may fall short of the target set by its chairman Mukesh Ambani of adding 100 million subscribers by December 2016. Data now shows that new subscriber additions have dropped after the post – launch frenzy, brokerage firm Motilal Oswal said in a report after meeting the telecom company's management.
The country's newest telecom operator is now looking to widen its reach by expanding the distribution channel from Reliance Digital stores to other modern outlets and stores. Reliance Jio may also extend its 'welcome offer' and introduce new price plans in the Rs 200-300 average revenue per user (ARPU) bracket, the report said.
The government's recent demonetisation plan may only add to Reliance Jio's woes, according to the brokerage house.
Despite offering free SIM cards, Reliance Jio has seen a significant impact on footfalls post the government's demonetisation decision. Retail outlets are suffering with approximately 40-50 percent drop in footfalls versus last month.
Motilal Oswal Report
Three months after its launch Reliance Jio has not succeeded in its promise of providing speeds of 2-35 megabyte per second (MBps). Heavy usage by subscribers has marred customer experience and led to weak network quality.
Reliance Jio, which aims to become the dominant telecom player in the country, will continue to invest on adding network and expanding digital offerings.
Bharti Airtel Ltd. is the only service provider well placed to compete with Reliance Jio on network and data offering, Motilal Oswal said, adding that other telecom service providers have a buffer of 12-18 months to capitalise on their strengths.
The company's recent internal capital expenditure budget of Rs 50,000-60,000 crore over the next two years will increase its cumulative telecom investment to Rs 2.25 – 2.3 lakh crore by financial year 2018-2019.
Given the high capital expenditure, Reliance Jio will take at least 8-10 years to turn profitable, according to Motilal Oswal. High depreciation and cash losses in the initial years means the company might take three to five years to turn earnings before interest, tax, depreciation and amortisation (EBITDA) positive, said the report.
The true test of Reliance Jio will be when it starts charging for its services. Channel partners of Reliance Jio see high risk of subscriber churn, the percentage of subscribers who discontinue their subscriptions, once the 'welcome offer' gets over, as most subscribers are using Reliance Jio as a second sim card to take advantage of free offerings, said Motilal Oswal in its report.
[source;zeenews]