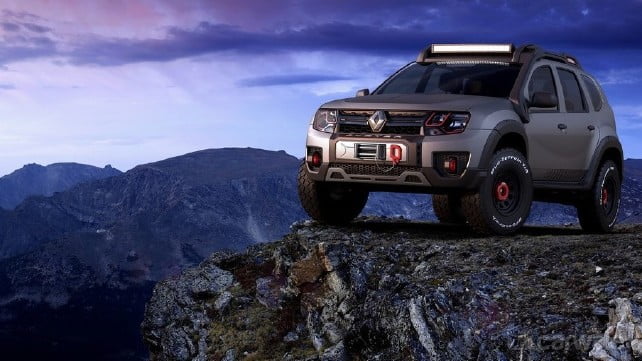 RDAL (Renault Design Latin America) had something very interesting in the form of the Duster's extreme off-roading concept vehicle at the 2016 Sao Paulo Auto Show. As much as we like some concept cars to make it to the production line, I've got to admit that I would love to see this one on the Indian roads. Or for that matter, traversing some hilly regions here. This pictorial description explains exactly why.
RDAL is the company's design centre based in Sao Paulo, Brazil. They have come up with this Renault Duster Extreme Concept based on the standard Duster AWD.
The car's grey bodywork sports red accessories reminding us of the mountain rescue vehicles. And it's properly prepped to show off the compact SUV's all-terrain potential.
Off-road tyres are a given. But it's the raised suspension, a side rack with LED light bars, side stairs, fender flares and a tow hook that preview that the car is ready to take any kind of terrain.
The front is modified with appropriate accessories. The roof rack with LED light bars distinguishes itself amongst the performance equipment and accessories.
The black and red affair can be seen inside the cabin as well. There are elements like 'Extreme' lettering on the dashboard and '4WD' badge on the steering to remind you of the car's off-roading prowess.
Yes this model is off-road centric and hardcore, but don't get too excited. The practical looking, very desirable car is just a concept and not heading to India anytime soon.
[source;carwale]