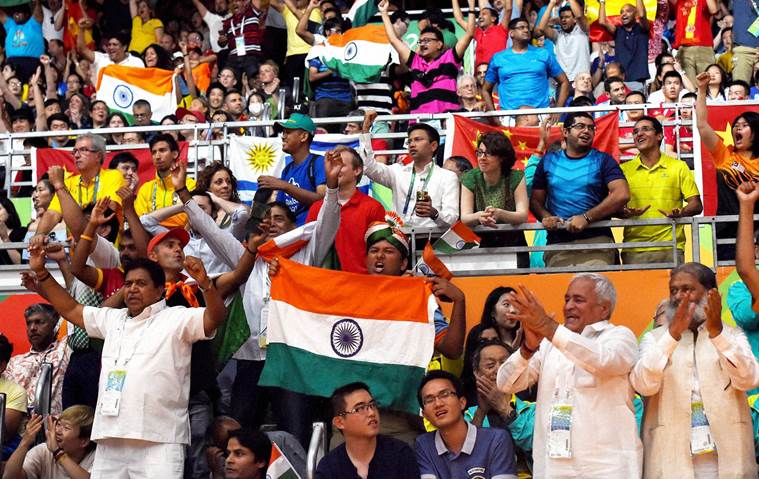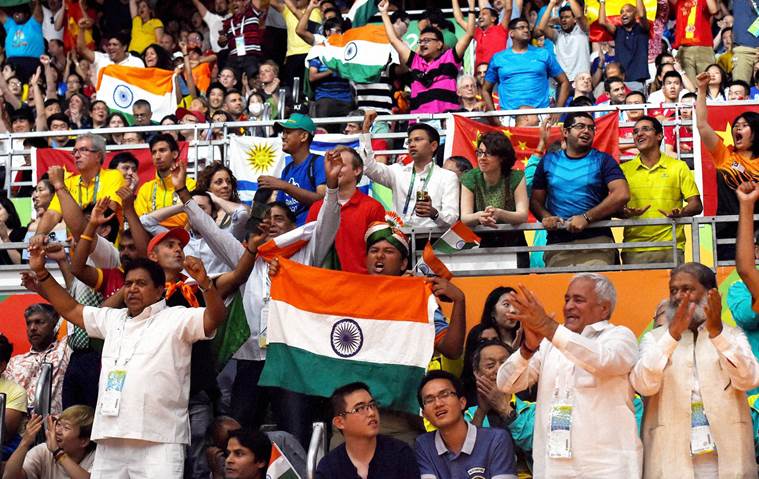 As the curtains come down on the Rio Olympics, post mortems about the Indian contingent's performances are already underway. And while there is talk of the need to improve and to already get a plan in place for Tokyo 2020. The mood is one of cautious optimism.
Optimism that has been fuelled by the excellent performances of Sakshi Malik and PV Sindhu, who not only got India on the medals tally, but also launched a million "beti bachao" and "girl power" tweets from many worthies and notables, and unleashed a fair deal of celebration in the country.
And apologies for raining on the parade, but it is this celebration that I think is the biggest bane of Indian sport. For most of it comes from people who are not really interested in sport but are definitely delighted to be part of a victory parade. Or a funeral.
I call them the Casual Indian Sports Fans.
Before you accuse me of being a cynic, do consider the facts. A few days before the two girls got India on the medals table, the mood had been one of profound depression, lifted somewhat only by a heroic gymnastic performance by Deepa Karmakar. A performance that raised hopes that perhaps India had come to terms with appreciating near misses as much it celebrates victory. The reaction to the two medals themselves, however, showed that not too much had changed. After a week of cursing officials and politicians who meddled with Indian sport, suddenly everyone and their grandmother was a turbo-charged Indian who was "proud of our girls" and was waving the same tricolour for which there had been evidently no hope at Rio few days ago.
The reason I call this species 'casual' is because their main interest is either getting outraged at defeat or celebrating victory as if entry had been gained to the very halls of Valhalla. The sport itself does not matter too much for them. They are there mainly to celebrate heroes or curse villains. There is no middle ground and the sport itself matters not.
They came out by their thousands on Twitter and Facebook when PV Sindhu was playing for the gold medal. Interestingly, not too many had even heard of her before she got into medal contention – all the focus had been on Saina Nehwal. And yet, they supported Sindhu in the final with near fanatical intensity. When the match was over, they were admitting that their throats had gone sore, they had tears in their eyes, and the Lord alone knows what else in which part.
Also Read | Dinesh Trivedi: Should we be going crazy at winning just two Olympic medals?
I remember one of my colleagues in the media muttering, "I wish they would support local badminton players half this much at a state tournament. Those people need it more. Sindhu, Saina… they are already there…"
And that is the problem that Casual Sports Fan poses – by the noise they make on social media and in the real world, they tend to give the impression that there is a lot of support for sport in the country. But their absence and utter lack of interest at times when a medal is not at stake in a high profile tournament ultimately undermines Indian sport.
We are seeing this happen in cricket, the sport that many consider to be India's 'religion' (whether it actually is, is another matter and another story). Attending a high profile match being played by India you would think that the sport's appeal is universal. During the 2015 World Cup, offices had televisions installed so that people could watch India's matches (the stress was on India's matches not matches of other teams or cricket itself). And well, we were peppered with pictures of triclour-painted faces in office screaming "India, India" for about a month.
The real state of the sport, however, is revealed when you walk into Delhi's Firzoshah Kotla ground for a Ranji Trophy match. It is a first-class cricket match, which means it is just a notch below international grade cricket, and yet, you will be lucky to see more than a few dozen people there most of the time. And for all the applause showered on Sindhu and Malik, the same applies to badminton, wrestling and indeed other sports.
It is as if there is a breed of sports followers who come to life only during big events and then go right back into comatose mode until the next big event comes around.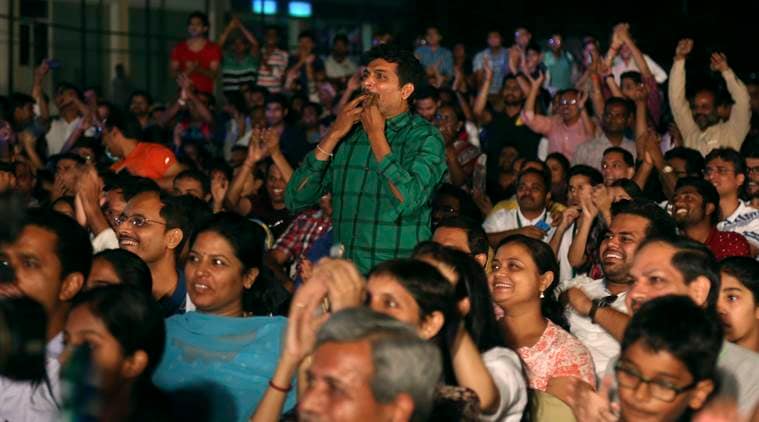 Supporters of PV Sindhu cheer in Hyderabad while watching a live telecast of the final of women's singles badminton match. (AP Photo)
Of course, there will be those who will say that to follow a particular match or team at a certain level is an individual choice. Fair enough. We are not debating that. The problem with Casual Indian Sports Fans is that their lack of interest at other times means that there is no pressure on what is generally a very inept and inefficient sports administration in the country to improve matters. Yes, there was outrage when an Indian marathon runner at Rio did not get water, but had this happened at a district-level event, no one would have reacted. Absence of facilities in a stadium are criticised during a one-day international, but no one cares if the toilets are blocked or there is no drinking water during a University tournament at the very same venue.
In essence, the rot in officialdom is allowed to set in at the very roots, because no one really cares. We in the media are partially to blame for this because we too more often than not highlight problems only at the highest level by which time they are well nigh incurable. But yes, the utter absence of spectators or followers at the lower rungs of sports is a matter of concern. Because the utter absence of public and media pressure allows corruption and inefficiency to creep in, which ultimately become an inherent part of sports culture.
If that sounds too cynical, consider the facts. We have been criticising Indian sports officials and administrators for decades now. And yet, nothing changes. You would have thought that the success of Paes and Sania Mirza would have triggered a tennis revolution or that Saina Nehwal's feats would have made people start turning up for badminton tournaments. Or heavens, that even in cricket, two World Cup wins would have made national tournaments housefull events.
Nay. Nada. Nix.
The reason for this is the utter apathy of far too many at the levels of sport that really matter – the grass roots. Yes, we in the media could do a better job covering too, but at the end of the day, the problem is that the loudest sports fans today are the ones who are not really interested in the sport. But no one really bothers as long as there is a reason to paint their face in the national colours and scream their lungs out or go crazy on Twitter for a few hours. For those few hours everything seems fine with Indian sport. And then people go back to their lives until the next big occasion to bring out the face paint, or memes to mock failure.
One of my friends is a supporter of Southampton Football Club in England. The club had a very bad period a few years ago, getting relegated, and losing a number of its top players. And yet, it still continued to draw crowds for its matches. And even on the day it got relegated, its supporters stood and applauded its players. "It's like a relationship," my friend told me. "It's good to be there for the good times. But what really matters is being there in the bad ones."
Indian sport's biggest problem is not officials and politicians. It is the Casual Sports Fan who is there for the noise made by celebration and for the outrage.
But is never there when it really matters.
[source;indianexpress]