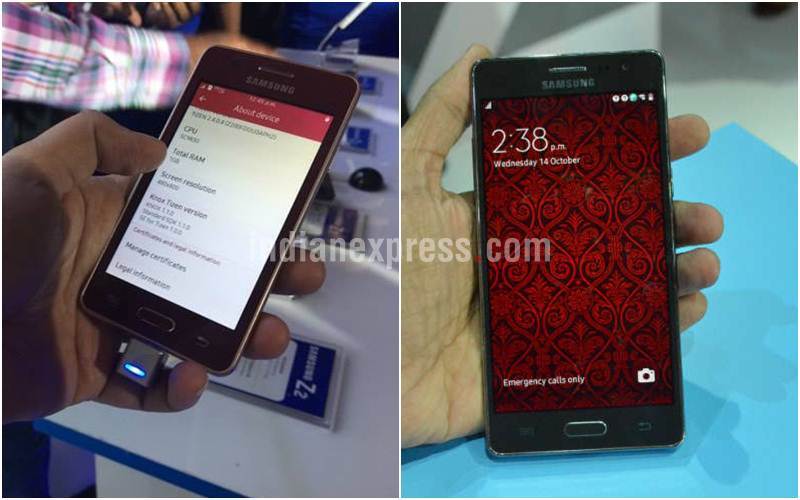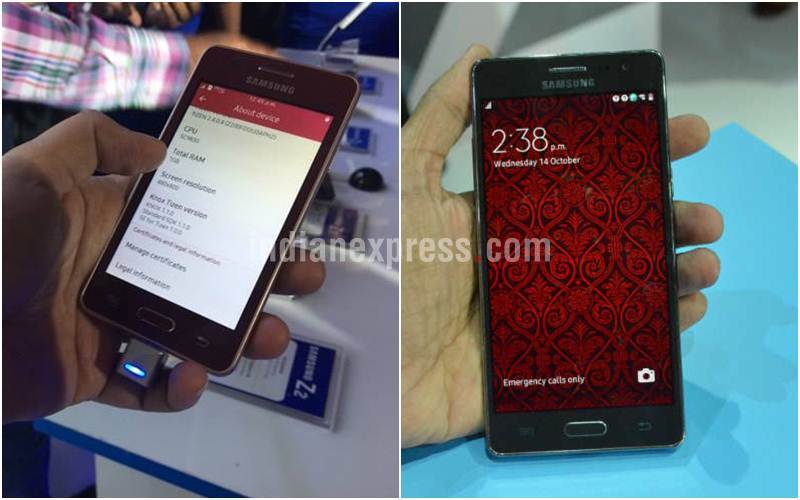 Samsung's Tizen-powered Z2 smartphone is now officially out for India. The device was rumoured to launch alongside Galaxy Note 7 in the first week of August.
Samsung Z2 follows the previous Tizen-powered Z3 and Z1 smartphones. Samsung Z2 features specifications similar to Z1, and is an affordable 4G smartphone. The smartphone runs the updated Tizen OS v2.4, and features a design similar to the Tizen Z1. It won't be wrong to say the Z2 sounds like a repackaged version of the earlier Tizen Z1, which was also a budget smartphone. Here's a quick look at the new Samsung Z2, followed by a comparison with the earlier Tizen smartphones.
Samsung Z2: The smartphone basically reminds us of Nokia's Asha series, which was an effort to offer smartphone-like features in a feature phone package. Samsung Tizen Z2 features a 4-inch display with a WVGA resolution of 800 x 480 pixels. The device is powered by a faster 1.5GHz processor coupled with 1GB RAM and 8GB storage.
Samsung Z2's biggest update is in the camera department. Samsung Z2 comes with a 5MP rear camera, which is a significant update over the 3MP camera found on Tizen-based Z1. However, Samsung Z2 with its VGA front camera may not appeal to the selfie fans.
Samsung Z2 is priced at Rs 4,590, which seems appealing for a 4G smartphone. With Z2, Samsung now has over 22 smartphones with 4G capability. Samsung Z2 also comes with Reliance Jio preview offer, which makes it an exciting entry-level option for those interested in gaining access to 4G smartphones.
Samsung Z3: The Z3 was the most powerful Tizen-based smartphone when it launched last year. The Z3 came with some of the trademarks of Samsung's Galaxy range, but ran Tizen OS instead of Android.  With Z3, Samsung shifted focus from Tizen OS to services that come bundled with the device. Samsung claimed the device will be "rewarding, engaging and efficient" and Z3 had the potential to beat the sales of its predecessor.
Samsung Z3 had better hardware specifications and is the only Tizen phone to get Super AMOLED display
Samsung Z3 featured a 5-inch 720p HD Super AMOLED display, and ran Tizen OS v2.3 with upgrade to v2.4. The smartphone had better specifications than many other competing smartphones at that time. Samsung Z3 is, however, currently out of stock at most online resellers.
Samsung Z1: Samsung announced Z1 with Tizen in January 2015, which was seen as an attempt from Korean smartphone maker to move away from Android for its entry-level smartphones. Samsung has since not been able to keep going with the Tizen OS, and has restricted the OS to its televisions and smartwatches.
Samsung Z1 did not offer any exciting specifications to keep it in the limelight. It had a small 4-inch display with a mediocre resolution of 800 x 480 pixels. The smartphone had a relatively slow Spreadtrum processor and 768MB RAM, which looks just too less in today's competition.
Samsung is trying to reboot the Tizen OS with Z2, which is a budget 4G phone. But for Tizen and Samsung, the competition is tough, especially in the under Rs 5000 price range. Reliance LYF handsets are offering Android and 4G at just Rs 2,999, along with the benefits of Jio's service, which have made them appealing to many buyers. For Samsung, while the J series continues to do well in India, Tizen has not really proved to be a game-changer.
[source;indianexpress]