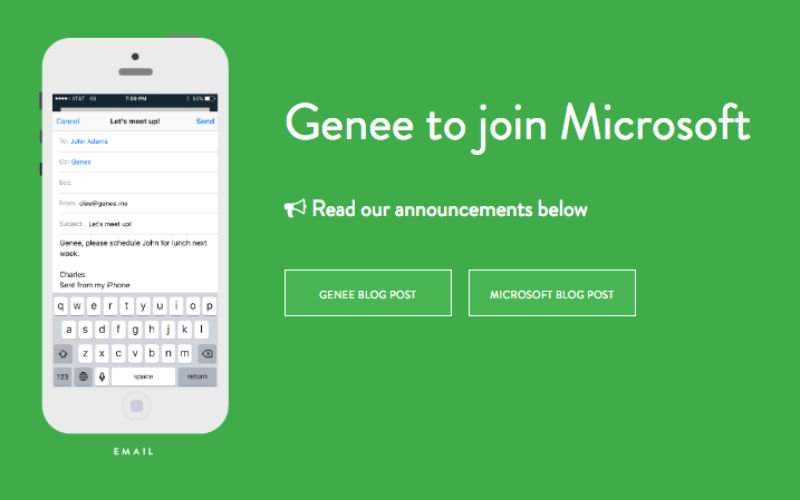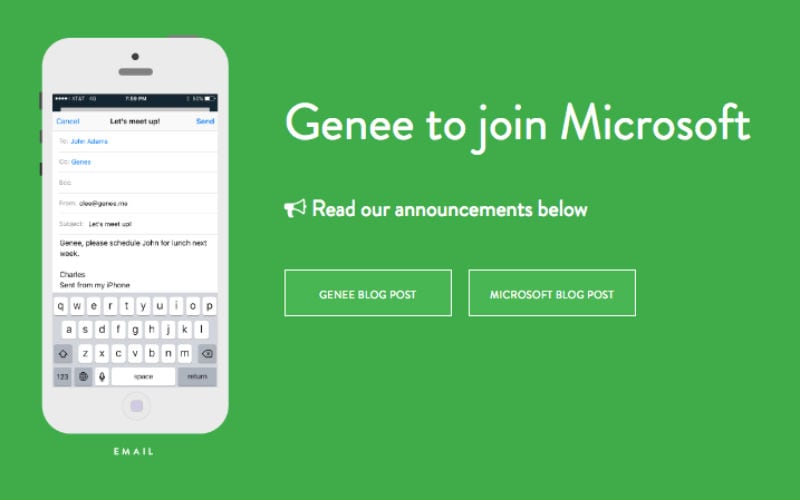 Microsoft has acquired artificial intelligence (AI)-based scheduling service Genee that simplifies the scheduling and rescheduling of large group meetings for companies. Microsoft will integrate the AI technology into Office 365 before shutting down Genee.
"Microsoft has signed an agreement to acquire Genee, an artificial-intelligence-powered scheduling service," said Rajesh Jha, Corporate Vice President, Outlook and Office 365, in a blogpost on the official Microsoft News website.
Genee co-founders Ben Cheung and Charles Lee will join Microsoft, and the duo had started the apps in 2014 to simplify the time-consuming task of scheduling (and rescheduling) meetings. "It's especially useful for large groups and for when you don't have access to someone's calendar," Jha added.
Genee uses natural language processing and optimised decision-making algorithms so that interacting with a virtual assistant is just like interacting with a human one. "Say you want to meet a potential customer, Diana, for coffee. Simply send an email to Diana and copy Genee, like you would a personal assistant," Jha noted.
Genee understands that you want to "find a time to meet with Diana for coffee next week" and will streamline the process by emailing her directly with appropriate options that work with your calendar and preferences.
Genee will even send out the meeting invite on your behalf — freeing up your time. "As we continue to build new Office 365 productivity capabilities and services our customers value, I'm confident the Genee team will help us further our ambition to bring intelligence into every digital experience," Jha added.
In a separate blog post, Genee's co-founders Ben Cheung and Charles Lee wrote the service will shut down from September 1. The blogpost reads, "The Genee service will shut down on September 1, 2016. While Genee will no longer send you useful reminders and agendas from your calendar, all existing calendar entries created by Genee will remain." The founders confirmed they will be taking Genee's next-generation experiences to Microsoft. The terms of the deal were not disclosed.
Microsoft has been betting big on Artificial-intelligence and chatbots, and been on an acquisition spree. The company recently acquired LinkedIn in one of the biggest technology deals valued at over $26 billion. As Microsoft shifts its focus to enterprise, and seeks to strengthen core products like Office 365, it will add new features. Chatbots that help organise meetings on Office 365 will be an important addition to Microsoft's premium product.
Of course, Microsoft's most public attempt at a chatbot called Tay, didn't go so well. Tay, a chatbot launched on Twitter, quickly picked up the worst of humanity, and was using racist slurs freely, till Microsoft shut it down. Nonetheless bots are the future, with companies like Google, Facebook all betting big on them.
[source;indianexpress]