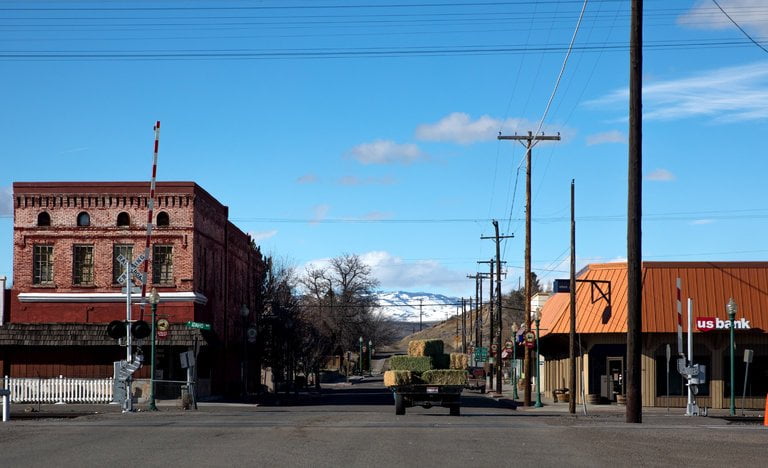 Glenns Ferry, Idaho. State insurance regulators, under an executive order issued by the governor, have proposed a cheaper version of health coverage that legal experts say would violate the Affordable Care Act.CreditKim Raff for The New York Times
BOISE, Idaho — In this rugged state of jagged peaks and black volcanic soils, people struggle to make a living and get good health care. Only Mississippi has lower average weekly wages, and in the last few years, about 110,000 people in Idaho, a state of only 1.7 million, have been priced out of the health insurance market by rising premiums, insurance industry estimates show.
This is also a deeply conservative place, where dismantling or weakening the Affordable Care Act — the signature law of the Obama administration — has been a longstanding priority for the governor and the Republican-dominated Legislature.
Now those two powerful trends are colliding.
Idaho insurance regulators, under an executive order issued by the governor, have proposed offering a stripped-down, cheaper version of health coverage that legal experts say would violate the Affordable Care Act. Some Democrats denounced Idaho's idea as "junk insurance" and a direct attack on the federal health care law. And this week, officials from the Health and Human Services Department warned Idaho that its plan was unacceptable in its current form, putting the state directly — and somewhat awkwardly — at odds with the Trump administration, which also has been opposed to the Affordable Care Act.
As health insurance costs have gone up for millions of Americans, states around the country, including Iowa, Oklahoma and Texas, are closely watching how this clash plays out in Idaho. Republicans say the requirements of the health care law and other insurance standards have driven up costs, leading to sharp increases in insurance premiums. That has set off a search for less expensive alternatives that can still survive the scrutiny of federal authorities. Whether Idaho's plan is a pragmatic step forward or a politically motivated blow against the Affordable Care Act, or perhaps both, the fate of the plan has become an essential test case.
One thing seems certain about the new Idaho insurance policies, which state officials wanted to allow on the market as early as this month: They would be cheaper, and directly aimed at people like Curtis Laib.
Continue reading the main story
Mr. Laib, 36, makes about $32,000 a year as a schoolteacher in a rural area southeast of Boise. He runs a farm on the side growing wheat, alfalfa and organic beans, while his wife, Tahnee, cares for their 1-year-old son, Hendrix. Because Mr. Laib's school offers a group health plan, he has been ineligible for subsidies under the Affordable Care Act, he said. But he said the school plan was unaffordable on his net take-home salary of about $2,100 a month. Working with an insurance broker, Mr. Laib said he had cobbled together a family package for the last few years for about $300 a month.
This spring, though, he is expecting those premiums to more than triple, to $1,100. That, he said, would shatter their budget. Mr. and Mrs. Laib's solution for the moment: Keep insurance for their son and go without for themselves.
"For a lot of us, it's gotten real," he said.
Backers of Idaho's proposal for a scaled-back health care option said that some insurance, even if it is not as good as what Congress mandated in the Affordable Care Act, is better than none.
"It may not be perfect, but it's more choices than are in the market today," said Peter Sorensen, a vice president at Blue Cross of Idaho, a nonprofit provider that is the only company so far to propose selling the new policies. Mr. Sorensen said the company's reason for wanting to participate in the new plans is to expand coverage to as many people as possible.
Under the new state rules, insurers in Idaho would still have to offer policies that comply with the Affordable Care Act on the state's health insurance exchange, a web-based marketplace for individual and business plans. But in policies sold outside that exchange, Idaho insurers could omit some of the benefits required by the Affordable Care Act. Under the guidelines that emerged from Idaho's executive order, those policies would not have to comply with federal limits on out-of-pocket costs and they could impose caps on the dollar amount of benefits available to consumers.
Some people with pre-existing conditions could be denied coverage for up to 12 months if they had not maintained "continuous prior coverage." And insurers could in some cases charge different rates based on a person's health status. Insurers would be able to ask consumers if they have had any of numerous medical conditions, including cancer, heart disease, diabetes, AIDS and asthma.
Some groups representing patients, including the American Heart Association, the American Diabetes Association and the lobbying arm of the American Cancer Society, have denounced Idaho's plans, saying they fear that some people will actually end up paying more. The new, cheaper plans would appeal to the healthiest people, they said, leaving less healthy people in a shrinking pool of people seeking coverage that meets the Affordable Care Act standards.
"A.C.A. premiums would increase, and options for individuals with pre-existing conditions would narrow," the American Academy of Actuaries, a nonpartisan professional group in Washington warned in a letter to the Idaho Department of Insurance.
Gary Ottman, a farmer in south-central Idaho who sells malt barley to the brewers of Coors beer, said he just wanted something that works.
"With being self-employed, you can't go on a group plan, and you're pretty much like a lone wolf out there — they pick you apart," said Mr. Ottman, 60. He said that he was satisfied for a while under an Affordable Care Act policy that he bought for himself and his wife, Teresa. But then their premiums soared to more than $900 a month, he said, with a $7,500 deductible before a first claim would be paid. Politicians who promise to fix the system and don't follow through, including Congress with its failed efforts to repeal the health care law, are part of the problem, Mr. Ottman said.
"It disgusts me to no end that these politicians go in there and keep telling you what they think is best for you and they don't know nothing about you," he said.
Idaho's proposal leaves Alex M. Azar II, the secretary of health and human services, in a complicated spot. The department is responsible for enforcing the health care law, yet President Trump has repeatedly predicted that it will fail and has called for its repeal.
In the federal department's letter this week to the Idaho governor, C. L. Otter, a Republican, a senior health and human services official, Seema Verma, sounded sympathetic to Idaho's concerns. "If a state fails to enforce the law, the Centers for Medicare and Medicaid Services has a responsibility to enforce these provisions," Ms. Verma wrote in responding to the state's proposal. "This is not our preference."
The federal authorities gave Idaho 30 days to respond, and warned them of the risks if the state does not rethink their idea: Any insurance company selling the new plans in Idaho in violation of federal requirements could face substantial legal and financial penalties — up to $100 a day for each person affected by the coverage.
State officials said on Friday that they were pushing ahead.
"The letter from C.M.S. Administrator Verma was not a rejection of our approach to providing more affordable health insurance options for the people of Idaho," Mr. Otter said in a statement with the lieutenant governor and the Department of Insurance. "Her letter made it clear that Idaho's efforts to pursue innovative alternatives hold great promise, and we believe that Idaho's plan aligns with the State's responsibility for 'substantially enforcing' Obamacare. In fact, we consider the letter an invitation from C.M.S. to continue discussing the specifics."
Dean L. Cameron, the director of the Department of Insurance, said in an interview late last month that the market was broken, and that Idaho's plan was intended as a fix.
Under the Affordable Care Act, he said, tens of thousands of poorer Idahoans got health coverage. But because those people were sicker and more expensive to insure than expected, higher premiums had rippled out through the system, affecting healthy, middle-income families and pricing many of them out of the market, even as the state's economy has surged in population and job growth.
"Not everybody obviously agrees that this is the correct approach, but we feel like the risks of doing nothing are far greater," he said.
Even if Idaho goes forward with the new policies, much remains in flux. Company officials at Blue Cross of Idaho said that a family like Mr. Laib's, for example, could get coverage for $300 to $400 or so a month under the new plans if the family's health is "average."
That would be far less than Mr. Laib said he would pay under a plan that meets the requirements of the health care law, but he remains skeptical. He has Type 1 diabetes. If you pay less for a lesser product, he asked, are you really better off?
"Most of my health issues will be related to diabetes," he said. "If pre-existing conditions aren't part of the package, they don't help."
["Source-gadgets.ndtvnytimes"]