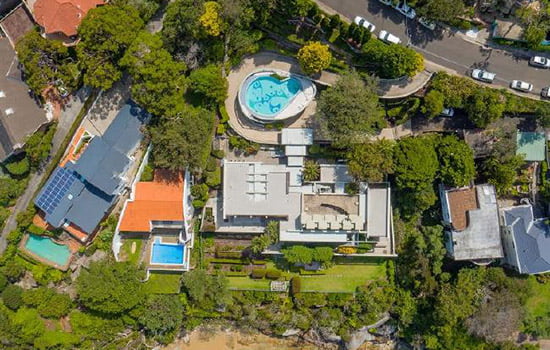 One of the northern beaches' largest and most prestigious family estates has hit the market for the first time ever, and is tipped to smash the 2016 sales record out of the park.
The sprawling property at 1-3 Amiens Rd, Clontarf, is part of the estate of the late Transfield founder Franco Belgiorno-Nettis, an Italian migrant who came to Australia with two degrees in engineering in 1951 to make his fortune.
Aerial view of the property.
He lived in Clontarf almost all his life, and built Portovenere as the family home in the 1960s. The seven-bedroom masterpiece is a nod to Californian Modernism architecture and pays tribute to Belgiorno-Nettis' enduring passion for the arts. The founder of Sydney Biennale died in 2006.
Belgiorno-Nettis and his wife Amina lived at Clontarf Beach with their three sons Marco, Luca and Guido, before moving into their dream home on the shores of the harbour.
An impressive wine cellar.
As Luca remembers it, it was an idyllic childhood filled with water sports like swimming, sailing and water skiing. His father was a keen swimmer and rarely a day went past — even in winter — that he did not take a dip at Clontarf Point.
Amina Belgiorno-Nettis passed away last year, leaving her sons to make the difficult decision to sell their much-loved childhood home.
Childhood dream: What is Barbie's Dreamhouse really worth?
"It's sad, we would have loved to have kept it," Luca told the Manly Daily. "But it should have someone living there, we would like to see someone who appreciates the architecture."
It is easily one of Clontarf's most unique homes, complete with concrete pillars, cool grottos, impressive wine cellars and a never-ending series of living spaces. The Thunderbirds-style pool sits high at the top of the property, catching the best of the views, with the garage underneath.
The 'Thunderbirds' style pool has amazing views.
There is also a rooftop terrace where many a party has been held.
While it doesn't come as part of the sale, the property is jam-packed with some pretty impressive art — testament to the family's love of the arts — from Brett Whitely to Sydney Nolan originals.
[Source:- Realestate]