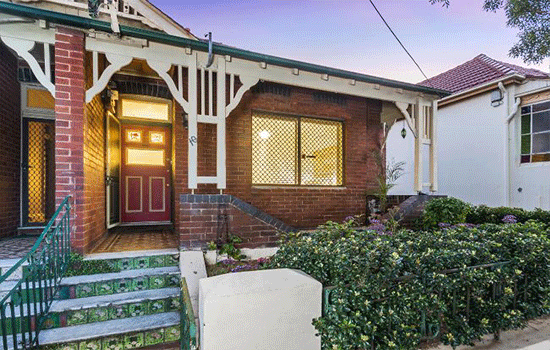 Only two inner-western Sydney suburbs remain under the million dollar mark, new data reveals.
Sydenham and Homebush West still have six figure median house prices, according to CoreLogic RP Data.
The median house price in Sydenham is $927,500, an increase of 11.4% in the 12 months to November 2015, and in Homebush West it is up 4% to $980,500.
This two-bedroom home at 10 Yelverton St, Sydenham sold last year for $996,000.
William Pereira, from Raine & Horne Marrickville, says Sydenham, only 8km from the CBD and under the flight path, is a small suburb where few homes come up for sale.
"It's very tightly held," Pereira says. "People who live there have been there for a long time."
Core Logic RP Data shows Sydenham's average hold period is 12 years.
"It's not the most desirable suburb but for value for money it's unbelievable," Pereira says.
This three-bedroom house at 74 Courallie Ave, Homebush West, sold for $910,000.
"A single-fronted home in Sydenham is worth between $900,000 and $1 million but in Marrickville it's probably worth $1.2 million to $1.3 million. It's a massive price difference but you're one suburb away."
Homebush West, like Sydenham, is an affordable alternative to popular suburbs such as Strathfield but few houses come up for sale.
"There's quite a bit of interest from the lower budget buyers looking to get into the area because they can still access most of the schools and the facilities," Joe Campisi from Devine Real Estate Strathfield says.
This two-bedroom house at 12 Telopea Ave, Homebush West sold last year for $973,000
The area is predominantly an apartment market with most houses confined to a few streets.
St Peters and Tempe were previously suburbs where the median house price was under a million. They now have an average house price of $1.01 million and $1.006 million respectively.
Louise Mitchell from Agency by Glenn Regan says more buyers are looking into St Peters and Tempe.
"They've always been the bridesmaid suburbs of Newtown and Marrickville but people are discovering how close they are to everything," she says.
Mitchell says there are still houses under a million but they are generally unrenovated and ­located on busier roads.
[Source:- Realestate]