Myanmar's Aung San Suu Kyi met President Barack Obama at the White House on Wednesday on her first visit to the United States since her party won a sweeping victory in last year's election, capping a decades-long journey from political prisoner to national leader.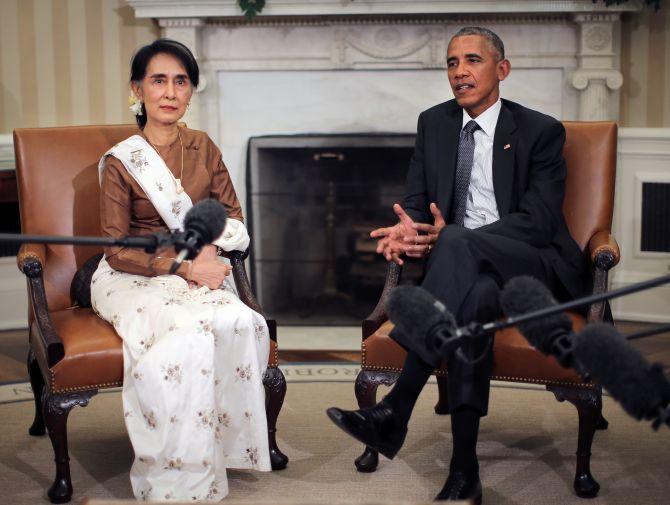 With Suu Kyi no longer an opposition figure, the United States is weighing a further easing of sanctions against Myanmar, formerly known as Burma, as Obama looks to normalise relations with a country Washington shunned when it was ruled by a military junta.
Suu Kyi also was expected to meet other US officials including Secretary of State John Kerry and senior members of Congress.
"Before it was very much encouraging her (Suu Kyi) and supporting her in her role as someone pushing for increased democracy. Now they (US officials) are meeting someone in charge of the government," said Murray Hiebert, a Southeast Asia expert at Washington's Center for Strategic and International Studies.
Before the meeting, Obama notified to the Congress about his intent to restore trade benefits to Myanmar that had been suspended more than two decades ago amid allegations of rights abuses.
In a notification to the Congress minutes before his meeting with Suu Kyi, Obama announced his intent to designate Burma as a least-developed beneficiary developing nation for purposes of the GSP program.
"I am writing to inform you of my intent to end the suspension of preferential treatment for Burma as a beneficiary developing country under the Generalized System of Preferences programme and to designate Burma as a least- developed beneficiary developing country for purposes of the GSP program," Obama said in a notification to the Congress.
The move is seen as commensurate to the progress made towards restoration of democracy in Myanmar which is still being called by the US by its previous name Burma.
[source;rediff.com]