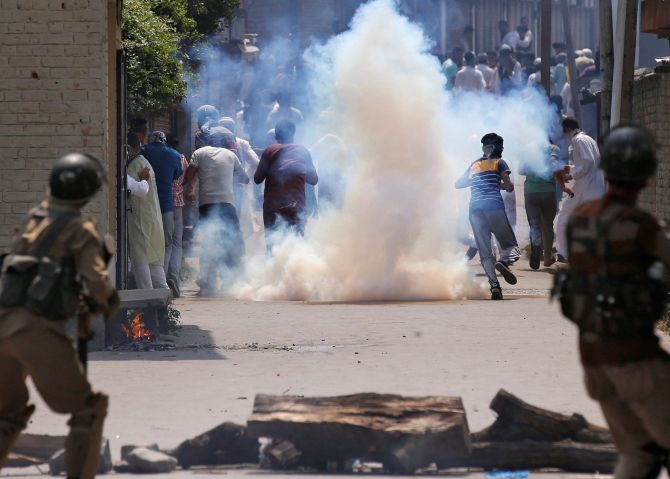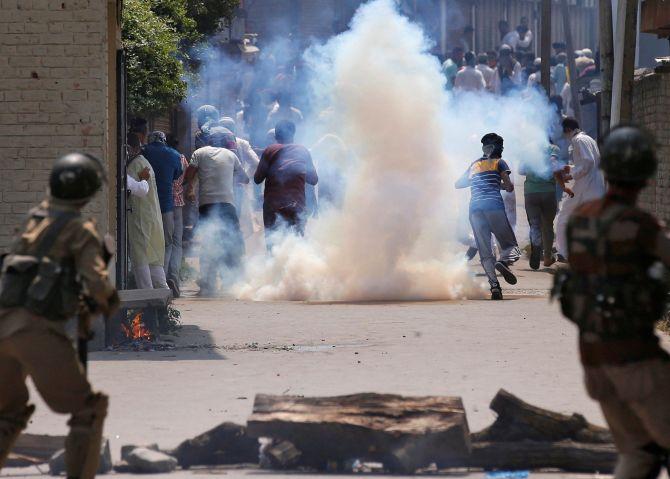 The Kashmir Valley has hogged newspaper headlines for nearly two months now for all the wrong reasons.
Everyone wants a solution to the Kashmir problem but are phrases like Kashmiryaat,Insaniyat and composite Sufi culture the solution?
The author first visited Kashmir Valley in 1988, followed by a 2,000 km drive through Jammu region and the Valley in 2014 and extensively covered Ladakh in 2016. During these travels I met a cross section of people.
This article uses insights gained to suggest a different way forward for Jammu & Kashmir.
Besides visiting Srinagar and Gulmarg in 1988, I did a seven-day trek from Pahalgaum to Sonmarg. On the last night, we stayed in the hut of a shepherd. A local lady gave us (me and a French couple) dinner and a place to sleep. Naturally we offered to pay. She said, 'I will take money from you because you are Indian'. No issues. Post breakfast the lady had no qualms in asking the same Indian for his slippers, as a gift, since she liked them very much.
This incident of nearly 30 years ago best symbolises Kashmiri attitude towards India. They want what India has to offer and simultaneously consider Indians as alien. In 2016 the author visited three Kashmiri shops next to west entrance of Meenakshi Temple in Madurai — Can Indians open shops in the Valley?
Has anything changed?
In 2014, I travelled to Basohli, Rajouri, Poonch, Anantnag, Verinag, Kishtwar, Bhadarwah and Jammu. Of these all except Anantnag and Verinag are in Jammu region.
Basohli, approximately 160 km from Jammu, is well known for a style of painting characterised by vigorous use of primary colours and a peculiar facial formula. It is from here that this style spread to Chamba and Kangra in Himachal. We met with members of Vishwasthali, a social and cultural organisation that is striving to keep the tradition alive by teaching young children. They complained about negligible state government support.
In Rajouri locals were concerned about the local effect of violence in Kashmir because the state PWD constructed Mughal Road reduced travel time to about four hours.
In Poonch people spoke about uncertainty caused by frequent cease-fire violations by Pakistan and lack of employment opportunities hence wanted reservations in government jobs for the Pahari-speaking peoples.
In the Valley, at Anantnag most children kept a distance from us at the Surya Martand Mandir. We lost our way in the dark whilst driving to Verinag — everyone whom we asked for directions looked at us suspiciously.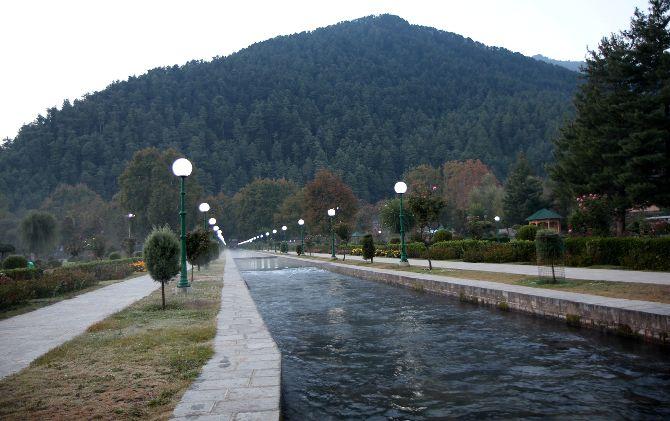 IMAGE: Water flows out of the kund at Verinag.
During an early morning walk in Verinag, the author was asked if he had visited Srinagar. When I said no, they looked aghast as if had committed a crime indicating their Valley centric approach. Ditto in Kishtwar.
In Verinag, the river Jhelum (Sanskrit name Vitasta) rises from a kund (pond). The author asked a local how a small stream caused so much damage in Srinagar during the 2014 floods. He said the stream was joined by smaller rivers but avoided referring to the construction over water outlet channels in Srinagar.
The response symbolises Valley approach — blame others but refuse to accept responsibility for your actions.
In Kishtwar (Jammu region) I asked two men if they were locals — the instant response we are from Kashmir.
It was in Jammu that the author found near total alienation:
A feeling of being discriminated since 1951 when the number of legislators was wrongly decided in favour of Kashmir.
Lack of employment opportunities meant locals had to seek jobs outside. 'Jammu is becoming a city of old people and pensioners,' said a senior citizen.
They wondered why IT companies did not open development centres in Jammu to take advantage of educated local talent. Who would do so given the restrictions on purchase of property by non-citizens of J&K. Though not said explicitly, they felt trapped by such restrictive provisions.
Maximum number of government jobs and expenditure were cornered by Valley. Their voices indicated helplessness.
I met with west Pakistan refugees who are citizens of India but not permanent residents of J&K.
In spite of huge potential, tourism to Jammu region is not promoted by the state government.
When I asked for information on Rajouri and Poonch, official at tourist office said these were border areas, none went there.
The response in Ladakh region was slightly different.
In Leh, Pangong Lake or dhabas along the Leh Srinagar highway the only reference to Kashmir was in the context of how violence had reduced tourist inflows. Some criticised the Valley vehemently whilst others chose to ignore citing the continuous surge in domestic and foreign tourists.
Is this attitude the result of Buddhist approach to life or because Ladakh was not a victim of terrorism, unlike Jammu region, is difficult to say?
When I praised the four-lane road from Leh to Karu, the driver snapped to say it became four-lane after the formation of the Ladakh Autonomous Hill Development Council. A sense of anger exists but is not easily manifest. After constant nudging a Ladakhi said, "When Leh and surrounding areas were buried in a mudslide few years back, bodies at the government hospital had to be dumped in garages because there was no mortuary. Funds were being asked from the state government for past few years but were not released."
At a Tibetan shop in Leh's main market had a stimulating discussion with a 28-year-old Kashmiri shop owner who blamed the Indian Army and former governor Jagmohan for wrong doings in the Valley. The author said, ask your friend how has India treated the Tibetans?
The discussion reiterated the stubborn refusal of Kashmiris to accept their wrongdoings.
In Kargil, teachers at the Army Goodwill School and residents of Panikhar village in Suru valley (65 kms away) were happy with their state. In village Bhimbat, 5 kms from Dras town, saw locals (Muslims) visit a huge rock that is supposed to be the solidified body of Pandava Bhim.
The observations can be summed up as follows.
The cultures of Jammu, Valley and Ladakh are very different. "Ethnically they are different; their language and cultures are different, their needs and requirements are totally different. Even ecologically, they fall in a different zone. The culture of Poonch is closer to that of Rawalkot in Pakistan Occupied Kashmir.
Cutting across religious lines the people of Jammu and Ladakh regions are unhappy with the state government's excessive focus on the Valley.
People of these two regions are happy but are hostage to the violence in Kashmir.
They believe that if restrictions imposed by the state constitution are removed, their regions would develop and progress.
In spite of being discriminated against by every state government and being victims of terrorism (especially the Jammu region) they did not express their unhappiness through the gun.
Since 1950 successive governments have tried various options but failed to reduce alienation amongst the people, for different reasons, of Kashmir, Jammu and Ladakh. It is best to accept this reality and let each region charter its own path, within the framework of the Indian Constitution.
Therefore, it is proposed that J&K be divided into three smaller states. Ladakh becomes a Union Territory, the area from Poonch to Kishtwar becomes Jammu state and the Valley is Kashmir state. The two states would be independent financial units like other states of India.
Ladakh and Jammu regions have a mixed population of Buddhists, Hindus and Shia Muslims while Kashmir is pre-dominantly Sunni Muslim.
The division is not based on religious lines and does not take away the right of displaced Kashmiri Pandits to return to the Valley.
Since Ladakh has immense geo-political significance, UT status means decentralisation of powers, adequate funding from the Centre and better infrastructure. The region is scenic, terrain attractively different and has lovely people meaning huge tourism potential. Autonomous Hill Councils will give people's representatives a say. Restrictions on purchase of land by non-locals be imposed to ensure people from other states do not buy property as has happened in Uttaranchal.
According to a 2002 interview http://www.rediff.com/news/2002/aug/05inter.htm with Thupstan Chhewang, chairman, Ladakh Hill Development Council, "Ladakh was an independent kingdom till 1836, when it was invaded and annexed to the Dogra state of Jammu. In 1947, when India was granted Independence, we were part of the principality of Jammu and Kashmir. It is how we became part of the Jammu and Kashmir state."
"At the time of Partition, the people of Ladakh approached the maharaja and later (in 1949), they approached the Indian prime minister with the same demand: we do not want to be part of the Jammu and Kashmir state. We wanted Ladakh to be directly administered by Delhi. We already had an apprehension that Ladakh would be discriminated against by the Kashmiris and it has happened now for the past 40 years."
The proposed division restores pre-1836 status.
The existing Jammu and Kashmir Constitution would apply to Kashmir only since they are its biggest proponents. The central and state governments might like to consider special autonomy to the state, within the framework of the Indian Constitution, based on the principal of reciprocity.
The state of Jammu to ensure adequate representation is given to all sections of society. The displaced persons of POK and other refugees would then be entitled to vote in state elections, be eligible for government jobs and social benefits.
Smaller states ensure better administration. Note that J&K is a huge state of 101,387 sq kms of which Ladakh has 58.3 per cent, Jammu 26 per cent and Kashmir 15.7 per cent. Mountainous terrain makes the task of administration more challenging.
Pakistan will object to any plan till J&K becomes its part in entirety.
Sanjeev Nayyar is an independent columnist. On Twitter: @sanjeev1927
Sanjeev Nayyar
Comment
Print this article
More from rediff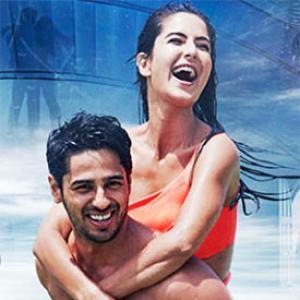 Review: Baar Baar Dekho is catastrophically stupid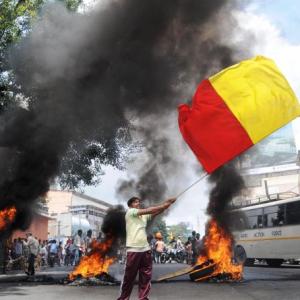 PHOTOS: Cauvery bandh brings Bengaluru to halt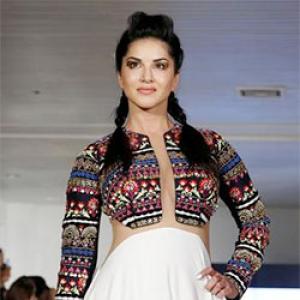 Oh so Sunny!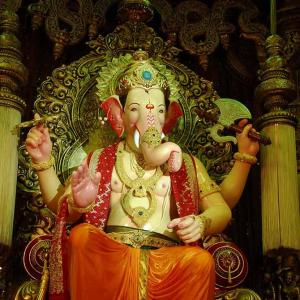 Five lessons from Ganesh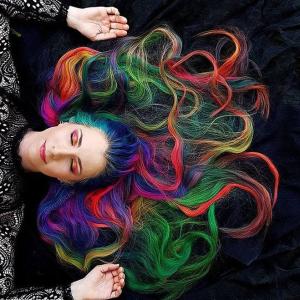 WTF News: It's Weird, True and Funny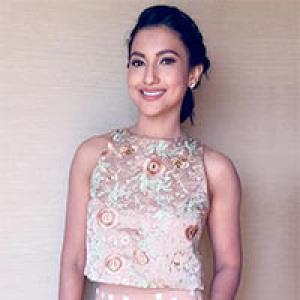 Style diaries: How Gauahar nailed it in peach!
 ▶
Latest from rediff.com
Rohit, Gambhir in focus during selection for NZ series

---

Infiltration bid foiled at LoC

---

La Liga: Barcelona stunned; Real and Atletico cruise

---

Can Indian IT do away with offshore delivery tag?

---

Windfall for brokers in BSE public offer

---

Hackers attack Ratan Tata, Trai chief's Twitter accounts

---

Ronaldo wants Real to offer him a 10-year contract

---

Shriya Saran's life in pictures!

---

#Travel: 10 fabulous photos of India

---

PIX: Evelyn Sharma goes to Dubai

---
Stars spotted!  What's this?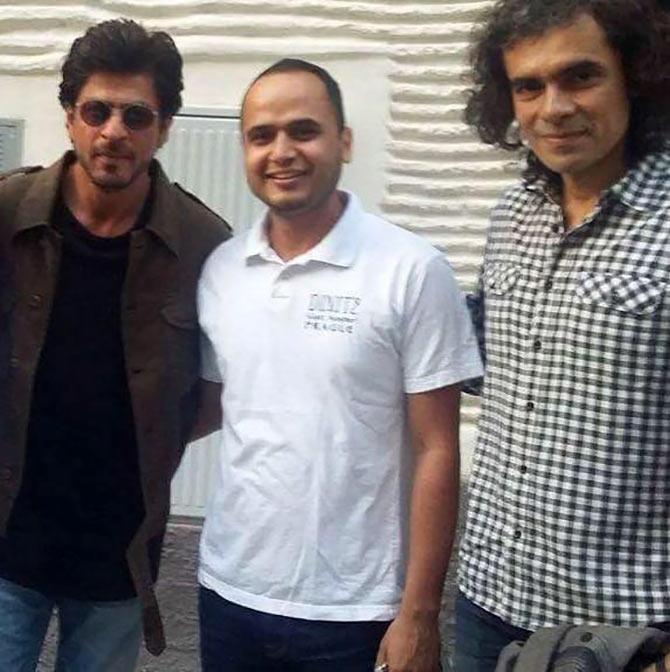 Spotted: Shah Rukh, Imtiaz Ali in Prague
Reader Amrit Joshi sends us a photograph.
More stars spotted
Met a celebrity?
Email us photos & videos