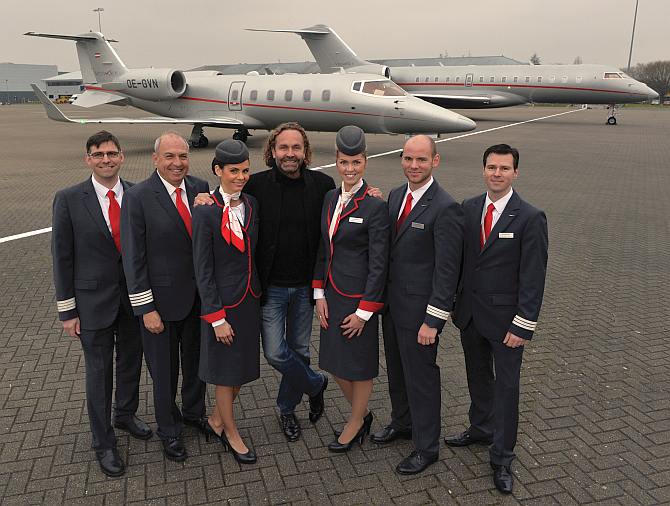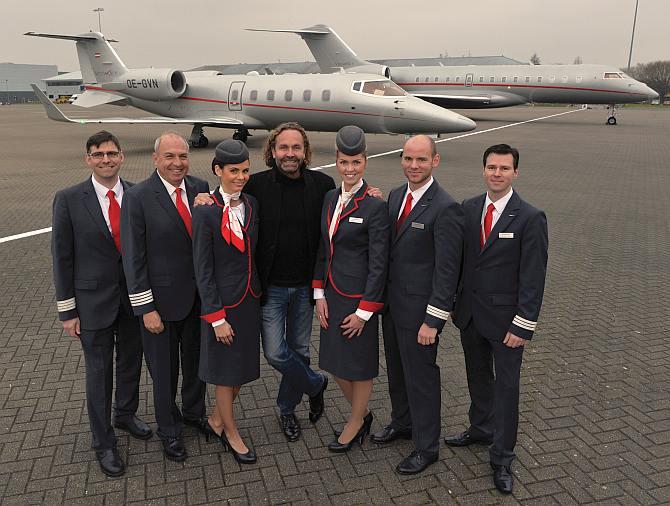 Thomas Flohr (above, centre) is nothing like what I expected.
After reading a piece on him and his multi-million-dollar Swiss home in St Moritz in a New York Times supplement, I had expected to meet a flamboyant, flashy, real-life James Bond, enmeshed in a life of women, fast cars and fancy airplanes.
We are meeting for tea, but there's no possibility for us to host it because we meet in his private suite at The Imperial hotel in Delhi. He's already sipping some mint tea and I stick to plain, cold water. I spot some biscuits in a corner, but there's no time to incorporate them in our chat.
Flohr is a well-known figure in global aviation circles after he disrupted the air charter business by offering a subscription-based service in 2005 for the rich and famous. Like many aviation moguls, his lifestyle too has attracted attention.
He is in India to expand his client base by attending small dinners hosted by existing clients where he would get to meet prospective ones.
I begin by asking him when he saw his first James Bond film and what, in these films, could have possibly left such a deep influence on him? After reading the NYT piece, I had quickly brushed up on my own meagre knowledge of Bond films, convinced that any conversation with him would require me to be up to date.
He figures I am referring to the NYT piece and sets the record straight by saying that while he likes the films like anyone else, he's far from being obsessed with James Bond or the life he represents. He couldn't even recall when and where he saw his first Bond movie. "The article was a bit overdone."
The son of a teacher — his mother was a housewife — and the brother of a doctor, Flohr decided to break the family mould and become an entrepreneur, a path his family couldn't really relate to.
Fluent in five languages, he grew up in the Swiss-German part of Europe and left home at the age of 18 to study in Munich.
He was working in the US in a job that entailed charter flying when he spotted an opportunity.
The proposition was simple. When one booked a presidential suite at the Peninsula or the Four Seasons for, say, $15,000 a night, one knew what one was going to get, no matter which part of the world you booked it in.
So, when you are paying $15,000 an hour for an aircraft ride, aren't you entitled to know what you are going to get?
The lack of standardisation in the aircraft charter business irked him. An industry selling to the smartest, most influential people in the world and there was no brand!
In 2002-2003, Flohr took his first big risk when he bought two aircraft from his personal savings. He followed it up in 2005 with an even bigger risk: three more airplanes. But with that, VistaJet — the disrupter in the aircraft charter business — found its feet.
Last year, the company flew 40,000 passengers with a fleet of 61 aircraft (it's still a subscription-based service), with 20 per cent of his clients coming from Asia.
But wouldn't the Arabs and some Indians prefer to buy their own planes, I ask. In these parts, I expect ownership of an aircraft is as much about need as it is about making a statement.
He says that's a lifestyle choice, but it makes no financial sense.
A Global Express (aircraft type) costs between $50 million and $55 million. The average use of a business jet is 250 hours a year. With interest at five per cent and depreciation at seven per cent, it works out to $6 million in capital cost a year.
Divide that by 250 and it works out to $24,000 per hour in capital cost alone. If one adds other expenses, it works out to $30,000 an hour.
VistaJet offers the service at $17,000 an hour, minus the headache of maintenance. "uying an aircraft is a complete waste. I'd say invest the spare cash in your business or buy something beautiful like a diamond ring for your wife. A plane is a utility — and one that will decrease in value."
When people buy aircraft from personal funds, he argues, they make an "emotional" choice, but with boards being asked to fund planes, the decision-making will be more rational. Moreover, he's brought brand new airplanes to places like India, Africa and China; charters would typically offer 15- to 20-year-old planes to these markets.
His addressable market today is 7,000 aircraft (planes that fly between seven and 13 hours non-stop). These flew 1.7 million hours last year.
His current market share is around 2.5 per cent. This market will grow to 2.9 million hours over the next five years and there's no reason why he can't get to five to 10 per cent market share in this business with high entry barriers.
So in the next five years he could conceivably be flying around 100,000 hours and have a fleet of 100 to 120 planes.
Currently, Flohr owns his company outright, giving him the freedom to take his own decisions as opposed to following the dictates of a board. But as and when the need arises, he will bring in other shareholders.
Since I am thinking neither of buying a plane nor of subscribing to his service, I change tack. Doesn't it get lonely where he's perched? His own home, Eagle's Nest, is on a lonely slope in the Swiss Alps.
He's not lonely in the literal sense. He has some neighbours, meets hundreds of people through the year and doesn't mind the peace and quiet when he's home. But here's the thing: "The more successful you get, the more people you attract, so literally speaking you don't get more lonely."
When you disrupt an industry — like he has — initially you are lonely because people don't believe you will do it and when you do, you are lonely as envy, jealousy and other such emotions come into play. So, one of the fallouts of success can — in a certain sense — be loneliness.
I push on. What if those who surround him are attracted only by his success and wealth? How in his position can he tell his real friends from those who seek the rub-off?
He says one has to have clear moral and ethical standards in one's mind. He has friends who he has known for well over 20 years and they are still his friends. "I think over time, one develops a good sense of who is around you for what reason."
A regular squash player, Flohr enjoys cooking Italian meals for his friends and does it from scratch — right from choosing the ingredients to presenting it MasterChef style.
He's divorced and busy as hell. How then did he raise — and manage to keep grounded — his daughter Nina, now 28
If he's beginning to wonder what kind of business report this is, he manages to keep it well hidden. He says it was hard when she was growing up: she was educated at a boarding school in the UK and he was jetting around the world. But he always made time for her.
"We'd fly off economy to the south of Argentina and stay in tents. Then we'd go off on a Concorde to Barbados. Let's say I let her experience all the extremes."
He never gave her a curfew. He let her decide what was right and what was wrong and the strategy paid off. Today, father and daughter are best friends; they love travelling together (he's just back from Kenya) and, in some ways, she's a tougher businesswoman today than he is.
Will she take charge of VistaJet at some point?
She has designed the insides of his aircraft — down to the minutiae — but there is no such plan, he says. He has a strong management team and his daughter is free to do whatever she wants.
Three years ago, Nina asked him to give her an opportunity to become an entrepreneur with a real estate project in Mozambique, Africa, his favourite continent. He says she has to make her own money and she has debts to pay off for her business.
She works 15 hours a day to make it happen and it is 'good ole' work that keeps her focused. It's something she has seen him do all his life.
Today, he's proud of who she has become.
As our conversation is forced to draw to a close — time has run out — I tell him I had come expecting to meet either a Swiss Vijay Mallya or some kind of James Bond, so the delight of not finding either has overwhelmed me. The person I have just met is simply Thomas Flohr.
[source;rediff.com]