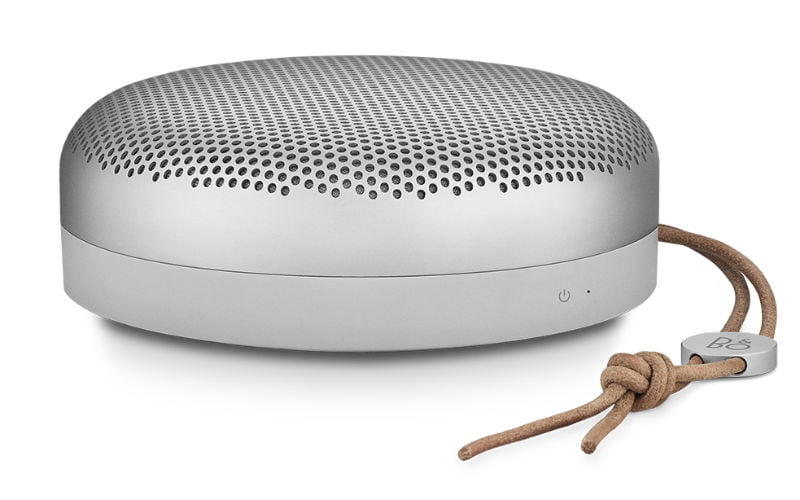 It is pointless to buy anything other than a Bluetooth speaker for your audio needs. Depending on your spending capacity you can go to any level of sound quality with these wireless devices. They range from the really small sound bombs to room-filling speaker sets that can put a 60-piece orchestra to shame. But is there a perfect consumer Bluetooth speaker, one that is affordable, but still gives you amazing audio quality. Of course, there is and I have tried a few sets from Bose, Creative and Sony that have left me more than impressed. And then there is the B&O Beoplay A1.
B&O Beoplay A1
In Olympics seasons it is hard not to compare this Bluetooth speaker with a discus or something else that is flung war away on the field. Yes, it is a heavy piece of audio that feels like it means business. It is more like a half-kg pound cake with a leather band. There are small pressure buttons all around the edges for power, Bluetooth pairing and volume. The other really interesting aspect is the fact that this charges with a USB Type-C cable.
Price: Rs 18,000
What is good?
Let me come straight to the point. The Beoplay A1 is the best Bluetooth speaker I have heard in this price range and size. It bellow out such rich notes that you will be searching for a larger box somewhere in the room, ignoring the small pod from which the music is emanating. It has a great balance of bass and sharpness, hardly heard in Indian living rooms. It will keep all kinds of music lovers happy because this is what they want to hear, with or without the wires. This is the sort of audio perfection that will make you make some time in your busy schedule to hear the songs you yearn for.
Despite all this, the Beoplay A1 is the most portable of all Bluetooth speakers, easily fitting into your handbag or the glove compartment of your car. It comes with a battery that can easily last you at least five hours of play at the loudest volumes.
It is also a Bluetooth device made for the times we live in. Hence it comes with a mic that lets you switch to calls even when you are listening to music from the smartphone. The experience in really good and I would actually recommend using this for Skype and Hangouts using your phone or tablet.
The Beoplay app lets you configure your music the way you want it. Instead of the regular equalizers, this on gives you options like warm or excited. There are also presets for party, lounge and the like. The app offers regular music controls, as well as the option to pair multiple B&O devices to create something better.
What is not good?
There is nothing wrong with the Beoplay A1, except for the fact that the buttons on the sides are too small and hard to locate at times. Since the device is round, you won't be able to run your fingers around and locate them after a point. Muscle memory will struggle to kick in here and you will need to pick up the device and figure them out every single time.
Verdict
I will buy the B&O Beoplay A1 without batting an eyelid. It is my kind of musicplayer playing music the way I like to hear it. There is competition, but this is a worthy challenger in more ways than one.
[source;indianexpress]