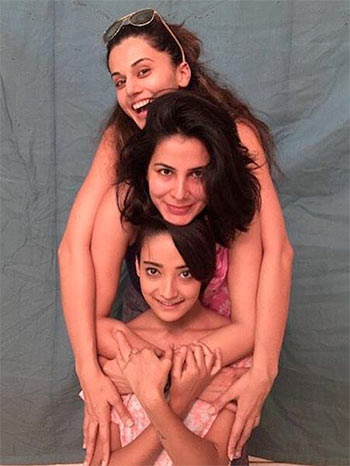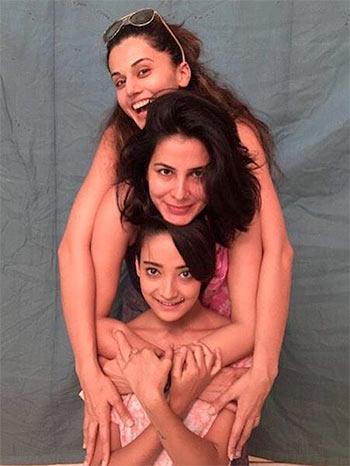 The first thing Shoojit Sircar asks when you meet him is, "Trailer kaisa laga?"
He's referring to his hard-hitting trailerof his new production, PINK.
"The film is better than the trailer," he says, assuring us that the film will not disappoint.
"Usually, I don't talk much about my films. But I am saying it for this film: It's very good," he adds.
He tells Jahnavi Patel/ Rediff.com why.
How important does a trailer play to draw in audiences?
It's the first look of your baby, the most important thing!
I depend on the first trailer for all my films, from Vicky Donor to Madras Cafe to Piku.
I don't see anything else either. I decide to watch a film depending on the trailer.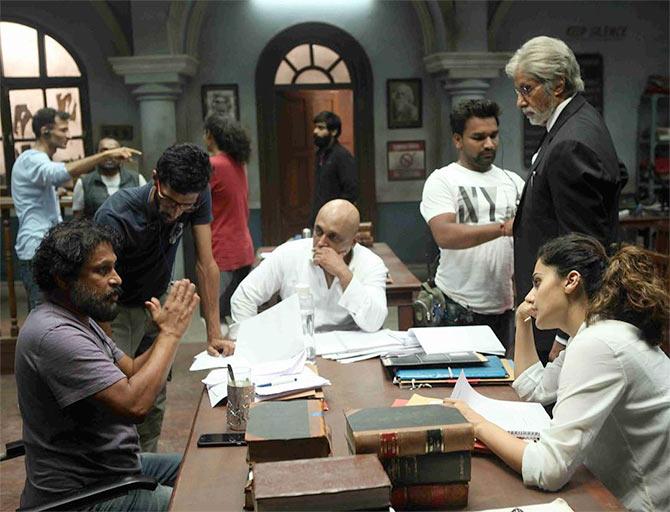 IMAGE: Shoojit Sircar, Piyush Mishra, Amitabh Bachchan and Taapsee Pannu on the set of PINK. Photograph: Shoojit Sircar/Instagram
The language is aggressive and direct. Do you think we, as a society, are ready for this?
Yes. I think I am too late in making this film. I should have made it five or seven years ago.
Women are taking over everything and it's high time we talk about it.
I would not say this is a women-oriented film. Calling it that is an abuse.
In our industry, when a woman has a main character, we say it is a women-oriented film. So are there men-oriented films if the main lead is a male? It is idiotic.
PINK is an important thriller of our times. The trailer clearly says that the three women are on trial. It's a story of each girl; it's about my daughter, my wife.
One day, my wife and I were having chai (tea) and she was reading a newspaper. There was an article on women empowerment. Just imagine, in 2015-16, we're shamelessly talking about women empowerment! What is more shameful than this?
I decided to make a film where a woman's character would be strong and see where it goes. That's how I started working on this film.
So have you drawn inspiration from some real life incidences?
Oh yes.
The dialogues in the trailer — 'You're a women of questionable character', 'Are you a virgin?' or 'What indication did you give to say no?' — every women must have faced this, not directly, but even indirectly through maybe somebody's look or intentions.
I have gone through at least 10-15 real life cases and believe me, when I chose the cases, they were all the same. They sounded the same.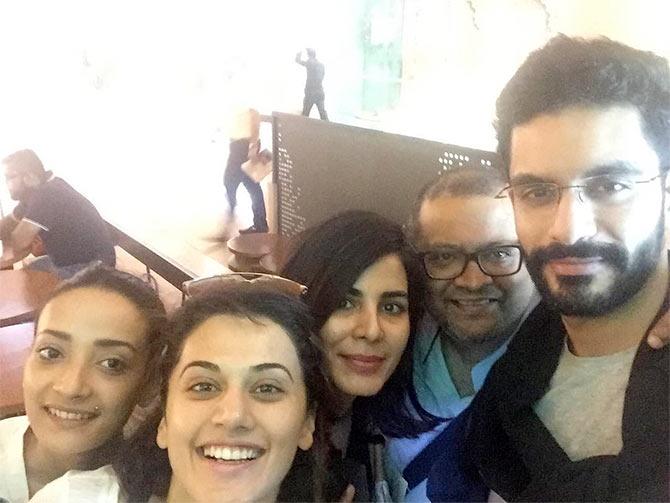 IMAGE: Andrea Tariang, Taapsee Pannu, Kirti Kulhari, Aniruddha Roy Chowdhury and Angad Bedi. Photograph: Taapsee Pannu/Instagram
In spite of having a superstar like Amitabh Bachchan in the film, the younger actors like Taapsee Pannu, Kriti Kulhari, Andrea Tariang as well as Piyush Mishra haven't gone unnoticed. How did you cast the film?
Casting is the key to my films.
I don't just cast anybody in my films. I see which girl suits the character best.
Like why (did I take) Taapsee? In the first shot, she looks so pure and innocent, in the way she answers. She is from Delhi, a place called Shakti Nagar, so her language, lingo and feel is perfect since the film is set in Delhi.
A north-east girl wasn't there in the film earlier. My producer friend Ronnie (Lahiri) decided that when we are talking about working girls, there should be one girl from the north-east because there are north-east girls in every city.
Kriti and Angad Bedi are fine actors.
Vijay Verma, a new actor, is very talented.
I love to work with new talent because they give me a lot of freshness and novelty.
For me, when I make a film, all the actors work like a team. Everyone owns the film.
Is it disheartening when a film doesn't release? Your film with Amitabh Bachchan, Shoebite, did not release.
Oh yes, it is depressing.
Can you believe that for seven years, I didn't do anything?
My film Yahaan released (in 2005), and I didn't have a release till 2012 because I was sitting with this film.
It was so depressing and disheartening but then I had to move on.
My wife told me to go make a film, why sit and cry about one film that has not release.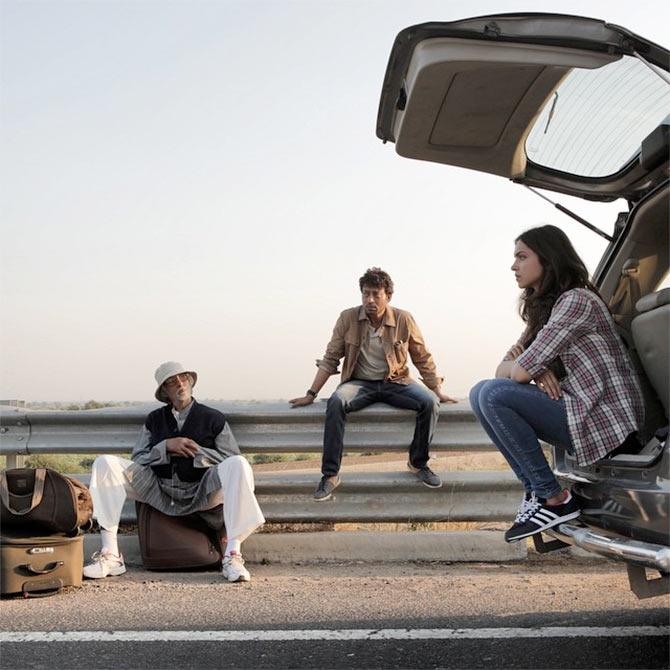 IMAGE: Amitabh Bachchan, Irrfan Khan and Deepika Padukone in Piku
In one of your interviews, you had said Piku and Pink were a repayment to Mr Bachchan. How is your equation with him?
I am thankful to God that I am able to repay the guilt of Shoebite not getting a release.
Piku got a release and he got a National Award for that. He got the acclaim and I was happy.
Who doesn't want to work with him? He is such a disciplined and nice human being. I think we want to collaborate in many more films.
Why the title PINK?
I think it is a catchy title.
For me, two-three things matter (to decide a title). One is, does the title go with the film's ideology?
Second, does the title sound attractive? Is it contemporary?
Thirdly, is it easy to pronounce?
So Piku or Pink or Vicky Donor are all English titles but easy to pronounce.
When you see the film, you will get the actual meaning of pink. Pink is not just Barbie doll, there are many more shades to pink. We look at pink in a wrong way.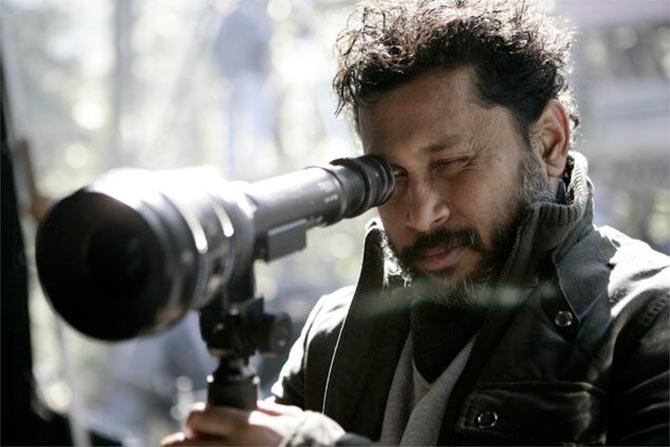 Photograph: Shoojit Sircar/Twitter
Do you think girls will get the courage to speak up for themselves if they've been victimised after the film?
I don't know. I hope this film inspires that.
After Vicky Donor released, every hospital opened an infertility clinic.
Couples, who didn't have children, openly talked about sperm donation. Otherwise, it was a very bedroom and taboo subject.
I hope after PINK, people take back home that this film is about young people who are becoming adults, stepping into the new world, facing it… The world is cruel at some point, how should one protect oneself…
I hope they get this inspiration from the film.
Women are getting better roles in movies now but we still haven't seen an A-list actor play second fiddle in a women-centric film.
I think it's quite pathetic of the A-list actors that they don't do these kinds of roles. They think they are the heroes, so they should be the heroes only. It's nothing like that if you get the right role and character.
The greatest example is Irrfan Khan. That's why he is an international actor and nobody else is.
Irrfan still experiments and is ready to play a lead as well as a second lead.
For him, the character is important. Everybody should learn from him.
Do you think the Censor Board restricts filmmakers from exploring their creativity?
No, not at all. I am very happy with the Censor Board.
They have cleared all my films and my films are more sensitive than many others.
A film on a sperm donor (Vicky Donor) should have got an A certificate but they gave it U/A. They understood the depth of the subject. The same happened to Piku and Madras Café.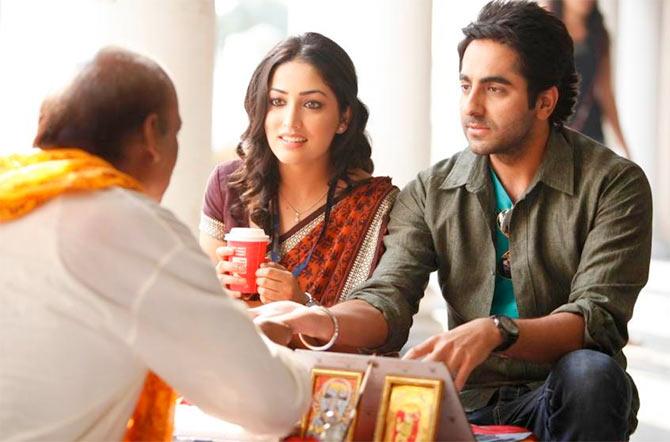 IMAGE: Yami Gautam and Ayushmann Khurrana in Vicky Donor
Do you think the Censor Board is misunderstood?
They are absolutely misunderstood. They are doing their job perfectly.
Your film 1911 is a sports film and it's delayed because you're not happy with the script.
Yes. We are still working on it.
Your other film Hamara Bajaj is also delayed.
Yes, it is. The script didn't take off well and we are working on it.
[source;rediff.com]