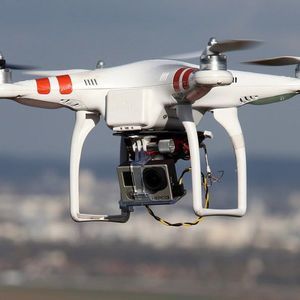 How's this for a flight plan to get a drone delivery service financially aloft?
Carry cargo that's of live-saving importance, fly long-range fixed-wing aircraft in uncongested skies, and score a government as your first client.
That's the atypical approach being taken by Zipline, a Bay Area startup that has raised $18 million in funding from the likes of Yahoo founder Jerry Yang, Microsoft co-founder Paul Allen and others.
Companies such as Amazon and DHL are testing four-propeller helicopter (or quadcopter) drones for consumer goods deliveries in first world countries as lawmakers debate regulations governing such craft. Zipline founder Keller Rinaudo, in contrast, set his sights early on helping save African lives with a drone that looks like a small airplane.
"Getting medicine to remote places is both a huge market and a global challenge," says Rinaudo, 29, a Harvard-trained scientist who before starting Zipline in 2011 was a professional rock climber. "About half the cases the doctors we spoke with see are mothers hemorrhaging after child birth and 30% are kids with malaria. There's nothing more precious than blood and medicine."
Starting in July, Zipline, which came out of stealth mode Monday, will begin shuttling blood and other vital medical supplies via its 22-pound, battery-powered Zip aircraft to remote clinics throughout the central African nation of Rwanda. The planes can carry a payload of up to 3.5 pounds and have a roundtrip range of 75 miles, or about triple that of the average quadcopter.
Zip planes also can handle inclement weather much the way a traditional aircraft might, Rinaudo says, while quadcopters don't fare as well flying in stormy skies.
Most intriguingly, Zip planes drop their parachute-carrying payloads into predetermined landing zones, eliminating the need to land at the delivery site. Onboard computers compensate for wind to ensure accurate drops. The planes are launched via a high-powered catapult. The pre-programmed flights are monitored on the ground via tablets.
Typically, the rural Rwandan outposts served by Zipline are only reached a few times per year for resupply due largely to weather-ravaged road conditions, says Rinaudo. Zipline plans to have up to 150 flights per day, each one paid for by the Rwandan government.
Deliveries will consist largely of blood and small vials of medicine to Rwandan clinics, but eventually the payload is likely to broaden and service to other African nations will begin later this year.
While Rinaudo says he can envision demand for his service in Europe and the U.S., stringent aircraft regulations in those parts of the world makes those markets more difficult to navigate for drone delivery services. And first there's a small matter of making money.
"We're not a charity and we hope to reach profitability very quickly," he says.
Sequoia Capital partner Alfred Lin invested in the previous incarnation of Zipline, Romotive, which focused on toy robotics before pivoting to drone delivery. He says the Rwandan deal will allow Rinaudo and his team — who hail from companies such as SpaceX, Boeing and Google — to build a data-driven case for bringing the service to more densely populated areas.
"There's a broad ambition here with Zipline, one focused on using machines to better human lives," says Lin, who held top positions at Zappos before going into venture capital. "They're looking at applications that others in the space aren't focused on."
Last week, Zipline held a demonstration of its technology through an invite-onlyPeriscope broadcast. Rinaudo and his team, who are based south of San Francisco on the Pacific Coast but asked that their test facility not be disclosed, sent a Zip rocketing into grey skies with a mission to drop a payload along a nearby bluff.
As Rinaudo walked to the spot, the drone could be heard buzzing noisily overhead. Suddenly, it went quiet as it started to descend and, calculating for the wind, dropped its cargo — two small pouches of blood wrapped in insulation — on target. The Zip then flew back to its base area and landed much the way a traditional remote-controlled plane might end its flight.
"What we're providing the Rwandans costs about the same as delivery by truck or motorcycle, but it's 10 times as fast and not subject to any weather restrictions," says Rinaudo, who says his aircraft can fly in conditions that would ground most quadcopters.
He launches into a story told by a Tanzanian doctor, who showed the entrepreneur long logs listing urgent requests for blood and medicine sent by remote doctors via cell phone text message.
"Most of those people on those lists were not being saved, so those were really just databases of death," says Rinaudo. "We felt we could build the other half of that system, the one that says help is on the way."
[Source:- USAtoday]