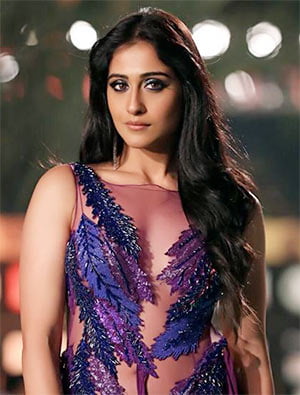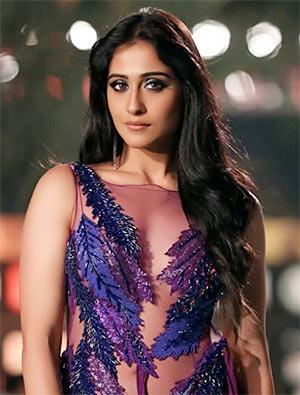 After doing movies in Tamil and Telugu, Regina Cassandra is now set to make her presence felt in Bollywood.
The actress will make her debut with Anees Bazmee's directorial venture Aankhen 2, co-starring Amitabh Bachchan, Anil Kapoor, Arjun Rampal and Arshad Warsi.
In this exclusive interview with Rediff.comcontributor Radhika Rajamani, Regina talks about Aankhen 2, Amitabh Bachchan and her new Telugu film Jo Achyutananda.
You must be thrilled about making your Bollywood debut with Amitabh Bachchan. How did Aankhen 2 happen?
It was a surprise. I had been getting offers for Hindi films. There was an offer even a week before Aankhen 2 happened. I did an audition, which was liked. Since I am busy with Tamil-Telugu films, I could not give the dates.
Regarding Aankhen 2, I think the production casting agency saw my pictures online and they wanted to see me in person. I also did a photo shoot.
Were you narrated the story of Aankhen 2 then?
Yes, they narrated the story and my part extensively then. I have a fun role — there are two shades to it, including a grey one.
It would be fun to do. Anil Kapoor, Arjun Rampal and Arshad Warsi are also a part of the film.
How was your interaction with the Big B? He introduced you during the film's announcement…
He is a really nice person. He is a legend onscreen and to live up to it in real life is really something. It is quite overwhelming. All the big names were there at the event.
Amitabhji made me feel at home and introduced me. I had just met him!
Arshad encouraged me. I would be lying if I said I wasn't nervous. It was a different setting and I didn't know anybody. They made sure I was part of the team.
When do you start the shooting?
Sometime in January.
How are you preparing yourself for the film? Do you speak Hindi?
I have to polish my Hindi as I have a Southern accent. I studied Hindi in school and so I need to just learn the modulation.
Why did you keep so quiet about signing your Hindi debut?
I didn't tell many people, only a few close people know about it. It's a pleasant surprise and now I have to prove myself.
I am glad I am on a national platform. This is the next step in life.
I am also happy that the trailers of my Telugu and Tamil films are going viral. It's humbling that people notice you. It's amazing for a Southern actress to be in Bollywood!
I am excited to learn from all these people. I am in awe of these people. I would want to see how Amitabhji and other give their shots.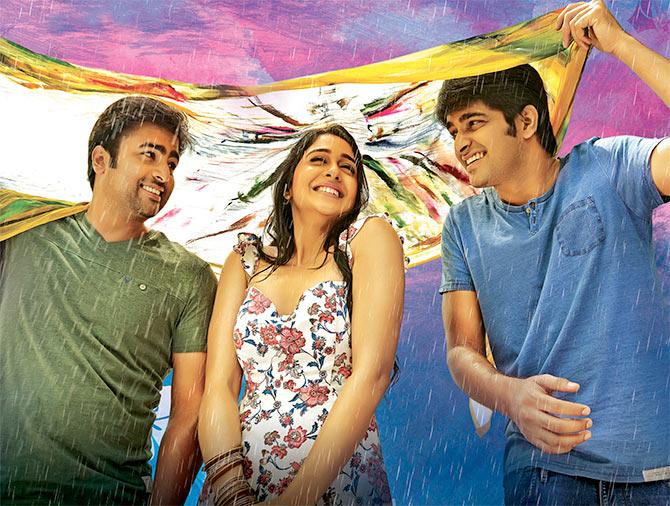 IMAGE: Nara Rohit, Regina Cassandra and Naga Shourya in Jo Achyutananda
On the Telugu movie front, your film Jo Achyutananda is releasing. What is it about?
It is about two brothers and a girl. It's a fun film.
Is it a love triangle?
It is more than a love triangle. I loved the way Srinu (Srinivas Avasarala, director) has played with emotions. And also the way my character thinks.
I loved the way the director has written the characters. Jo is my favourite character. I have been laughing and having fun.
It is pretty realistic. Women will be able to relate to many scenes. In the film, I play a dentist, who is an intern.
You are acting with Nara Rohit after Shankara…
He is really nice and a quiet person. If you get to know him, he will talk.
This time you acted with Naga Shourya too…
Shourya is fun to work with. Both the actors were non-interfering.
How did you find Srinivas as a director?
He is a fabulous director. He lets actors get into their characters. He is very co-operative and loves to discuss. As he is a witty person, it translates in his writings too.
You made your acting debut with Telugu film SMS (Siva Manasulo Sruthi) in 2012. How has the journey been so far?
I started my full-time acting career after SMS. It's been a fun ride so far with ups and downs. You learn the most important lessons in the toughest times.
I am happy for those lessons learnt as life is always a learning curve.
[source;rediff.com]