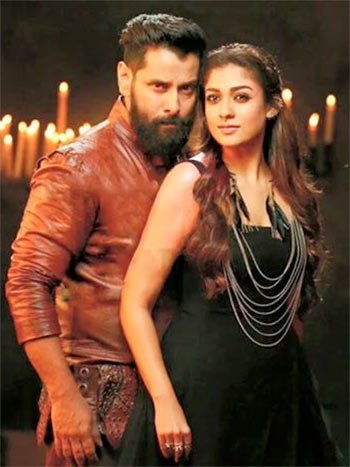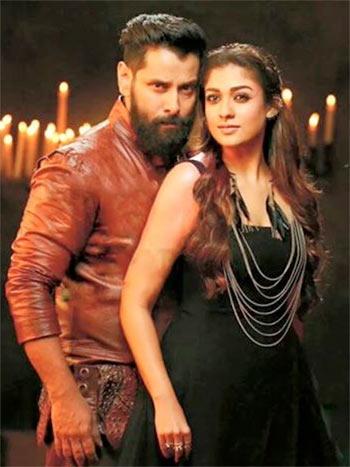 Chiyaan Vikram is back with a science fiction thriller directed by Anand Shankar of Arima Nambi fame.
The actor plays both the protagonist as well as the antagonist in the film. The trailer had a good buzz but the film does not live up to the high expectations.
The gorgeous Nayanthara and Nithya Menen play the female leads, supported by Thambi Ramaiah and veteran actor Nassar.
The film revolves around an eccentric character called Love (Vikram), a chemical drug manufacturer in Malaysia, who plans to unleash a potent drug called Speed in the world market.
The drug when inhaled makes you invincible and terrorist group across the globe are willing to pay billions to acquire the product.
The Indian embassy at Malaysia is attacked to demonstrate the powerful effect of the drug and several lives are lost.
RAW agents Akilan (also Vikram), who has a past history with Love, and Aarushi (Nithya Menen) are recruited to put an end to Love's elaborate schemes.
How Akilan and Aarushi save the world from ruthless terrorists form the rest of the story.
Vikram as Akilan has nothing new to offer, but is brilliant as the antagonist Love.
Calm and cool, with his effeminate characteristics and evil smile, Vikram keeps you entertained throughout. But despite the gravity of the situation, the continuous sparring between the two Vikrams comes across as a light-hearted banter between friends rather than mortal enemies.
The narrative lacks intensity and pace and unfolds rather blandly.
Nayanthara looks wonderful, but seems bored with her character. Even the onscreen chemistry between Vikram and Nayanthara, who have gotten together for the first time, does not work.
Nithya Menen makes a half-hearted attempt at being a RAW agent, but does not succeed.
The National award-winning actor Thambi Ramaiah as a Malaysian police official adds some fun to the narrative, but Nassar has nothing much to do.
Only the visuals skillfully captured by cinematographer R D Rajasekhar and the background score by Harris Jayaraj stand out.
The film is let down by the meandering screenplay and insipid execution.
[source;rediff.com]