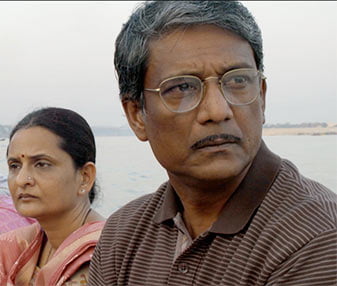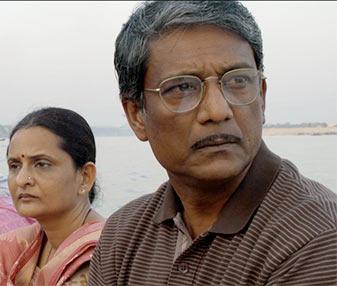 Shubhashish Bhutiani, 25, recently took his first feature film Mukti Bhawan (Hotel Salvation) to Venice to be screened as a part of the Biennale College Cinema programme.
After the screening, the audience gave Bhutiani and his team a 10-minute standing ovation.
The UNESCO jury awarded the film the XXIIIrd prix 'Enrico Fulchignoni'.
Butiani is no stranger to fame in Venice. His first short Kush, which he completed while he was in New York City's School of Visual Arts, won the Orizzonti Award for the Best Short film at the Venice Film Festival in 2013.
Kush, the story of a Sikh boy on a school trip immediately after Indira Gandhi's assassination, won numerous other awards around the world, including the National Award in India.
Mukti Bhawan is a moving, but hilarious story about an old man (Lalit Behl, who also played the father in his son Kanu Behl's film Titli) who one day announces to his family that he is ready to die and wants to check into a hotel for the dying in Varanasi.
His family, especially his son (an excellent Adil Hussain), thinks nothing of the old man's plan at first but finally, takes him to Varanasi.
Mukti Bhawan is essentially a story about a father and son reconciling their differences. It is a warm, sweet film and quite an accomplishment for young Butiani.
The director also cast Marathi actress Geetanjali Kulkarni (Court) and Palomi Ghosh (who wowed the audiences in the Goan musical Nachom-ia-Kumpasar) as well as theatre and television actress Navnindra Behl (Lalit's wife and Kanu's mother) in the supporting role of a woman who has been waiting to die in Varanasi for years.
Bhutiani spoke to Aseem Chhabra about the making of Mukti Bhawan and the challenges he faced along the way.
Did you make this film after you received a grant for winning the Orizzonti Award at Venice for Kush?
No, there wasn't any grant. I started from scratch. I started writing again after Kush.
I moved back to India and had a one year transitional period, settling down, after spending four years in New York. Then I had an idea for this film.
So the way it works is that I applied to the Biennale College Cinema, which is technically separate from the Venice Film Festival, although it happens parallel to the larger festival.
The Biennale has a new initiative where they help develop projects on a micro budget level. They accept many submissions, and then short-list 10.
They invite these 10 to Venice to develop the project on an island called San Servolo, which was once an insane asylum, and now is a university campus. It's really quiet; only one boat goes there.
So it feels weird that filmmakers are being sent there. I felt I was a character in Shutter Island!
When did you go for the Biennale project development sessions?
Last October.
At that time the script wasn't done yet?
No, it was at the story level. Out of the 10 projects, they fund three. This year they picked four.
They have a lot of restrictions on the amount of money they give and the time within which the film has to be ready.
So in 11 months, you had to produce a finished film.
Yes, for me it felt like a reality show. Ten filmmakers go to an island and only three survive (laughs).
I was there for 10 days and then I took a month to finish the script. After that, it went through many drafts and re-writing process.
We had many mentors from all over the world. They don't try to influence you or change your idea. There are constructive conversations.
Was the shooting rushed?
It was very intense. I shot in March and started the edit and post-production in April. We got the Asian Cinema Fund from the Busan International Film Festival. So we did the final post in Busan (South Korea).
When did you apply for the Busan funding?
These communities are very intertwined. When they hear you are working of a small limited-funded film, they approach you.
Are you planning to take the film to Busan?
Yes, we play it there in November. The film just got finished and we are submitting it to festivals.
The nicest thing is that it is not my film. People bring their own stories and life histories to the film.
When people walk up to me and tell me their stories and why they laughed in some scenes, I know it's not my film anymore.
IMAGE: Lalit Behl in Mukti Bhawan.
Did you have the cast in mind?
I first wanted to write the story and the script well. And I didn't know how we would approach the casting at the initial stage because we were working with very little money.
Someone said something very funny — that we were making a love-budget film. I really liked that.
Only people who loved the project or loved me as a person would work on this kind of a movie.
I have all these stories about casting.
I selected Palomi because I saw her on a panel with A R Rahman where she started singing in front of the whole audience. I didn't know her at that time so I was wondering what she is doing.
You haven't seen her Goan film? She is excellent in it.
I haven't seen any film in a while. She told me that people in Goa think she is Goan.
Was Adil available? He is so busy with so many projects all the time.
He was very busy, but he moved around his schedule and made adjustments for our project. He didn't read the script initially, but 10 minutes into my talking to him and he was on board.
When he read the script, he understood the vision, the kind of humour we were going for.
You have cast Kanu Behl's parents in the film.
I wasn't even aware that Lalit Behl was Kanu's father. In fact, I didn't even know Kanu at that time.
When I was writing the script, I was thinking about a dominant man.
Since I had seen Titli, his was the only face I was thinking of when I was writing the script. His beard and eyes had this mystery to it.
How many times have you been to Varanasi?
The film didn't start as this story. It started with me as a traveler. I like going to strange places.
So I was going to Varanasi and had heard about these hotels. I was curious to see these places so I could tell people at a party that 'Can you believe this happens in India?'
The story, the germ of the idea — what a father and son would go through if they went there, I started with that.
I wanted the story to come from an emotional place, rather than trying to document it.
You did a wonderful job of bringing out the humour.
I saw so much humour there. The humour aspect of the film came naturally to me even in the writing.
I wouldn't think that I would have to add a joke in the middle of a scene. It was completely organic.
The humour really balances the story because otherwise death can be such a sad and a downer subject.
You do show that some people are really dying and I know families bring their elders to Varanasi when they are about to die.
But your character just one day decides he is ready to die. That was strange and very funny. I love the Vimla character who has been living there for so long waiting to die.
Did you meet people like that?
I met many people like that.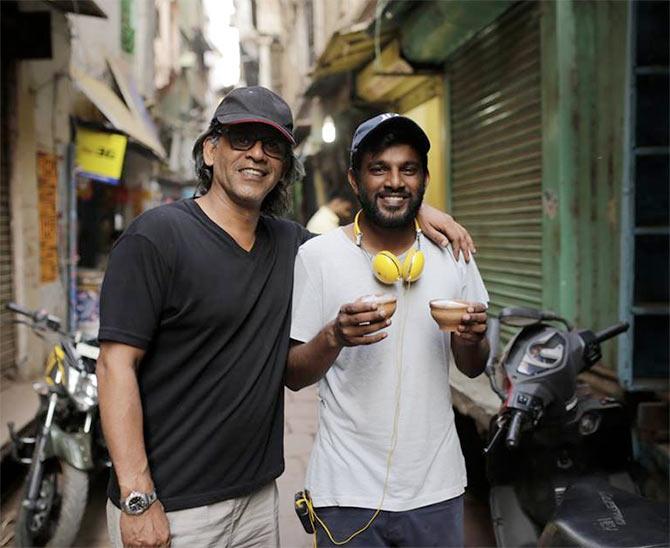 IMAGE: Producer Sanjay Bhutiani and Shubhashish Bhutiani on the sets of Mukti Bhawan. Photograph: Shubhashish Bhutiani/Facebook
What about the other supporting cast?
We have about six or seven real actors.
I asked many people in Varanasi if they wanted to be in a film. Some of them were very excited even if they didn't have to do much.
Some of them were almost like cultural consultants where they would say yes, such things happen…
I love the scene towards the beginning when the old man donates the cow. The rest of the family is so matter-of-fact about it.
I was a little concerned because I didn't explain anything. But I think people will get the absurdity of the situation.
There are many myths around the idea of death, but I didn't want to over explain.
Tell me about the standing ovation you got in Venice. There is a video circulating on Facebook and Twitter.
If you see me in the video, I am just being pushed to one side because I just froze. I was very nervous through the screening. I didn't know how people would react.
I kept wondering who would come to watch such a small film. Maybe my crew and I will watch it and then we will go have dinner afterwards.
What are you doing in Venice after the screenings?
I am on a couple of panels where I will be talking how we made the film under extremely challenging circumstances. Hopefully, people will learn from our experiences and our mistakes.
[source;rediff.com]