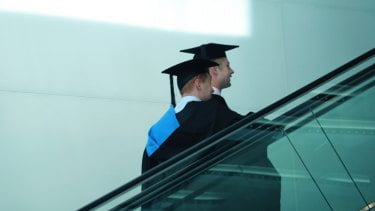 New analysis predicts Australian universities will continue to enjoy "booming" demand from international students despite a forecast drop from China, which dominates the market.
While Australia is predicted to this year overtake Britain and become second only to the US as the most popular destination for international students, the analysis notes the dangers of over-reliance on China and the opportunities to diversify into other countries.
The report, published at the end of last year by Austrade under a collaboration with global education platform Studyportals, said Australia is on track to reach an ambitious target of 720,000 international enrolments by 2025, with the country seen as offering safety, quality degrees and promising employment prospects.
The explosive growth of the international student numbers at universities over recent years has led to concerns about foreign students being treated as "cash cows", the impact on education standards, and the potential for political complications stemming from the heavy reliance on China.
But, as government funding has been squeezed, the massive revenue from foreign students has become increasingly critical for the sector.
"Australia is showing booming interest and is continuing to consolidate its position as a strong international education player," concluded the new report, which analysed interest in the programs aggregated on Studyportals platforms.
The report noted the dependence on Chinese numbers has emerged as a "not ideal" challenge. Chinese students currently account for 30 per cent of all students.
"However, as Chinese outbound student numbers began to level off around 2013, the current forecasts indicate that the number of college-aged students in China will decline by about 40 per cent between 2010 and 2025," it said.
"While Australian universities are very reliant on China, where the numbers of college-aged students are flattening, we do see a strong potential in recruiting students from other key sending countries which are showing a strong interest in Australia.
"While their numbers can never fully replace the reliance on Chinese students, they can help universities protect against possible dips or slowdowns from Chinese students."
The analysis found large spikes in interest from India, Sri Lanka, Britain, the US and Canada for Australian undergraduate courses.
It found the disciplines offering the greatest opportunities for growth were agriculture and forestry, medicine and health, hospitality, leisure and sports, engineering and technology, and applied sciences and professions.
The growth of the sector in Australia is challenged to an extent by increased competition from providers in Canada, Germany, the Netherlands and Sweden and some Asian countries, including China.
["source=smh.com.au/"]