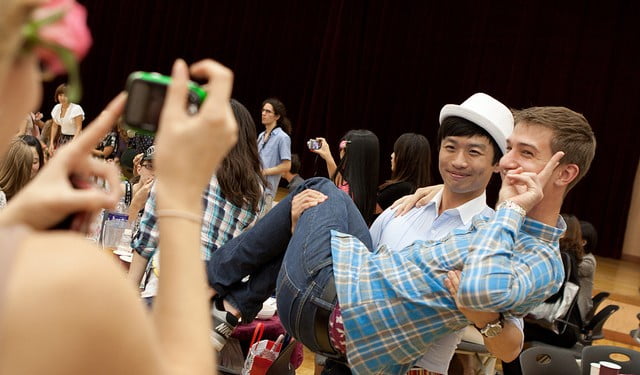 The increase will come as good news to the Ministry of Education which last year revamped its campaign to attract international students after enrolments fell in three of the past five years.
According to the Ministry of Justice statistics, the number of foreign students studying in Korea reached 105,193. The majority of students, 76,949, were studying on a D-2 (higher education) study abroad visa, while the rest were in the country on D-4-1 visas to study Korean as a foreign language.
Chinese students made up the bulk of foreign students, 62,318, followed by 8,293 Vietnamese students, 5,262 Mongolian students, 2,739 Japanese and 1,581 students from Uzbekistan.
Despite the increase in foreign students there are reports that integration with their domestic peers is challenging
In June 2015, the government pushed its deadline for attracting 200,000 foreign students back to 2023 in a new strategy that included encouraging universities to develop special degree programmes for international students.
Many institutions already have programmes in place to support incoming students. At Ajou University in Suwon, for example, undergraduate students must first complete a one-year foundation programme covering Korean, English and basic science.
At the graduate level, master's degree programmes are taught in English, attracting a diverse group of international students, according to Hyukpyo Kwon, director of Graduate School of International Studies.
"There are so many different nationalities on the Ajour campus. They come from around 30 countries especially Cameroon, Nepal, China, Vietnam, and South American, Asian and African countries."
Despite the increase in foreign students on Korean campuses, however, reports from the Korean press claim integration with their domestic peers is challenging.
According to the Korea Times, universities are too motivated by quantitative outcomes without providing adequate services to support foreign students. Itclaims Korean students avoid being placed in the same courses as international students"because of cultural differences and communication difficulties".
Meanwhile, an editorial in the Korean Herald called the focus on numbers "reckless" and criticised the dominance of Chinese students in international enrolments. It urged the government to increase support services to help foreign students integrate more into Korean society.
"Given continuous side effects involving disharmony between Korean and inbound students, there is an urgent need for the nation to overhaul its policies on studying in Seoul and major cities nationwide with the goal of the students' smooth acclimation and attracting more excellent foreign students on a long-term basis," it said.
[Source:- Pienews]