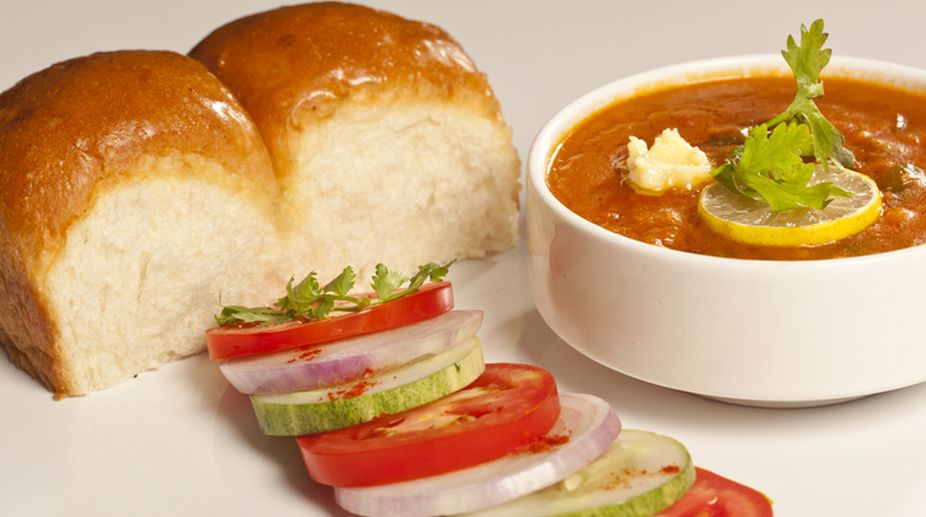 It is that time of the year when rain showers take up much of the month-long weather forecast. It is the best time to enjoy hot and spicy food.
Pav bhaji is a Mumbai street food that you can relish as a rainy day snack or meal. It is a spicy mixed vegetable curry prepared with special blend of spices and served with soft pavs toasted with loads of butter. Try this irresistible, mouth-watering dish.
Serves: 8; Preparation time: 20 minutes; Cooking time: 60 minutes
Ingredients:
Large potatoes           : 4 (boiled)
French beans             : 10-12
Carrot                         :  2 (medium)
Cabbage                     : 1 (small)
Cauliflower                  : 1 (small)
Capsicum                    : 2 (medium)
Onion                          : 4 (medium)
Tomatoes                    : 10 (large)
Coriander leaves         : few
Ginger paste               :  1 tsp
Garlic paste                :  1 tsp
Green peas                :  1 cup
Pav bhaji masala       :  4 tbsp
Salt                            :  2 tsp
Desi mirch                :  2 tsp
Pure ghee                 :  2 tbsp
Butter                        :  200 gram
Method:
Chop and boil cauliflower, cabbage, carrot and beans together in a pressure cooker, adding four cups of water, one teaspoon of salt and two tablespoon of pav bhaji masala.
After the pressure is released, mash boiled vegetables with a potato masher. Include the remaining water used for boiling the vegetables to the mashed content.
Boil the potatoes separately. Peel them and mash them with a potato masher. Mix well mashed potatoes and vegetables.
Take a deep pan. Heat two tablespoons of ghee. Add ginger and garlic paste and saute till golden.
Add finely chopped onions and fry till golden.
Blend tomatoes and add tomato puree. Cook adding desi mirch, green peas and finely chopped capsicums till oil gets separated on the sides.
Put the mashed vegetables and add two tablespoon of pav bhaji masala.
Give a good stir and cook on low flame for an hour, stirring occasionally.
Turn off the gas. Add 100 grams of butter, one tablespoon of lemon juice and coriander leaves. Mix well.
Place the bhaji in a serving dish.
Garnish it with finely chopped onions, tomatoes and coriander leaves. Put few butter cubes on the top.
Toast fresh pavs well with butter. Serve them hot with garma-garam bhaji.
It's a perfect party food that can be prepared in advance and can be reheated before serving. Your kids can eat healthy vegetables joyfully in a smooth yet chunky texture with every buttery bite. Have a wonderful monsoon weekend!
["source-thestatesman"]