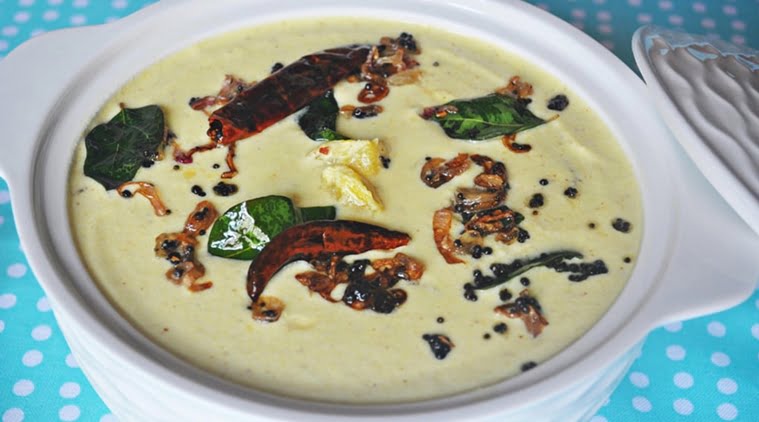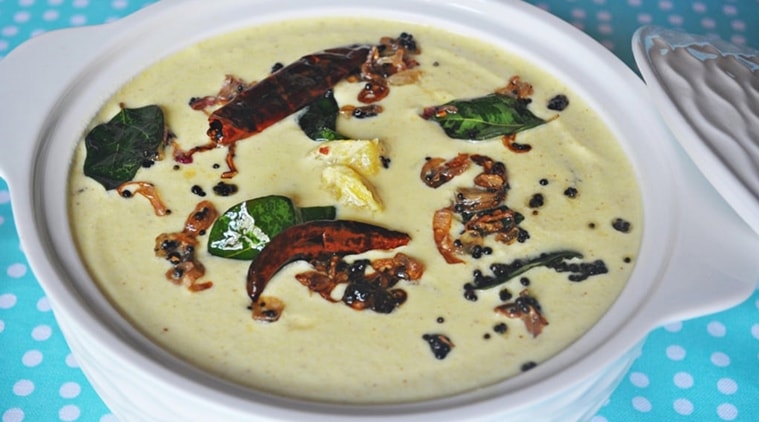 The first time we tasted pineapple pulissery was probably at my friend Ani's place, last Onam. Having enquired about the recipe, I decided to try it out. Thankfully, it turned out so well that my boys have asked to prepare only this one when I make pulissery. I have lost count of the number of times, I have made this at home now. I would recommend you to prepare this a few hours ahead, so that the flavour of the pineapple is infused into the gravy by the time it is served. The curry should be a bit more yellow in colour than seen in the picture.
Ingredients 
1- Pineapple
3 to 4- Green chilli
1 tsp- Turmeric powder
To taste salt
3 cups- Curd
1/2 tsp- Fenugreek Powder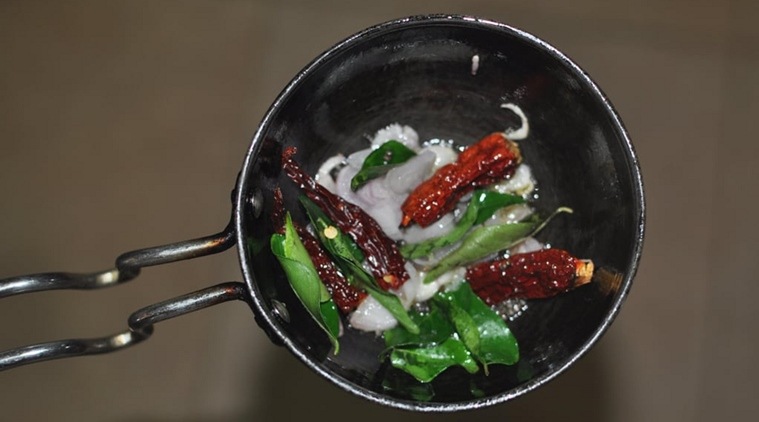 The tempering for the curry, which includes mustard seeds, curry leaves, shallots and red chillies, is added at the end to the curry. (Source: mareenasrecipecollections.com)
To be Ground to a fine paste
1-1/2 cups- Grated coconut
2- Shallots
3 to 4- Garlic(Optional)
1 tsp- Cumin seeds
For Tempering
1 tbsp- Oil
3/4 tsp- Mustard seeds
A few curry leaves
1 to 2- Dried red chillies
3- Sliced shallots
Method
* Grind the coconut, cumin seeds, garlic and shallots together to a smooth fine paste. Keep aside.
* Beat the curd and keep aside.
* Cut the pineapple into chunks.
* Put in a pressure cooker along with slit green chillies, turmeric powder, salt and water to cover the pineapple and cook till done (3-4 whistles). The pineapple should be firm.
* Add the ground coconut paste and bring to a boil. Lower the heat.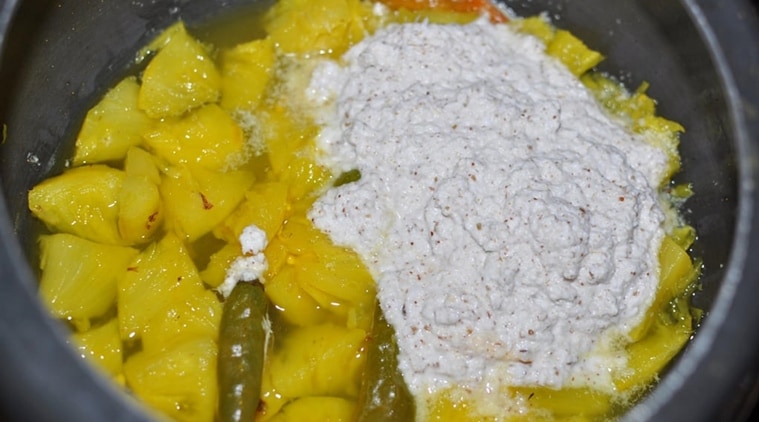 Add the ground coconut paste to the pressure cooked pineapple and bring to a boil on a low flame.
* Add the beaten curd and mix well. Add salt if needed.
* When it is about to boil, switch off heat and add the fenugreek powder.
* Heat oil in a pan. Add mustard seeds. When they start to splutter, add the curry leaves, chilli and shallots. When the shallots turn light brown, switch off heat. If you feel that the curry needs more colour, you could add a bit more turmeric powder.
* Pour this over the curry.
* Serve with rice. The taste would be better if prepared a few hours before serving.

["source-indianexpress"]