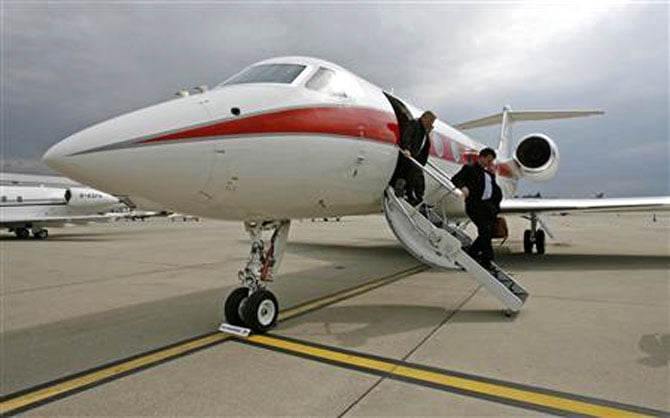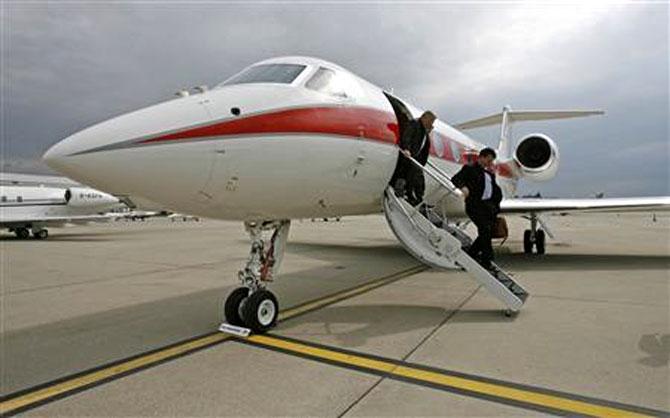 The Bombay high court, on Tuesday, asked Mumbai-based firm SGI Commex, which claims to have won the auction of Vijay Mallya's luxury jet, to file an affidavit in response to a petition filed by Mumbai International Airport Ltd (MIAL), seeking taxes and hangar charges of Rs 3.95 crore.
The aircraft is at present parked at Mumbai Airport and MIAL is claiming charges for the same from SGI Commex.
The matter came up for hearing before a bench of Justices S C Dharmadhikari and B P Colabawalla, which ordered SGI Commex to file an affidavit by September 19 in response to MIAL's plea.
The auction held as part of efforts of the Service Tax department to recover over Rs 800 crore (Rs 8 billion) dues, took place on August 18 after an earlier auction failed on June 30.
SGI Commex contended that though it had won the bid, it is yet to receive a communication from the department to this effect and unless it gets such a letter, it will not be in a position to pay the dues claimed by MIAL.
However, the court asked the company to file a written reply and posted the matter for hearing on September 19.
The Service Tax department had set Rs 152 crore (Rs 1.52 billion) as the reserve price during both the auctions for the jet, which once served as the private aircraft of the flamboyant businessman.
In the first auction, a Dubai-based company had offered just Rs 1 crore, which was turned down.
In a statement issued recently, SGI Commex had claimed that it has emerged as the "successful bidder" for the aircraft auction held by MSTC on behalf of the Service Tax department on August 18, with a bid of Rs 27.39 crore ($4.1 million).
It said another $3.5 million is estimated to be required to make the aircraft 'air-worthy'.
However, the auction of the jet was challenged by the Mumbai Airport at the Bombay High Court claiming unpaid airport fees. As per an order passed on August 22 by the high court, SGI Commex will have to pay an additional amount towards taxes, hangar charges and the cost of equipment to be installed to make the aircraft air-worthy.
The department, which has over Rs 800 crore dues from Kingfisher Airlines, had attached the plane in December 2013.
The airline has been grounded since October 2012.
Mallya owes over Rs 9,000 crore, which include unpaid loans and accrued interest, to 17 banks.
[source;rediff.com]