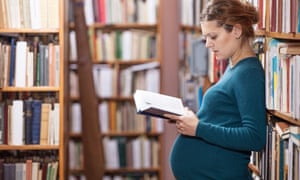 Young women with higher education qualifications are just as likely to be out of work as young men who have no qualifications, often due to the impact of having children, poor mental health or a lack of suitable jobs, a major new study has reported.
Motherhood has a greater impact on a woman's career prospects than her level of education, the study by the Young Women's Trust found. "Qualifications do not outweigh the effect of being a woman," the report said, though the higher the level of qualification that a young person has, the less their chance of becoming economically inactive.
However, it said: "That qualifications – especially higher-level ones – do not fully counteract the effect of a young woman's gender is discouraging."
Those with a dependent child are six times more likely to be economically inactive than those without children, according to the research. In contrast, having children does not impact on whether or not men are in work.
The research found that 264,000 women aged 16 to 24 in the UK are classed as economically inactive, meaning they are not working and not in education or training – which is 37,000 more than men in the same age group. However, the charity said most of the women wanted to be in work, either now or in the future, but were given no direct support because they did not figure in the official unemployment statistics.
The trust commissioned an analysis of the ONS labour force survey between January and March 2016 and found that 29% of economically inactive young women wanted to be in work now and 86% in the future.
The research, co-funded by the Barrow Cadbury Trust and carried out with Prof Sue Maguire of the Institute for Policy Research at the University of Bath, also found that mental ill-health – more likely to affect women than men – was a key factor in becoming economically inactive.
In the report, several young women who were interviewed by the researchers said they felt trapped in a life on welfare. "It's horrible: it's horrible not being able to work, it's horrible not having the chance and no one giving you the chance any more, because of your past and stuff like that – straight up," said Sarah, a 19-year-old care-leaver and young mother.
"It's just draining, watching all these people able to go out and get all this money, and then you're sat here having to be on benefits, because you can't."
Sonia, 19, who has 11 GCSEs, described being pushed out of her job when she became pregnant. "I was on my feet constantly. I was trying my hardest to work, and they were just like, 'no, we can't keep you on,'" she told researchers.
"It was awful because my manager was the first person to find out I was pregnant. She was really supportive at first and was like, we'll do everything to support you. And then it was fine for the first two or three weeks and then they just did not care any more."
The charity's chief executive, Carole Easton, said it was crucial that tailored support was available to get young women into the workplace for the first time or to return after having children or ill health, including extending the 30 hours of free childcare to apprentices, students and those on zero-hours contracts.
"While the government focuses on reducing its unemployment figures, over a quarter of a million young women who are not included in the numbers are being forgotten," Easton said. "The young women in our study faced multiple barriers, but the overwhelming majority did not lack personal ambition or a willingness to change their circumstances in the future."
Maguire, who authored the research, said the words of the women in the study were "a damning critique of a system which appears to view them as a problem rather than recognising their resilience and abilities". She said young women could find themselves "locked into long-term economic and social disengagement" because of their caring responsibilities or mental ill-health.
Source:-theguardian