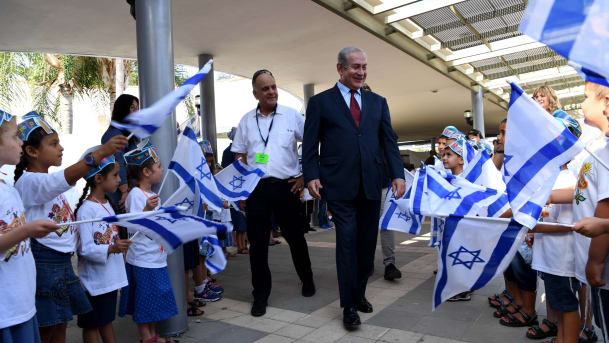 Prime Minister Benjamin Netanyahu in a ceremony celebrating the new school year in Yad Binyamin, Israel, September 2, 2018.Avi Ohayon (GPO)
In September 2007 the management consulting firm McKinsey & Company published an interesting study called "how the world's best-performing school systems come out on top."
It piqued the interest of then-opposition chairman Benjamin Netanyahu. At the time, there was a lively debate in the media over "the education crisis" and "the low grades of Israeli students." In opinion polls, Israelis cared about education. Netanyahu got the message.
Four months later, he reheated and served up his meal: a news conference, a color brochure, graphs, snappy slogans: "The best go into teaching. Equal opportunities for every child. The program for a real turning point in education." The production assistants included office manager Ayelet Shaked and bureau chief Naftali Bennett.
Netanyahu adopted most of the McKinsey recommendations. What makes a school system good is the quality of its teachers and principals, and the key to good teachers lies not in paying them the highest salaries, but rather in the ability to make teaching a respected profession.
"Like psychologists," Netanyahu wrote, "we shall endeavor to restore the teaching profession in Israel to its high status through more exacting screening of teaching candidates. … We shall train principals in modern management techniques by establishing a school for principals."
Netanyahu set an ambitious, measurable goal: "to return Israel's children within a decade to the top 10 in international test ranks."
When politicians say "within a decade," it usually means: You'll never be able to hold us to this promise. In fact, this is one of the rare cases in which the promise can be assessed. It's been 10 and a half years since that news conference, and Netanyahu has been prime minister for nine and a half of those. Bennett is the minister of education. The results: The status of Israel's teachers is worse than ever.
The average score for prospective education majors on the psychometric exam for college applicants has dropped significantly since 2011, Lior Dattel reported in TheMarker Hebrew edition recently. Around half are admitted to higher education institutes without a psychometric test.
In our research on the country's education studies program, we received a great deal of information about the moonlighting and haphazard project otherwise known as teacher's colleges — true, not all of them, and not all of the time, but we didn't carry out a thorough study and in any event it doesn't seem to be news. It's pretty clear that almost anyone can be a teacher, right?
If there is one consensus in the education system, it's that the principal is the most important variable in determining a school's quality. Well, there's recently published data on this, too: a shortage of principals, principals hired without a bidding process, principals who don't meet minimum requirements.
When it comes to the international tests, Israel is very far from being in the top 10 as Netanyahu promised; it's usually near the bottom of the list. Bennett, demonstrating political wisdom, has avoided insofar as possible measuring his term by the international exams. He learned from the mistake of his (not immediate) predecessor Gideon Saar, who would hold his breath before every such exam.
Bennett decided for himself on the measurable goals by which his term would be judged: reducing the number of students in each classroom, and increasing the number of high-school students who opt to take the higher-level, five-unit bagrut matriculation exam in math.
Israeli students' scores on the Program for International Student Assessment and the Trends in International Mathematics and Science Study exams, known as PISA and TIMSS, respectively, no longer make the headlines despite the lack of improvement since "the great education crisis."
Shay Piron told me that he met with Netanyahu during his brief time as education minister eight or nine times. Netanyahu also pushed through enormous budgets for education; it's his piss-poor managerial skills that get in his way (as usual). It's not a question of politics or his voter base, simply his inability to choose a goal, plan how to reach it and take action day by day to make sure it actually happens. A formative speech and a four-color brochure simply are not enough.
["Source-haaretz"]