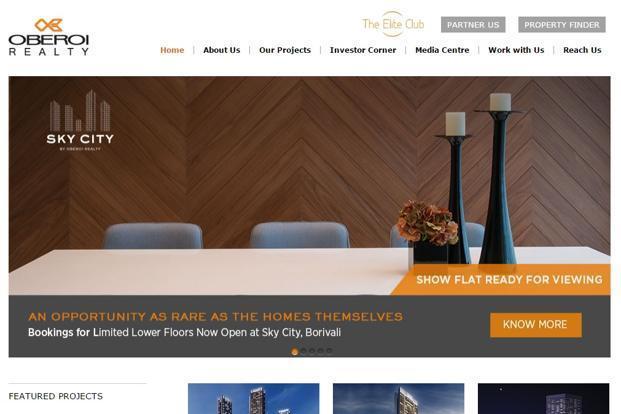 In 2016-17, Oberoi Realty generated a revenue of Rs320 crore from its leased commercial assets, accounting for about 27% of its overall revenue.
Mumbai: Oberoi Realty Ltd expects to generate rental revenue of around Rs1,000 crore in the next three years from its existing and upcoming commercial portfolio, a top executive said. The company, India's second largest builder by market value, plans to list these assets on a Real Estate Investment Trust (REIT) as well.
The Mumbai-based company, which currently operates one retail mall and two commercial office buildings in the city, had earlier announced plans to set up a separate mall unit with an aim to spin it off at a later stage. It plans to build two more shopping malls totalling around 1.7 million sq. ft as part of its existing mixed-used developments at Worli and Borivali in Mumbai.
"With two shopping malls coming up, we should be doing a total of around Rs1,000 crore of rentals in the next three years," Vikas Oberoi, chairman and managing director, Oberoi Realty said in an interview.
In 2016-17, the company generated a revenue of Rs320 crore from its leased commercial assets, accounting for about 27% of its overall revenue. The rest of its business comes from residential projects. Oberoi said the company plans to eventually list part of its commercial portfolio on REITs and does not intend to raise funds through any private equity partnerships at present.
"It doesn't make sense to tie up with any private equity firms at the moment. Our borrowing cost is around 8%. Their (PE) expectations on returns is around 12%. We can't accept their expectations or rate of returns. We will REIT it ourselves," he said.
A Business Standard report in August 2017 said Oberoi Realty has shelved plans to form a joint venture with private equity investors. It was earlier in talks with Morgan Stanley and Singapore's sovereign fund GIC Pte. Ltd to form a retail platform of Rs1,000 crore, it said.
Real estate experts and analysts said Oberoi Realty's plan to ramp up its commercial portfolio comes at a time when several other large firms are shifting their focus on commercial real estate as demand for retail and office spaces continues to pick up.
"With the overall real estate market down, particularly on the residential side, most developers are shifting their focus and looking at ramping up their rental portfolio apart from getting into the affordable housing or smaller ticket size homes," said Abhimanyu Sofat, vice-president (research) at IIFL, a brokerage firm.
Developers such as Mumbai-based Lodha Group and Sunteck Ltd, Bengaluru's Century Real Estate Holdings Ltd and Salarpuria Sattva Group and Delhi-based Alpha Corp. are focussed on expanding their commercial real estate portfolio.
"With the possibility of REIT coming, developers are looking for opportunities to have a sizeable rental portfolio. So, we are likely to see most major builders focusing on building a rental portfolio given the success of REITs in the international markets," Sofat said.
In a report dated 20 November, 2017 released by consulting firm PwC, the average appreciation in rentals in the retail space has been in the range of 8-10% per annum, higher than office space, which grew at 5-7%.
["Source-livemint"]