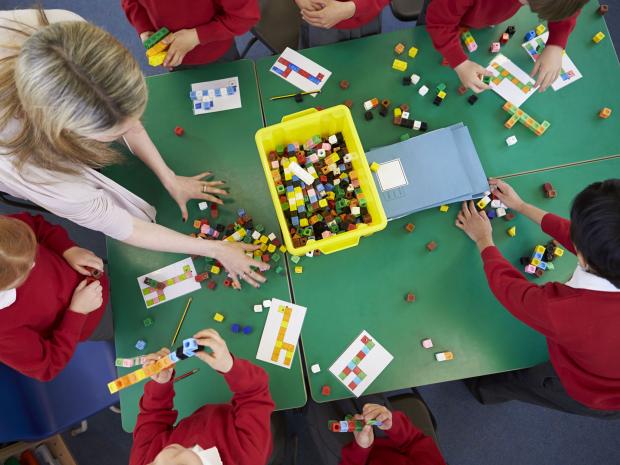 Labour Party MPs have criticised the government's "failed approach to planning for school places" as a "broken system", amid claims that one in four primary schools is now full or over-capacity.
Statistics from the Department for Education suggest that around 23 per cent of state primary schools are now full or over capacity. A further 295,000 more primary school pupils are expected to enrol by 2020, adding pressure on top of a new government policy to turn existing schools into academies.
Sutton, Harrow and Leicester local authorities were shown to be especially over-crowded, with more half of primary schools reported as full or over-full.
Schools accused of 'social segregation' by rejecting poorer pupils
The figures come as thousands of parents wait to receive confirmation of which primary school their child will be attending come September, with up to 80,000 expected to miss out on their first choice.
The shadow Education Secretary Lucy Powell said:  "This Government's broken school places system means that children are being crammed into ever larger class sizes and many schools are already at or over capacity. On the day that parents will find out if their child has a place at their school of choice, it is increasingly clear that the Government has no answer to the crisis in school places they have created."
"Ministers have already tied the hands of local areas to adequately plan for school places," she added. "The Tories' new forced academisation policy will make the school places system implode, as councils lose completely the levers they have to ensure there are enough school places for children."
The same figures suggest that 87 primary schools in England now have more than 800 pupils – up from just 16 five years ago – and the number of infants in class sizes of over 30 pupils is also at its highest rate for 15 years.
It was reported this week that Primary schools in England are set face a shortfall of 10,000 places within four years, however government ministers responded that the claims were "misleading and disingenuous."
A Department for Education spokesperson said: "Despite rising pupil numbers, at primary, the number of pupils in excess of their school's capacity has fallen by a quarter since 2010, and average class sizes have seen little change."
"We have spent £5 billion creating places between 2011 and 2015, with over 100,000 primary places added in 2014/15 alone, and 95.9% of parents in England received an offer at one of their top three preferred primary schools last year."
Last year up to one in five children in some parts of the country missed out on their parents' top choice of school, with many faith schools being accused of being "socially selective", favouring children from more affluent backgrounds when allocating places.
Christine Blower, General Secretary of the National Union of Teachers (NUT), said: "It is important is that every child from whatever background has access to a good local school which draws from a balanced intake across the local community and reflects all levels of ability and background.
"There need to be clear criteria that give all parents a chance to secure their child a place in their local school.  Complicated admissions policies with conditions that potentially exclude local children of whatever social background are detrimental to education and communities.  Policy-makers need to understand what is happening beneath the radar of their school reforms – education is becoming an instrument of social segregation, not an answer to it."
[Source:- Independent]