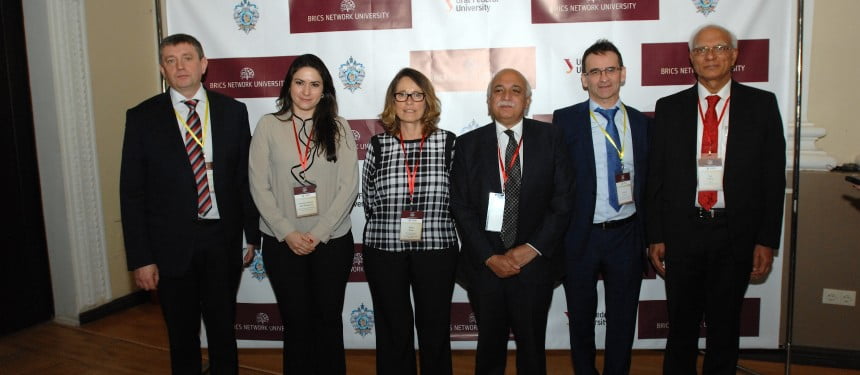 A network of universities has been formed with the aim of establishing joint graduate programmes across universities in BRICS countries – Brazil, Russia, India, China and South Africa.
The BRICS Network University held its inaugural forum last week in Russia, where institutions discussed more ways to collaborate and further develop their network, following an MoU signing to establish the network last November.
The group decided to create joint programmes, at master's and PhD level, in each university's priority areas: energy; computer science and information security; BRICS studies; ecology and climate change; water resources and pollution treatment; and economics.
"We tried to find and to focus the attention on the topics which are interesting for international education"
Maxim Khomyakov, vice-rector for international relations at Ural Federal University in Russia, which hosted the forum, said choosing the subject areas was a matter of "expert deliberation", and each is important for different reasons.
"We tried to find and to focus the attention on the topics which are interesting for international education," he told The PIE News, adding that "we thought these topics are important for our alumni to get a multicultural experience."
While BRICS countries collaborate in a number of ways, they do not have much in common as far as higher education is concerned, according to Khomyakov.
"We have very different academic systems, we don't have really extensive collaboration in education and science," he said.
Graduate mobility among the countries is another benefit to the network, Khomyakov said.
"We have needs for graduates, say in economics, energy, computer science, who would know not only the discipline, but the specifications of working in another cultural environment," he commented.
There are 55 participating universities in the network including University of Cape Town, University of Delhi, Fudan University and Federal University of Rio de Janiero. The universities were chosen to be members by each country's national ministry of education.
The group is governed by an international body formed of three members from each country; at least one representing a university community and one representing the ministry of education. Each country also has its own national coordinating committee.
As the network develops, Khomyakov expects more topic areas will be added to the graduate programmes.
[Source:- PIE]